2002 French Dressage Championships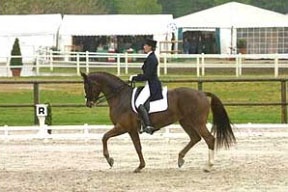 A new and surprising champion was laurelled at the 2002 French Dressage Championships at the French Equestrian Academy in Saumur. Odile van Doorn and her 10-year old Belgian warmblood mare Parodie van de Wateringhoeve
were the best combination in the two phases of the 2002 French Dressage Championships for Grand Prix riders.
Odile van Doorn, who was already successful on the French scene in 1996 with Ideaal d'Alkenaar and in 1999 with Marco Polo, now received the gold medal for her performances on the elegant chestnut mare by Donnerhall, bred by Dirk Govaerts from Belgium. Parodie van de Wateringhoeve came to Odile's attention when she became the bronze medallist at the European Mare Championships in Brussels, Belgium, as a three year old.
Silver medallist at the French dressage championships was WEG rider Hubert Perring aboard his chestnut Selle Français Diabolo St Maurice. The bronze medal was for the fairly unknown Gilles Siauve riding his 14-year old Hanoverian Wittfield. The winner of last year, Marietta Almasy, now finished in fourth position. Riding her Russian bred gelding Pavarotti (in France known as Pest), Almasy did not score higher than 63%.
Related Links
Marietta Almasy, 2001 French Dressage Champion