2001 KWPN Stallion Licensing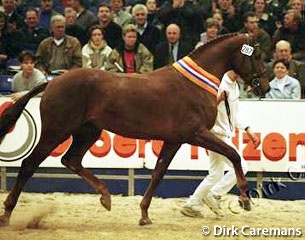 The first edition of the KWPN SELECT SALE will take place on Saturday afternoon 3 February 2001. At the stallion selection in 's-Hertogenbosch, The Netherlands, a group of 22 selected three year old stallions will be sold by auctioneer Dirk Zagers.
The KWPN (Royal Warmblood Studbook of the Netherlands) and the VHO (Society of Stallion Rearers) have come together to organize the elite auction that will be trend-setting both nationally and internationally.
All the stallions presented at the auction have been directed for a second viewing of the stallion selection. Most importantly, they have satisfied the X-ray demands that the KWPN asks for in order to be sent through to the performance tests in Ermelo. The KWPN SELECT SALE will take place immediately after the champion's selection. It is very well possible that amongst the horses on offer in the auction there will be participants in the champion's selection and stallions who are referred to the performance test.
For the KWPN SELECT SALE there have been 22 stallions selected (see list). These have been photographed for the catalogue and put on video at stud station De Havikerwaard. The auction catalogue and videos will be ready on approximately 15 January and will be sent to potential buyers. For further information, please contact EQ International in Amsterdam, telephone (+31) (0)20 - 4655446, fax (+31) (0)20 – 4651640 or e-mail selectsale@kwpn.nl
Photo © Dirk Caremans
Selected Stallions (Name - Bloodline - Owner)
1 Rodile - Burggraaf x Lucky Boy - A. van der Goor
2 Romario - Heartbreaker x Grandeur - H.J. Nijhof
3 Ridderkerk - Kennedy x Glendale - P.J.H.M. Meeus, A.J.Pleyter
4 Rocky - Animo x Lancer II - Paardenhouderij Janssen
5 Rossino - Flemmingh x Rossini - H.J. Leyser
6 R. Anubertha - Caretino x Caletto - Stal Roelofs
7 Rocky - Metall x Equador - J.E. Reesink-Brouwer, H.C. Vonk
8 Romario M - Garmisch x Farn - R.D. van de Bovenkamp, J.M. van Uytert
9 Radolin - Monaco x Aram - G. Vermeulen
10 Rockefeller - Marlon x Jasper - A.A.M. Jespers, VDL Stud, P. Trommelen
11 Rex - Havidoff x Belisar - J.E. Reesink-Brouwer, N.F. Witte
12 Romme - Burggraaf x Nimmerdor - A.J. Pleyter
14 Ramzes - Jazz x Damiro - Stal Belvedere BV
15 Rendez-Vous - Montecristo x Marinier - A.M. Been
16 Rapperd - Flemmingh x Roemer - Stoeterij 't Centrum, A. Valk
17 Regilio - Heartbreaker x Burggraaf - Gebr. Bosch, H.J. Nijhof
18 Rafael - Lux x Rex Magna - J. Cornelissen
19 Rambo - Ferro x Roemer - A. van der Goor, J.Lamers
20 Randell STV - Clavecimbel x Uniform - H.M. Bakker, J.H.A.van Blokland
21 Rainbow - Casanova x Winckenburgh - H. Hammers, J.M. Schep, H. Wilting
22 Rajan J - Animo x Burggraaf - G.J. van Olst
23 Ridder - Lancet x Hofnar - W.J.M. Brinkman, A. van de Pol