2000 World Championships for Young Dressage Horses
The Belgian Equestrian Federation and the Dressage Promo Team were very proud to be able to send a group of young horses with a more than average talent to the 2000 World Championships for Young Dressage Horses. Some persons even talked about having a world champion in hands but that was counting the chicken before they were hatched. The atmosphere among the Belgians in the Papendal centre was very nice and relaxed and in their lovely turquoise blue coats they stood out among the crowd.
The official selection trial was held on May 25th at the CDN Duffel where the first qualifying show of the classic circuit for young dressage horses was ridden. The best four placed received a ticket for this prestigious tournament. Most of the combinations deserved to be in Arnhem but we would love to have seen Nico (by Einstein x Zebulon) under Tinne
Dupont compete there as well. Eight horses in total were selected for Arnhem and they represented different breeds. Rosantica, Super Boogy and Roosevelt were the Belgian Warmblood delegates. Doncaster and Dark Diamant were the Hanoverian representatives. Rosenthaler and Paganini are branded Rhinelanders and Practie Comfort Melvin was the only KWPN horse ridden by a Belgian.
Three horses eventually made it into the final. That is one more than last year. Furthermore the scores were higher and it seems that the Belgian Young Horse Circuit pays off for these future prospects who can get more routine and experience in their own country. Many horse owners also see the positive aspect of letting their young stars be ridden by (semi) professionals in order to get the best results.
Stefan van Ingelgem and Doncaster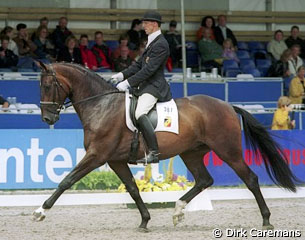 The only Belgian combination who made it into the final for the 5 year olds was Stefan van Ingelgem on his Hanoverian Doncaster. The dark bay gelding was bred by Heinrich Christian and came to Belgian as a three year old. Under van Ingelgem the Donnerhall x Watzmann x Perser xx son performed well in several national young horse competitions, resulting in a 
victory at the national championships in 1999. It was in Vliermaalroot that Doncaster and van Ingelgem became the 4 year old Belgian Champions and in Moerzeke the reserve champions in the Cup of Belgium competition, behind Mario van Orshaegen and Sentio van het Goorhof (by Coriolan).
In Arnhem this pair was the best Belgian 5 year old couple. They scored 8.0 twice in the two qualifiers and in the finals Doncaster moved up to an 8.4 score, making a 24.80 total and a 12th overall place. Doncaster showed himself as a nice 'securely' trained horse with good balance and with rhythmic paces. However, Doncaster could, in general, be more ground covering in his gaits. "The canter had to be a little more uphill and the walk a little more relaxed," said judge Volker Moritz after Van Ingelgem's second qualifying test.
Doncaster is already very settled in his exercises but in the future his movements need to grow a little more in order to get more pezzas, more spark. Nevertheless, a fine performance by a very fine horse.
Jeroen Devroe and Paganini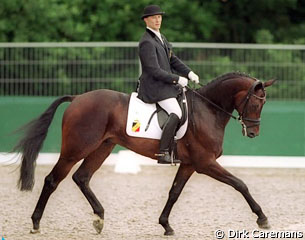 If there is one combination which has seriously been underestimated in Belgium than it's Jeroen Devroe with Paganini. Already as a 5 year old, Paganini excelled thanks to his versatility as a dressage horse. The Rhinelander gelding has three very decent basic gaits, is a very rideable horse, sober in the head and he seems eager to please the rider. One could say that he's the ideal young riders' horse. On the Belgian scene Devroe scored well with his gelding (65%), but he was always teetering on the brink of the top five.
In Arnhem, Paganini, by Pavarotti van de Helle out of a Sheyenne de Baugy dam -- a pure bred breeding product of Stoeterij van de Helle --and his rider were finally done justice. With 7.10 in the first round, 7.40 in the second and 7.50 in the final Devroe ranked overall thirteenth. Paganini reigned with his super balance which was especially externalized in the extended walk showing regular, large paces with good over-track. The only minor, negative detail was that Paganini regularly seemed to go above the vertical. He wasn't completely through the bit, through the neck and back. This was particularly visible in the canter.
The pair was still very elegant and Paganini, who was already showing the beginnings of piaffe and passage at the age of 5, is a potential for the future. 
Wim Verwimp and Practie Comfort Melvin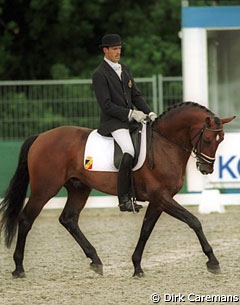 Very interesting was the performance of Wim Verwimp and Practie Comfort Melvin. The combination first came into the spotlight at the 1999 Belgian Young Horse Championships in Vliermaalroot. Verwimp who dealt with a serious horse loss this year, seems more than happy that he can rely on this KWPN bred gelding by Flemmingh out of an Amor dam. The horse is owned by one of his clients at his barn in Wiekevorst.
In Arnheim P.C. Melvin showed a very balanced trot which could have been a little more engaged from behind. The canter was good as well as the extended walk which showed very decent over-track. In the transitions Melvin became sometimes tensed, but overall he did a very good job. Verwimp scored 7.20, 7.10 and 7.30 in the final ranking him on a final 14th place.
Melvin is a typical Flemmingh decent showing the elegant, sleek conformation with a nice and expressive head. He moves well out of the shoulder but as most Flemmingh get do he put the hind legs more under the rider's weight on order to become really impulsive and powerful behind. 
Geert van der Borgt and Rosantica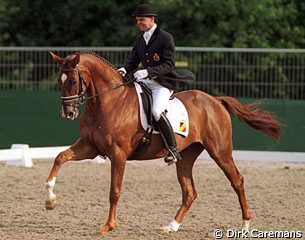 If there was one horse which should have been in the final for the 2000 World Young Dressage Horse Championships, it was the Belgian warmblood mare Rosantica. Steady rider Geert van der Borgt had the misfortune to start the chestnut second in the test "twice".
Not only were the judges very strict in their judging at the beginning of the first qualifier, but at the end of the field they became more lacks in regard to inferior horses making it unable for Rosantica to move into the top fifteen. "It's not fair that the judges started out judging that strict," Belgian chef d'equipe Freddy Leyman said. "Our horse has been judged unfairly and that's a pithy as Rosantica is such a talented horse," Leyman said rather unpleased.
Rosantica, by Camus out of Saint Philippe xx, is truly dominant in her movement showing super energetic gaits, great engagement and very nice shoulder freedom. The only problem is, besides the fact that Van der Borght missed a flying change in the first test, Rosantica tends to press away her back which gives her the impression of 'running' instead of dancing, especially in the extended trot. The half passes could have showed more tranquillity and balance but for the rest this mare is just awesome.
Scoring 6.9 and a very good, still even underquoted, 7.30 in the second test made Rosantica rank on a 17th spot overall and it made her miss the ticket for the finals. "What a pithy," international young horse judge Christoph Hess would say.
Roosevelt and Rosenthaler Not Enough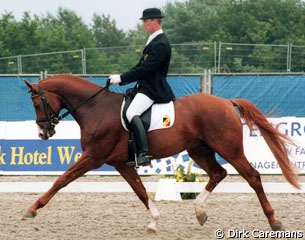 Five horses in total missed the final at the 2000 WCYH. Roosevelt and Rosenthaler both are highly credited in Belgium, but couldn't make true what they would stand for in their own country.
Philippe Jorissen's five year Rhinelander stallion Rosenthaler (by Rosenkavalier) was just not strong enough to beat up against world class young horses. Although he ran a very nice, clean and careful test, Rosenthaler failed in some of the basic principles of dressage. In Arnhem, the chestnut stallion, owned by Rene Vets of Stoeterij De Zuuthoeve in Lier, had to show more impulsion and had to bear more weight on the hind legs in order to get more self carriage and freedom in the shoulder. His back seemed a little weak that weekend and overall Rosenthaler gave a hurried impression. Jorissen did a nice job presented him the best he could but scores of 7.60 and 7.40 were simply not enough to go to the finals in that very strong class of 5 year olds.
Roosevelt and Verena Burger-Gielen are a highly esteemed couple in Belgium but what has been feared for a long time came true in Arnhem. Roosevelt didn't perform well enough to get into the finals. The black BWP branded Ferro x Lys de Darmen gelding missed bending in the half passes and should have shown more collection and activity from behind. Roosevelt has a lovely self carriage and is nice and loose on the bit, but at the championships there wasn't enough power from behind. 6.90 and 6.80 ranked them 20th in a field of 31 horses. Pithy for Burger-Gielen who makes a lovely combination on her own bred Roosevelt.
Dark Diamant and Super Boogy Disappointing
The two most disappointing Belgian performances came from Dark Diamant and Super Boogy. Dark Diamant, ridden by Sophie Baetens-Van Lent, was simply not ready for the Championships so he can be excused. Although much was expected of this pair thanks to a wonderful performance at the Belgian qualifier for the Championships, the Hanoverian by Davignon showed super movements in Arnhem but missed balance and overall training. Super Boogy, nevertheless, is a youngster with more experience. He was very successful in the 4 year old horse class in the 1999 Belgian young horse circuit, but in Arnhem Super Boogy gave a mediocre 
performance.
Claudia Fassaert is a nice rider who takes good care of her horses, but Super Boogy, a BWP branded Randel Z gelding, was just without energy. "He already felt tired and exhausted on Tuesday when the show hadn't even started yet," Claudia confesses," but I will try to ride more in my second test." And it ended in only trying. Fassaert was unable to refuel her dark bay gelding  and Super Boogy, or sometimes credited as Super Jump, seemed resistant to the rider's aids. The engagement lacked, as well as the suspension. Super Jump didn't appear sophisticated nor electric, which is a shame as Super Boogy is able to show nice tests. Scores of 7.10 and 7.00 didn't suffice in the 5 year old division.
Photos © Dirk Caremans (more photos in his database: put "ARNH00" in the search box)
Results - 2000 World Championships for Young Dressage Horses