2000 World Championships for Young Dressage Horses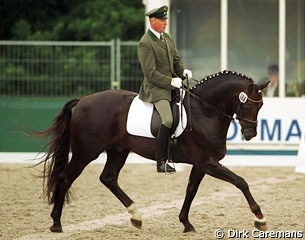 Day 1: Germans Dominate First 6-year Old Qualifier
With seven German riders on six German horses in the top ten, it were the Germans who clearly dominated the 6 year old division in the first leg of the 2000 World Championships for Young Dressage Horses in Arnhem, The Netherlands.
Although the day was dark and cloudy with occasional rain showers, it didn't spoil the mood of the fresh youngsters and their riders. An occasional jolt when the bell rang, silent nickering as a cry for help in that desolate world known as the "show ring" or wild whinnying as sign of masterly presence, these are all features which some of the riders  had to deal with when presenting their future prospect in the dressage stadium of the Papendal equestrian facility on the first day of this exclusive event. Each pair had to show their training level by riding lateral movements in trot, extensions and collections in all three basic gaits and two flying changes on the diagonal. Especially the latter seems to be a problem for many riders and horses.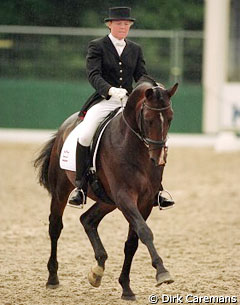 First place was shared by two fellow native Germans, Martina Hannover and Michael Thieme. The first one saddled the Oldenburg bred Ratino H, a lovely Rubinstein stallion who is a true reflection of his late sire. Ratino H reminds a lot of last year's competitor Regal Dancer, but Ratino H has a bit more flair than his half brother. Three very elastic movements and a most lovely disposition make him a real eye catcher. He scored 8.40 points, a mark shared by D'Olympic, also an Oldenburger but by Donnerhall out of a Cor de la Bruyere dam.
Third place went to a charming Danish couple, Jervelund and Maneur. Lene Jervelund rode Maneur, a Danish warmblood (by Schwadroneur x Picandt) carrying Trakehner lineage. Maneur showed nice impulsive trot extensions, but could have been more closed in his canter extensions. The contact with the bit wasn't always that steady, but the overall consistency of their performance was an example for other riders. They received a deserved 8.3. 
Fourth place went to one of my favourite horses, Donatha S. This Hanoverian mare by Donnerhall x Pik Bube I was presented by Ellen Schulten-Baumer and, as her name indicates, is owned by Dr Uwe Schulten-Baumer Sr. Donatha S has flashy movements with immense shoulder freedom and superb engagement from behind, but the chestnut mare could have been more steady in her mouth. The mare regularly became behind the vertical and Miss Schulten-Baumer has a hard time sitting relaxed and controlled on this bold horse. A slight error in the second flying change forced the pair into a fourth spot with a 8.20 points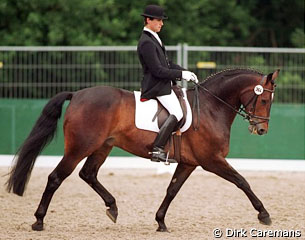 Fifth place was offered to Alfons Friendenburger on Du Little Z, a Hanoverian by Don Primero out of a San Fernando daughter.
Note-worthy are definitely the sixth placed riders, namely Isabell Werth and Liseon Kamper. Werth showed her reserve Bundeschampionate champion Richard Kimble, a friendly, happy Westphalian gelding by Ribbeck out of a Rheingold dam. It was very obvious that Richard Kimble and Donatha S are trained by the same system. Both horse show a lovely uphill canter, have good impulsion and move freely out of the shoulder, but also Isabell had trouble keeping her six year old steady on the bit.
Judge Gotz Weber Stephan remarked that " a slight misunderstanding with the last flying change" caused her to receive a 7.9. It was funny to see that when leaving the arena in long reins, Werth tried to do her flying change again on the same spot where she missed it in the test, but Richard didn't seem to understand the message and just jumped around in counter canter. Isabell was, nevertheless, happy about her ride. 
Liseon Kamper saddled Broere Montecristo, a stallion which caused a small row among KWPN breeders in Holland during his approval as  a three year old. It was claimed that he didn't have enough potential as a breeding stallion, but that he still got approved as Bert Rutten, son of Jo Rutten, the breeder of Montecristo, was on the licensing commission. Montecristo's first offspring is turning three now and we are eagerly awaiting his products in the show ring.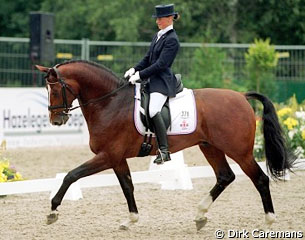 In the meantime Montecristo transformed into a highly successful dressage horse which won every stallion competition in The Netherlands, including a consecutive Pavo Cup title. In Arnhem, Montecristo showed nice moments of balance and impulsion but overall he appeared to lack engagement and suppleness.
Nice to mention are the performances of Wim Verwimp and Mary Hanna. Best Belgian competitor in the six year old division was Wim Verwimp on the KWPN bred Practie Comfort Melvin. This bay Flemmingh x Amor descendant is a supple horse with three very fluent basic gaits. Melvin excelled in his extended trot which showed nice overtrack. The flying changes were OK, but a little tense and also the transitions could have been more relaxed. Overall Melvin left a decent impression, scoring a nice 7.1. 
Sole Australian competitor in these young horse championships is Mary Hanna with the Belgian (!) warmblood Ritual. The flamboyantly marked chestnut is in his movements a typical mirror image of his sire Weltmeyer II. Approved for the Australian warmblood horse association, Ritual is the most successful youngster down under, but in Europe he ranked 12th.
His three basic gaits show potential but, as the judges remarked, his suppleness has to improve and the contact with the bit has to be more supple and relaxed. The panel would loved to have seen Ritual more closed and collected with impulsion from behind, but as the youngster was definitely amazed by his surrounding, this initial performance will not be the standard to  judge him by. Tomorrow is another day. 
Day 2: 6 year olds, Solid Performers for the Future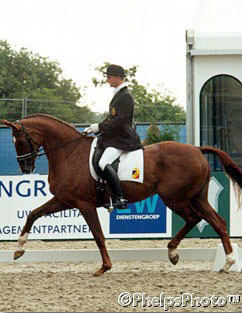 The day was poised to be one full of excitement dampened by a freezing temperature. I was just able to catch a few rides in the second qualifier for six year old dressage horses. I caught up with the second ride in the division. Belgian Geert van der Borght had a rather disappointing ride yesterday. Although he and his mare Rosantica made some tiny mistakes in their test, the gave a more the decent overall impression. The horse was expressive, showed ground covering gaits but could have been a little more collected in his extensions. In her first test Rosantica had difficulties with the flying changes, but which six year old hasn't? Today Rosantica was much better and the only thing one could pick at were the extensions which were a little 'run'. The judges' panel gave Rosantica and Van der Borght a 7.3, a nice score that deserved to be at least 0.2 points higher
Other six year olds which caught my attention were for instance Roosevelt, a Belgian warmblood gelding by Ferro x Lys de Darmen ridden by Verena Burger-Gielen. Roosevelt is a very successful horse in Belgium thanks to his solid overall performances in the Belgian young dressage horse circuit. But in Arnhem, at a World Championship, Roosevelt disappointed a little. The black has a very good walk but the canter could have shown more carriage of the weight on the hindquarters and Roosevelt's lateral movements in trot needed more bending and activity. 
Belgian pair Verwimp and Practie Comfort Melvin (KWPN, by Flemmingh x Amor) equalled their performance of the day before. The 7.1 awarded test had much rhythm but the trot could have been more engaged. Melvin was sometimes overbend in the neck which eventually lead to flying changes which weren't jumped but pushed from one lead into the other. Nevertheless Melvin makes a nice dressage horse and can still grow into a fine Prix St Georges horse
One really fine impression did Du Little Z give. Rider Alfons Friedberger rode his little Hanoverian to a 8.10 score. Du Little Z flexed his joints very well and therefore showed much engagement, rhythm and suppleness. Friedberger could have held  his hands more steady. Du Little Z's frame didn't open enough in the extended canter and was not always straight in the neck or in his whole body in the flying changes.  Still, the Donnerhall descendant is a real athlete and a lovely talented horse overall.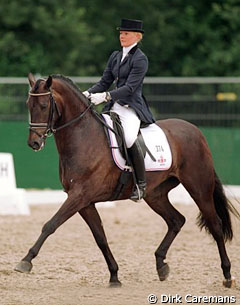 Tipped by experts to be a talent for the future was the 6 year old KWPN mare Miss Saigon, presented by Laurine Brucher. Miss Saigon, a Havidoff x Sultan get, has an elegant conformation but her back could have been longer. The mare was not always straight in her body and the rider should have collected her more, especiallyin the extended walk which was nice but needed more balance. The flying changes were a bit 'mediocre' and the fourth one was late behind. Brucher has a good horse in Miss Saigon but, although the moving mechanism has potential, I believe her short back will eventually be an obstacle.
In general the whole group of six year olds reveals a collection of good to very good movers with enough talent to become upper level dressage horses. However, the 2000 edition of the World Championships for Young Dressage Horses was unable to present a real "wower" like it was done last year with Sandro Hit. 
Photos © Dirk Caremans - Astrid Appels/Phelpsphotos.com