German Dressage News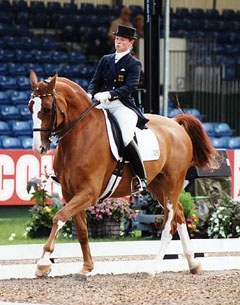 Many prizes were exchanged at the CDI-W in Stuttgart, Germany. Isabell Werth and Dr. Uwe Schulten-Baumer received the prestigious "Otto Lorke Preis 1999", an award given to the rider, trainer and owner of the most successful Grand Prix horse of the year with an age younger than ten.
It was thanks to the Oldenburger Aleppo-S-OLD, a chestnut Argentinus x Figaro descendant, that Werth and Schulten-Baumer were laureled with this prize.
Last year's winner, Nadine Cappelmann's Farbenfroh, a Westphalian gelding by Freudentanzer, has since progressed in his Grand Prix training, now producing scores of 73.16% (4th) and 71.66% (6th) in the Grand Prix tests.
Related Link: Aleppo S OLD, Isabell Werth's Newest Hit