1999 European Young Riders Championships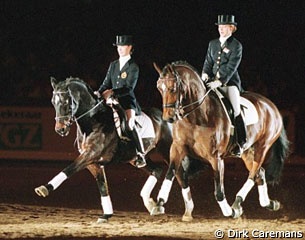 Best Dutch combination at the 1999 European Young Riders' Championships in Ksiaz, Poland, was Marlies van baalen with Habibi. The 18 year old European Junior Riders' Championrecently graduated from highschool and is now chosing for a career in the equestrian business.
Marlies, daughter of the renown Dutch dressage rider Coby van Baalen, will enter the Warendorf Dressage Academy at the DOKR (German Olympic Equestrian Committee) center. Living in Brakel, Holland, her father runs a milk cow farm and her mother supervises a dressage stable of twenty-five horses. Her only brother is not interested in horses and likes playing soccer. 
Marlies came into the spotlight with her FEI pony Dancer (Welsh, by Dandy) with whom she rode two European Pony Championships. In 1994 Dancer got sold to England and Marlies was transferred onto horses. Starting with Aruto, but quickly riding Arthur, she was again competing at the European Championship in 1995, but this time in the Junior Riders division. Only one year later Marlies won the silver team medal at the European Championship with her aunt's horse Finesse.
The ultimate break-through came in 1998 at the European Junior Riders' Championships in Hickstead, England. With the gorgeous Dutch warmblood Habibi (s. Ulft) Marlies has proven to be a very intelligent rider as she was able to increase the quality of her tests throughout the competition. With her mother and Johan Hinnemann as trainers on the sideline, Marlies became the individual European Junior Riders Champion of 1998.
View scores of the 1999 EUYRC
Image copyrighted by Dirk Caremans