Oldenburg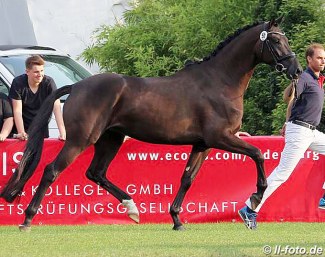 Venecia (by Van Vivaldi out of Florencia (by Florencio x Depardieu) was named the grand champion of the 2018 Oldenburg Elite Marke Show held in Rastede, Germany, on 18 July 2018. 
No less than 14 mares were invited to the Brilliant Ring, the final champion's ring in which the best mares with the highest mare performance test score and conformation score, battle it out for the title of Oldenburg Elite Mare Champion.
Bernd Schlüter's Venecia became the winner. She had scored 8.91 points in the mare performance test. 
The reserve champion is Feyman (by Furstenball x Weltmeyer), who is bred by Matthias Böckermann and owned by Klaus Gustenberg. 
Theo Fugel's Elektia's Romance (by For Romance x Sir Donnerhall) completed the top three. 
Results - 2018 Oldenburg Elite Mare Show - Brilliantring
1. Venecia (by Van Vivaldi - Florencio I)  - Breeder and Owner: Bernd Schlüter
2. Feymar (by Fürstenball - Weltmeyer)  - Breeder: Matthias Boeckermann - Owner: Klaus Gustenberg
3. Elektia's Romance (by For Romance I - Sir Donnerhall I)  - Breeder and Owner:  Theo Fugel
4. Santa Bella (by Santo Domingo - Don Rubin)  - Breeder and Owner:  Paul Sprehe
5. Malina S (by Floricello - Donnerhall)  - Breeder: Georg Sieverding - Owner: Martha Sieverding
6. Flor Dressage Royal (by Finest - Dressage Royal)  - Breeder: Paul Rode - Owner:  ACLE Horse
7. Best of Mount St. John (by Fürst Romancier - Bordeaux)  - Breeder: Mount St John - Owner: HP horses
8. Swart Air (by Sir Donnerhall I - Florestan I)  - Breeder and Owner:  Gerd Kuest
9. Florenzia (by Florenz - De Niro)  - Breeder and Owner:  Gerd Sosath
10. Tara (by Tomahawk - Hotline)  - Breeder and Owner:  Dr. Maike Krause
11. Soiree d' Eté (by San Amour I - Latimer)  - Breeder: Marten Hillmann - Owner: Christine Arns-Krogmann
12. Traumepona (by Millennium/T. - Diamond Hit)  - Breeder: Andrea Speckmann - Owner:  Johannes Speckmann
13. Anne-Girl (by All at once - Stedinger)  - Breeder and Owner:  J.J. Blonk
14. Delayla M&S (by De Niro - Stedinger)  - Breeder: Johann Martens - Owner: Matthias & Susanne Stelzer
Photo © LL-foto
Related Links
Furstin Gesine, Champion of the 2017 Oldenburg Elite Mare Show in Rastede
Candy, Champion of the 2016 Oldenburg Elite Mare Show in Rastede
Fiesta Danza, Champion of the 2015 Oldenburg Elite Mare Show in Rastede
Funf Sterne, Champion of the 2014 Oldenburg Elite Mare Show in Rastede
Calamity Jane, Champion of the 2013 Oldenburg Elite Mare Show in Rastede
Fasine, Champion of the 2012 Oldenburg Elite Mare Show in Rastede
Fire and Ice Proclaimed 2011 Oldenburg Elite Mare Champion in Rastede
Fifty Fifty, Champion of the 2010 Oldenburg Elite Mare Show in Rastede
Carlotta Wins 2009 Oldenburg Elite Mare Show in Rastede
Weihegold Wins 2008 Oldenburg Elite Mare Show in Rastede
Rebelle Wins 2007 Oldenburg Elite Mare Show in Rastede 
Silberaster Wins 2006 Oldenburg Elite Mare Show in Rastede 
Loxana, Dancing Diamond at 2005 Oldenburg Mare Show in Rastede 
Love Story V, Champion of the 2004 Oldenburg Elite Mare Show in Rastede 
Fabina, Rastede Oldenburg Champion 2003 
1999 Oldenburger Champion Mare Lady Madonna sold to the USA 
Donna Doria, the 2000 Oldenburg Champion Mare at Radstede