2018 CDI Lier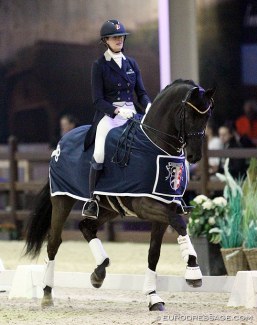 Belgian Olympian Jorinde Verwimp was in command of the big tour classes at the 2018 CDI Lier in Belgium on 1 - 4 March 2018. Aboard her 18-year old equine partner Tiamo she won the Grand Prix and Kur to Music.
The CDI Lier was founded in 2015 sponsored by the Ukrainian Vian Group, but in 2017 Jorinde's father, Grand Prix trainer Wim Verwimp, took over the organization and the competition moved to a 4* level in 2018. The competition dealt with extremely cold weather and on Friday a hail storm turned the outside terrain into an ice skating ring. Fortunately the weather turned on the weekend and temperatures became much milder.
In a big field of 35 competitors, Verwimp steered her tall Dutch warmblood gelding Tiamo (by Lester x Hemmingway) to an easy win on 73.217%, leaving the competition well behind her.
Spanish Sergio Martin Palos presented the 12-year old Lusitano mare Batuta (by Quixote x Icaro), who is in her fifth year at Grand Prix level and of which Martin Palos took on the ride less than a year ago. The bay mare has gained in weight and got a bit tubby but she looked relaxed and at ease with the Grand Prix work. They scored 71.804% for a second place in the Grand Prix and went on to win the Grand Prix Special with 69.617%.
On Sunday Verwimp topped the board in the Grand Prix Prix Kur to Music ahead of 14 other combinations. With a score of 77.450% she freewheeled to her second trophy of the week.  Verwimp has begun her last year competing Tiamo which took her from juniors to Olympics. The 18-year old will be retired from sport after the hoped for World Equestrian Games at the CDI Mechelen in December 2018.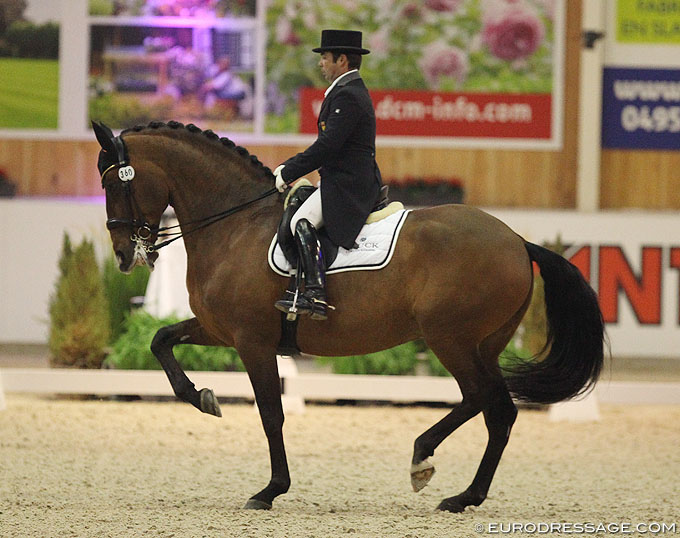 "Tiamo felt fit and happy. He kept on going in the tests and gave me a good feeling," Verwimp concluded at the end of the weekend. "Tiamo piaffes well, compared to other shows. The tempi changes were easier than normal so that made me happy. There were still a few small issues in the Grand Prix and Kur, but those were only small ones."
German Britta Rasche-Merkt and her 15-year old Lusitano stallion Xerez (by Nordeste x Quimera) achieved their CDI career highlight score in Lier by scoring 74.875% and finishing second. This was only the third time they ever scored over 70% at an international show. 
Photos © Astrid Appels - No Reproduction Allowed
Eurodressage was on the scene Friday 1 March 2018 to take photos of the Pony, Under 25 and Grand Prix test. If you are interested in prints of digital files for social media use, contact us.
Related Links
Scores 2018 CDI Lier
British Gemma Owen and Der Kleine Lord Take Two at 2017 CDI Lier
Cornelissen and Aqiedo Claim Easy Wins at 2017 CDI Lier
Logutenkova Wins Big at 2016 CDI Lier, Olympic Race Scandal Fueled
Personal Best Score for Fanny Verliefden at 2016 CDI Lier
2016 CDI Lier World Dressage Masters, Two CDI Events in One Week
Kristine Moller and Her Foursome In Winning Mood at 2015 CDI Lier
2015 CDI 4* Lier Promises World Dressage Masters with Action Packed Program Across the Levels