2017 CDI Lier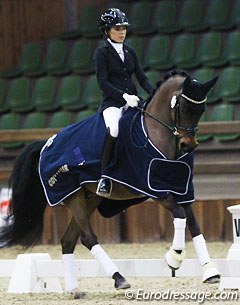 British FEI pony rider Gemma Owen took two victories out of three at the 2017 CDI Lier at equestrian centre Het Azelhof in Lier, Belgium, on 1 - 5 March 2017. Aboard her 10-year old German Riding pony Der Kleine Lord, Owen made sure her third international in her career counted.
The 13-year old Owen saddled Der Kleine Lord (by Der Feine Lord x ), which her parents Michael and Louise bought after the 2014 European Pony Championships in Millstreet, Ireland, where the pony won bronze under Alexandra Hellings. Gemma and Der Kleine Lord made their CDI debut at the 2015 CDI Addington, the only international for the then 11-year old. In 2016 they competed at one CDI in Roosendaal.
2017 is certainly going to be a busier year for young Gemma after bagging the trophy in the team test (72.906%), a second place in the individual (69.431%) and another win in the Kur (75.167%) at the 2017 CDI Lier. While the connection with the bit was still shaky, Der Kleine Lord was able to show off his exceptional ground quality in Belgium, which was generously rewarded by the judges.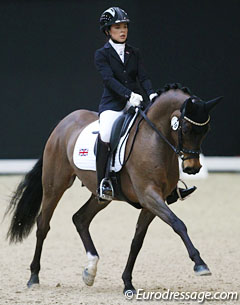 "I was so pleased with how Lordy (Der Kleine Lord) went at Lier. He was a superstar each day in the arena," Owen told Eurodressage. "He felt amazing and let me ride him more and more as the show went on. I made a few annoying mistakes in the individual which were costly but I will be working on those in my training leading up to our next competition."
Owen has been working hard with coach Sonia Baines to improve her riding. Her early season start is part of a meticulous plan for Gemma to gain more mileage at the level. 
" It was our plan to get out quite early in the season just for me to gain experience so I didn't really go there expecting to win," she explained. "However, Lordy and I have been working really hard with my trainer over the winter so I felt confident that we could do well."
While the European Pony Championships are the ultimate goal of any ambitious pony rider, Owen will take as it goes. 
"Our plan is to keep working hard on improving and hopefully we will get the opportunity to gain more experience at other internationals this summer," she said. "Obviously my ultimate goal is to get to the European Championships for Great Britain and be competitive but for now I just want to keep improving and gain as much experience as I can."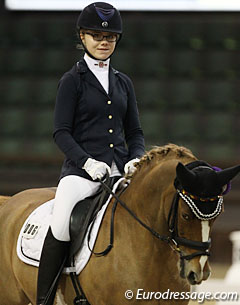 Sophia Ritzinger and the experienced 15-year old Dutch Welsh pony Den Ostriks Dailan were Owen's biggest match. The pair was second in the team test (71.667%), won the individua (70.163%) and second in the Kur (73.917%).
Den Ostriks Dailan (by Leun's Velds Lord x Kranevelds Kadans) has been one of the evergreens on the international pony circuit with his seventh FEI pony level rider on board. In 2009 the chestnut made his big break through under Julia van Schaik, who finished fourth with him at the 2009 European Pony Championships in Moorsele, Belgium. The pony sold to the Rothenberger family, but Semmieke did not end ride him. He went to Sophie Kampmann (2010-2011), Eileen Henglein (2012), Jelle Peeters (2012), Pia Boehmer (2013, Lana Raumanns (2013-2015), and in 2016 to Sophia Ritzinger. Dailan has competed in three European Championships so far (2009, 2012, 2015).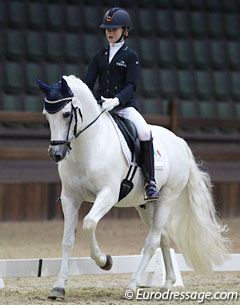 Brand new combination Micky Schelstraete and schoolmaster Elin's Noncisdador, Rose van der Lof's 15-year old Hanoverian pony stallion by Nostradamus x LP Nixen, must have been thrilled with their CDI debut. The 12-year old Micky has two internationals down her belt, the 2016 CDi's in Stadl Paura and Le Mans with Onyx van de Kleine Vlier, but for 2017 she has received the ride on the seasoned Elin's Noncisdador. In Lier the new combination finished fourth in the team test (70.128%) and third in the individual (69.065%) and kur (73.208%). 
Text and Photos © Astrid Appels - No reproduction allowed
Astrid Appels was on the scene at the 2017 CDI Lier taking photos of pretty much all combinations. Send us an email if you are interested in prints or digital files for your social media.
Related Links
Scores: 2017 CDI Lier
Cornelissen and Aqiedo Claim Easy Wins at 2017 CDI Lier