2015 CDI Lier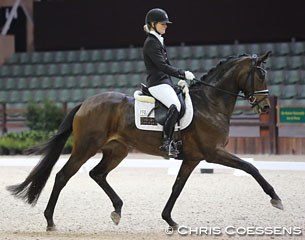 With exceptional results on four different horses at the 2015 CDI Lier on 3 - 8 November 2015, Danish rider Kristine Moller took out both the 5- and 6-year old young dressage horse classes with Standing O'vation and UNO Double Fun. Her small tour ride Excalibur ensured the trophy in the Inter I and with Freak Blue Phantom she ranked second in the Inter I Kur.
Aboard the Trakener mare Standing O'vation (by Imperio x Consul) she won the 5-year old Finals test with 85.300% and aboard the Hanoverian UNO Double Fun (by Dancier x Falkland) she captured the 6-year old Preliminary test and Finals test with whopping scores of 87.400% and 89.200%.

Kristine took the arena for her second ever show on 10-year old Excalibur (by Ehrentusch x Painters Row xx) winning the Intermediate I on 71.237%. On Freak Blue Phantom (by Florencio x Feinbard), a horse that she began competing as a youngster, she finished second in the Intermediate I kur with 74.150%.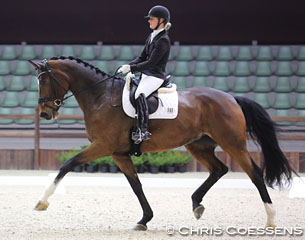 "The horses I took to Lier were two rather unexperienced younger horses, one new to small tour, and an old sport friend of mine, whom I am delighted to be back together with, Freak Blue Phantom," Kristine told Eurodressage.
Standing O'Vation is owned by Kristine's employer Gestut Pallerhaff and was purchased as a 3-year old. Kristine says that the mare does not have a lot of experience in competition and on the first day she was very tense. "However, on the second day she went very well, she was concentrating on me, and did a good performance," she added.
UNO Double Fun is owned by the Danish stud UNO and is "an excellent horse, a big mover with super rideability." The mare stands 182 cm tall, but  "she does not feel to big at all to ride. It was only our fourth show together and her first indoor and CDI. She is a great horse that I expect a lot from and I was really happy that the judges saw it the same way I do!"
Excalibur belongs to Kristine's client, Asa Hoffmann, and arrived at the stable one and a half years ago.
"At that time he was beginning L-level and our assistant rider Stefanie Große rode him up to M level. I took him over in May," Moller explained. "Since then he has developed fantastically. I loved to ride him from day one. He has a super expression in his eyes when you ride him and a fantastic way to concentrate; he is very engaged on what you are doing.  This was only our second show together. He did one in Luxembourg a month ago where he won with over 71%."
Finally, Freak Blue Phantom OLD was bought by Kristine's team as a 4-year old at Classical Sales Warendorf and she rode him until he was 6 when they sold him to the Opländers. Competing him  at both the Bundeschampionate and World Championship for 6-year old horses, Kristine got him back in training in June 2014 and they showed in a few national events this year.
"This was our first CDI together after our reunion so I was very pleased with him, particularly in the Freestyle, to finish second was just fantastic," she stated.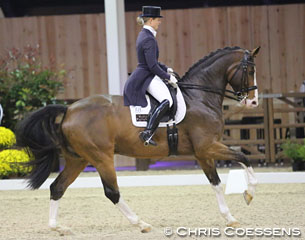 Moller has been training with Fie Christine Skarsoe for the past 15 years and she has weekly lessons on three of her horses. Fie also coaches her at competitions.
"In Lier she was there the whole which is really an important advantage before starting any test," said Kristine. "I train with her  in Luxembourg where I have been living for almost 11 years working for the family Thorsen at Gestüt Pallerhaff. They own a small place with 20 boxes and we are taking horses in for training and also have our own horses. For 2016 I hope that I can continue the development of my horses and myself. I plan to take one or two youngsters to the World Championship and then we will see. I just hope they will all stay fit and healthy."
by Sarah Warne - Photos © Chris Coessens
Related Links
Scores 2015 CDI Lier
Charlotte Defalque in Charge of the Young Riders Division at 2015 CDI Lier
2015 CDI 4* Lier Promises World Dressage Masters with Action Packed Program Across the Levels