KWPN Breeding News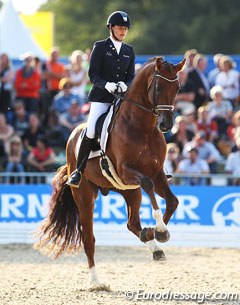 On the day that his offspring garnered great fame at the 2017 World Young Horse Championships in Ermelo, the Dutch warmblood stallion Don Juan de Hus died unexpectedly on Monday morning 7 August 2017. The stallion was 9 years old.
The stallion got unwell with a high heart rate on Sunday morning and was transported to the clinic. He stabilized overnight but early Monday morning he passed away suddenly. The cause of death will be determined with a necropsy.
"Yesterday morning Don Juan de Hus left us forever. In less than 12 hours time he went from being fine to having gone," said Jessica Michel-Botton, who trained Don Juan from young horse level to Grand Prix for owner Xavier Marie. "We did everything we could as soon as we saw the first signs of discomfort. He was immediately transported to the equine clinic but nothing could be done to save him. He was taken in a flash, within a few hours, without us having the time to find out what was the matter. We need to wait for the results of the necropsy to understand, but also to realise and accept. The veterinarians suspect it might be a rare disease."
Don Juan de Hus was bred by J. Koopmans and born in 2008. He was originally named Diovannie and was by Jazz out of (by Krack C x Damiro x Troublemaker xx). He was sold at the Brabant foal auction for 12,000 euro to Eugene Reesink.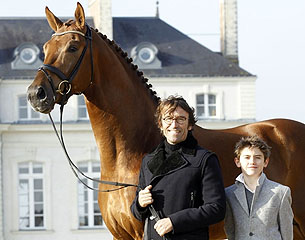 Presented by Reesink at the 2010 Westfalian Stallion Licensing, he was named reserve champion and sold to his current owner Haras de Hus at the auction following the licensing. He went on to win the 30-day Stallion Performance Testing in Schlieckau with the best final dressage score of 9.25.
Under Jessica Michel-Botton he won all the competitions he participated in as a 4-year old. He became the 2012 French Young Horse Champion in Saumur with a 93.639%. He scored 10 for trot and 9.8 for canter in the final test. As a 5-year old Don Juan de Hus received a 10 no less than 6 times in his first show of 2013. He placed sixth in the finals at the 2013 World Championships for Young Dressage Horses in Verden, Germany. He was trained to Grand Prix but as of 2015 the stallion started to struggle with hoof cracks, that kept him from making his Grand Prix debut. His health was otherwise totally fine. 
"Don Juan had always been in a health of steel," Michel explained. "He never had a lameness and was always a fighter. Even though his debut at Grand Prix was postponed because of a hoof issue to the hindlegs because of their extreme power, the cracks had gone and he had been back in training for a month and a half. At the end of July he had a full check up at the clinic, done by Pr. Denoix, who confirmed he was fit to compete."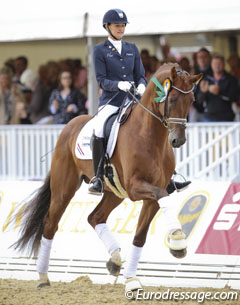 Don Juan de Hus was never able to prove his worth as a Grand Prix horse, but he certainly did as a breeding stallion. At this year's World Young Horse Championships in Ermelo, the 5-year old Don Martillo (by Don Juan x Benetton Dream) became World Champion and the Hanoverian licensed stallion D'Avie (by Don Juan x Londonderry) finished sixth.
Don Juan has already sired 14 licensed sons. D'Avie had sold at auction for 620,000 euro as a 2,5 year old. Other approved sons are Don Farinelli, Duvalier, Don de Hall, Don Jon and D'Egalité, the champion of the 2015 Westfalian Stallion Licensing, which also sold for 620,000 euro at auction. 
"I will never forget the first time I saw him. He was 2 and to this date was the only horse that gave me goose bumps at the age of 2 in freedom," said Michel. "He was a horse that could well win a medal at the Olympic Games but it's not meant to be."
Photos © Astrid Appels - private
Related Links
Stallion at Stud: Don Juan de Hus 
Don Martillo Prevails in 5-YO Finals at 2017 World Young Horse Championships
Don Juan de Hus Son, Champion of the 2016 German Sport Horse Stallion Licensing
Haid-Bondergaard Gets Don Juan's Duvetico as Christmas Surprise
Don Juan de Hus, Danciero de Hus, Dona Primera Win 2012 French Young Horse Championships
Haras de Hus: Strength Lies in Calmness
A La Carte, Champion of the 2010 Westfalian Stallion Licensing
Adelinde Cornelissen's Parzival Diagnosed with Arrhythmia
Olympic Cocktail died unexpectedly of Heart Attack