KWPN Breeding News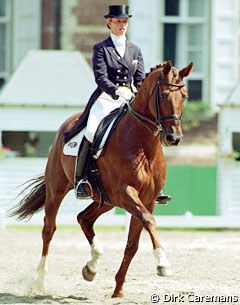 Olympic Cocktail, Anky van Grunsven's reserve Grand Prix horse, died unexpectedly on Friday morning 12th February of a heart attack. The successful KWPN approved stallion dropped dead in the tread mill at his partial owner's (Anky) stable.
Anky won several World Cup competitions and dressage circuits with this gorgeous chestnut. (KWPN by Purioso x Le Val Blanc xx). Olympic Cocktail was especially known for his great performances in freestyle tests in which he dazzled a large audience with his spectacular trot. 
Cocktail was recently promoted as "keur" stallion of the KWPN studbook. This title is a rare privilege. Stallions which have shown to produce an outstanding quality of descendants and have been competing themselves can qualify as keur stallions. Cocktail produced five approved descendants: Hierarch, Jazz, Jordan, Nourejev and Havel. At the 1999 KWPN stallion licensing one Cocktail-product was selected for the third phase. 
Well known competing dressage gets are Helianthe, Klister, Expandor, Kappucino, Gabber en Hilexta. Klister performed at the 1997 World Championships for Young Dressage Horses. The unexpected death of Olympic Cocktail is a great loss for Anky van Grunsven's dressage stable, as well as for the KWPN association who lost their most respected dressage sire. 
Photo credit: Dirk Caremans