2017 CDI Dortmund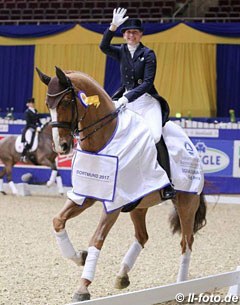 The first weekend of March 2017 was a busy one with CDI's in Dortmund, Doha, Valencia, Lier and Wellington. At the smaller 2017 CDI Dortmund Anabel Balkenhol, Fabienne Lutkemeier and Judy Reynolds topped the leader board in the international big tour classes.
Fifteen combinations contested the CDI Dortmund and in the Grand Prix routinier Anabel Balkenhol aced the class with a 74.520%. With her 17-year old Hanoverian gelding Dablino (by De Niro x Wanderbusch II) Balkenhol could not maintain that firm grasp on the number one spot in the Special and after mistakes, especially in the ones, she dropped to fourth place in the Special (71.412%).
Jessica von Bredow-Werndl and the 13-year old Dutch warmblood mare Zaire-E (by Son de Niro x Jazz) landed second place in the Grand Prix with 74.400% and second in the Special with 72.647%. Von Bredow will continue to ride the World Cup circuit with Unee BB but is not in the running for a team place for the 2017 European Championships as she is pregnant with her first baby.
"Zaire gave me a very good feeling, even though we had a few spooky moments, for instance in the one tempi changes and piaffe," said Von Bredo. "But we are on the right track. I'm looking forward to going back to shows after my baby break."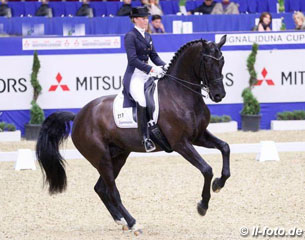 Fabienne Lutkemeier and the 10-year old German Sport Horse gelding Fabregaz (by Florestano x Ragazzo) were third in the Grand Prix with 74.020% and won the Special with 76.118%.
"We've won one time before, but not at this level," said Lutkemeier. "I was just so happy that he went so well and cleanly performed his round," said Fabienne. "Fabregaz has been with us since he was five. I'm always surprised at how fast he learns things and has gained the strength to master the Special."
After an 8 month break from international competition, Charlott Maria Schurmann and her 14-year old Hanoverian stallion Burlington FRH (by Breitling x Rohdiamant) returned to the CDI ring. The pair was sixth in the Grand Prix (70.580%) and third in the Special (71.863%). 
"We made a start again here and the next goals are waiting for us," said Schurmann.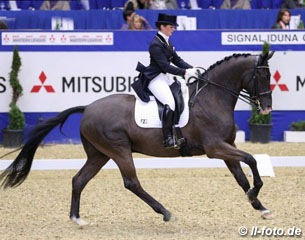 Ireland's Judy Reynolds and her 15-year old Dutch warmblood Vancouver K (by Jazz x Ferro) were fourth in the Grand Prix with 73.800% and won the Kur to Music with 76.700%. The freestyle class was a petite one, despite its 5* status, with just five riders contesting it.
"I'm very, very happy. He (Vancouver K) was great this evening," Reynolds said after the freestyle. "We have been working on this test for a relatively short time and now its starting to come together. I'm never happy when I come out [after the test], I always feel there is something I could have done better but that's what makes me improve. There were no mistakes as such just a couple of things that we could do even better. This is probably only the fourth time we have ridden this particular test in competition and we are starting to build more confidence in the test now."
When asked about plans for the immediate future and the looming World Cup finals in Omaha, USA, Reynolds said, "I don't want to tempt fate before it's 100% confirmed but it looks like we will make it to the finals. We will possibly take in one more qualifier next week and then have a few weeks break before the final all going well."
Photos © LL-foto
Related Links
Scores 2017 CDI Dortmund
Broring-Sprehe and Desperados Ready for Olympic Year After Double Win at 2016 CDI Dortmund
Sprehe Wins CDI Dortmund Big Tour for Third Time
Photo Report: Langehanenberg Bags the Bucks at the 2014 CDI Dortmund
De Niro Offspring Rule at 2013 CDI Dortmund
A New Star is Born: Sprehe Beats Bechtolsheimer at 2012 CDI Dortmund
Debbie McDonald Reigns Supreme at 2004 CDI Dortmund