2004 CDI Dortmund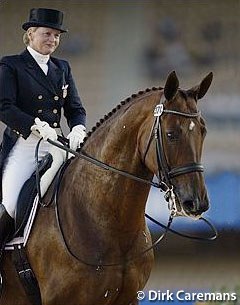 Debbie McDonald is a hidden treasure for world dressage. She makes flash appearances in the U.S.A, winning classes all the time and charming the crowds.
But when she comes to Europe, it is as if she gives an electroshock to all competitors.
"Hello I'm here, and I'm one of the three top riders in the world. You have forgotten about me, haven't you. Well, I'm back," that is a thought she might have in her head. Debbie McDonald and Brentina travelled to Dortmund in preparation of the World Cup Finals.
With ease did she win the Grand Prix for Special (74.21%), beating European bronze medallist Jan Brink, and the Special with 75.40%.
Image copyrighted: Dirk Caremans
Related Links
Scores 2004 CDI Dortmund
Cream Rises to the Top at 2004 U.S. Freestyle Championships