FEI Dressage News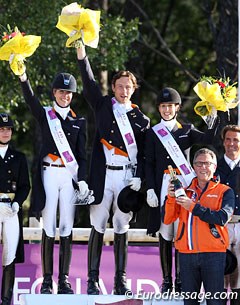 At the in-person FEI Bureau meeting, organised ahead of the FEI General Assembly 2014 in Baku, Azerbaijan, it has been decided the 2015 will be yet another pilot year for the FEI Nations' Cup series in dressage.
"In the year 2015 the FEI Nations Cup Series in Dressage will be conducted as a pilot-project in order to identify its attractiveness for Organisers, Athletes, NFs, spectators, the media, as well as potential sponsors," it was written in the FEI Nations' Cup rules. "In case of a positive evaluation at the year-end of 2015 the pilot project may be transformed into a long-term official event series with the rules being further detailed according to the experiences made in the pilot year 2015."
For the pilot year 2015 the world will not be divided into Regions but every FEI Nations Cup Event is potentially open for any country in the world. For 2015 there is no intention to host an FEI Nations Cup Final.
The provisional schedule of the 2015 FEI Nations Cup competitions include:
CDIO 3* Vidauban, France - 4 - 8 March 2015
CDIO 3* Wellington, USA - 24 - 29 March 2015
CDIO 5* Rotterdam, The Netherlands - 17 - 21 June 2015
CDIO 3* Aalborg, Denmark - 25 - 28 June 2015
CDIO 5* Hagen, Germany - 8 - 12 July 2015
CDIO 5* Falsterbo, Sweden - 9 - 12 July 2015
CDIO 3* Hickstead, Great Britain - 15 - 19 July 2015
Related Links
Seven Nations Cup Events Planned for 2015
2015 German Nations Cup to Take Place in Hagen
FEI Dressage Nations' Cup Created for 2013