Great Britain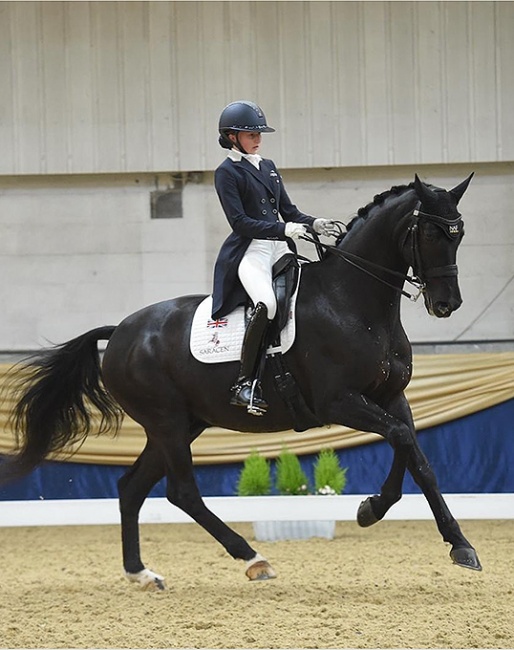 British pony team rider Ruby Hughes is only fourteen years of age and proving herself to be quite the juggler, combining the disciplines of dressage with vaulting, while mixing rides on horses and ponies, as well as attending school.
In the springtime of life, Hughes competed at 2019 European Vaulting Championships age 11 and 2021 European Pony Championships age 13. With dressage professionals Gareth and Rebecca Hughes as parents and a plethora of horses and ponies to ride, she is in a privileged position but doing the hard work in return.
In August she rode her first pony Europeans on Hilkens Showgirl and two months later went down the centerline at Keysoe for her first international on horses with new ride, Extra Time P.
Extra Time P
Extra Time P is a 12-year old AES registered gelding by Goodtime x Indorado. He is bred by Pat Ruck in the U.K. and owned by Lucy Amy. 
Amy premiered Extra Time P in the CDI arena in Le Mans in February 2018 as a young rider. She took him to Keysoe and Hickstead that year. Two years later she returned to the international ring at Under 25 Grand Prix level at Keysoe in April 2020 and scored triple third places. She rode her last CDI on him at Keysoe in October 2020 to finish on a third place in the freestyle. 
Hughes began riding Extra Time in March of this year.
"He was sent to us initially to sell by his owner Lucy Amy but she said if I wanted to do a few competition on him in the meantime I could," Ruby told Eurodressage. "So I rode him three times and that weekend I took him to Myerscough Premier League to do the Junior Team test which I won! Lucy then said I could have him on loan for a year which is incredible."
The pair made its international debut at the 2021 CDI Keysoe last October and scored between 66 and 68% in her first three CDI-J rides.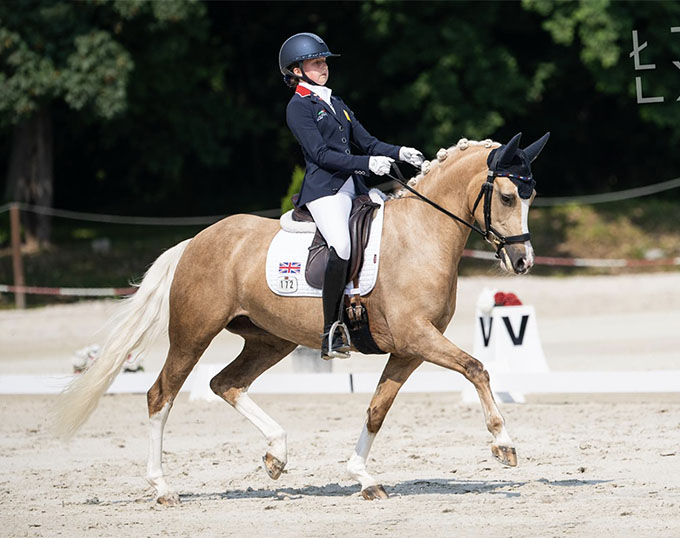 "The plan is still to sell him at end of my season 2022 but I am so lucky to have this opportunity," Ruby added. "He is the coolest horse ever. I did my first Junior Cdi on him at Keysoe in October. I've competed on him at PSG level 70%+ and I can ride him bareback and in a head collar and do one time changes on him the snow, jump and canter around the fields!!!"
Juggling Disciplines
Ruby began her international career as a young equestrian professional in vaulting in 2018 at the age of 10. She did her first CVI 2* in Saumur, followed by Moorsele and Rugby. In 2019 she qualified on the British team for the European Vaulting Championships in Ermelo, and placed 10th. 
Her international dressage debut was in 2021 with pony Hilkens Showgirl (by Dreidimensional x Champion de Lue) and Children's horse Bee Gee (by San Remo x Rohdiamant) at CDI Wellington Heckfield. She took Showgirl to the 2021 European Pony Championships in Strzegom, where they placed 19th in the individual test, just missing out on the freestyle final. 
"We've been on such a journey together as we were both very inexperienced when I started riding her in 2020 but she made my dreams come true competing on her at the Pony European Championships this year," Ruby said.
A month after Strzegom Ruby was back showing off her gymnastics on a horse at the CVIO World Cup qualifier in Aachen, where the team was fourth. Another month later she premiered Extra Time at CDI Keysoe and reclaimed her title at the 2021 British Children Championship on Bee Gee.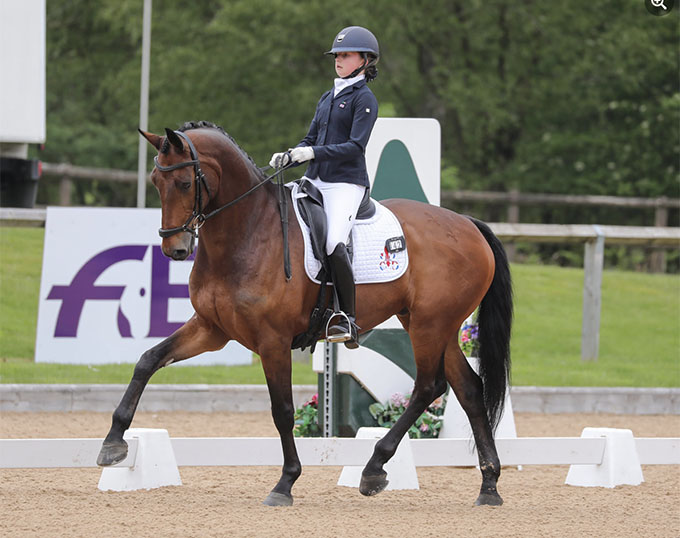 When asked if it's hard to switch between horses and ponies, Ruby replied, "I don't find it hard to adapt to riding horses as in vaulting I'm on 18hh horses so I am used to the size. I still train hard in vaulting. We train three times a week and do weight training on top. So physically it helps with balance, suppleness and strength to ride the bigger horses."
While most junior riders dream of the 2022 European Junior Riders Championships on home turf in Hartpury as season goal, Ruby has an even bigger dream she's chasing: the 2022 World Vaulting Championships in Herning.
"The aim is the World Equestrian Games 2022," said Ruby. "The vaulting has given me a lot of experience competing internationally in the ring too. It does get crazy busy fitting it all in. I am very excited about 2022 to see what it will bring."
Expert in Organising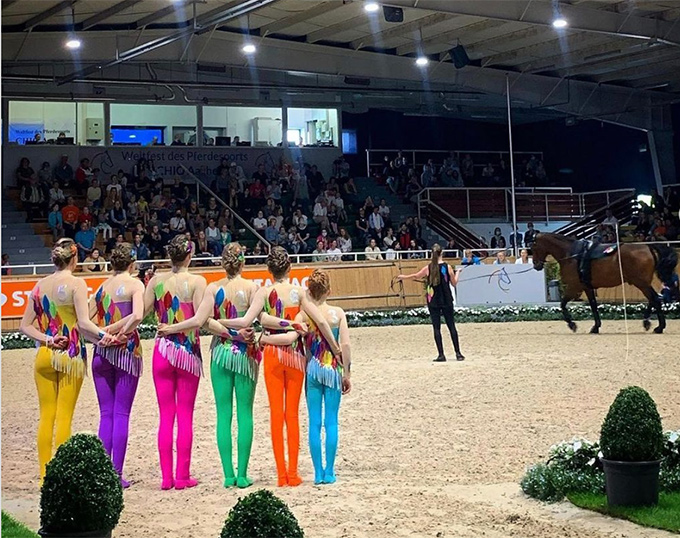 Hughes has to be an expert in time management, combining all these horses, ponies, and disciplines on top of school. Fortunately she goes to a school which allows her to take days out to compete. 
"The school is very understanding. It is only 3km from my house so it's easy to ride after school in the afternoon as our horses are at home," she said "I usually ride or train vaulting every day seven days a week. On a Saturday I am training vaulting for seven hours. On a Sunday morning I ride Hilkens Showgirl, Extra Time, Bee Gee. I hope to compete him at Juniors too this year and my mum sometimes lets me ride Rubini Royale (GP schoolmaster). After school I either ride a couple or I train vaulting. We are lucky that a local venue runs shows mid week in the evening so often I will go straight from school to a competition. It takes quite a bit of organising! It's hard work but it's worth it. I've had the most amazing year ever."
Photos © Kevin Sparrow - Lukasz Kowalski - private
Related Links
Two Combinations to Represent Great Britain at 2021 European Pony Championships
British Team Pony Le Chiffre to Ruby Hughes
British Youth Riders in Action at the 2021 CDI Wellington
Dahl, Hughes, Kerslake, Burgess Win 2020 British Youth Riders Championships
Corona Times: Hit & Run with Gareth Hughes