Sandbrink Special Auction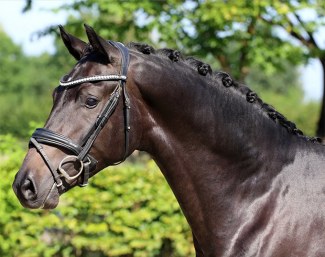 The 2.5-year old colt Murano became the price highlight of the second Sandbrink Special Auction organized in Idsingen, Germany, on 16 October 2021. 
Hosted by Kerstin Klieber and Stefan Sandbrink in partnership with some of their business associates, this auction featured a small collection of 2 and 3-year old colts, two licensed stallions, and six broodmares. Sandbrink purchased the majority as foals.
The price highlight was catalog number 1, Murano (by Marc Cain x Don Larino), bred by Gerd Wesseln. He sold for 93,000 euro to a Russian client. 
The second most expensive horse was Monsanto (by Millennium x De Niro), bred by Austrian Petra Kerschbaum. He fetched 70,500 euro and moves to France. He was purchased by Estonian-Lebanese entrepreneur Karim Barake, who has a business venture with French Grand Prix Alexandra Ayache and his wife, Grete Puvi (formerly Barake). 
The Barake-Ayache duo also secuored Sir Dimaggio (by Sir Donnerhall x Dimaggio) for 68,500 euro. 
The licensed stallion Insight (by Ibiza x Scuderia) sold to Peter Jan Schlüschen as a future ride for Fie Skarsoe.  
The most expensive broodmare was Balenciaga (by Borsalino x Christ). She moves to Austria. Mare Rudoria II (by Duino), in foal to Vivaldos, sold for 16,000 euro to Finland. 
The young colts achieved an average price of 34,559 euro, the broodmares an average price of 13,167 euro. 
Klieber was thrilled with the results of her second auction. "In 2022 will definitely continue. We are thrilled with the results, the big interest and are grateful to all clients who came here or joined online for their trust in our horses."
Related Links
2021 Sandbrink Special Auction, a Treasure Chest of Young Dressage Stars
Second Edition of Sandbrink Special Auction with Top Colts, Licensed Stallions, Broodmares on 16 October 2021