2020 Excellent Dressage Sales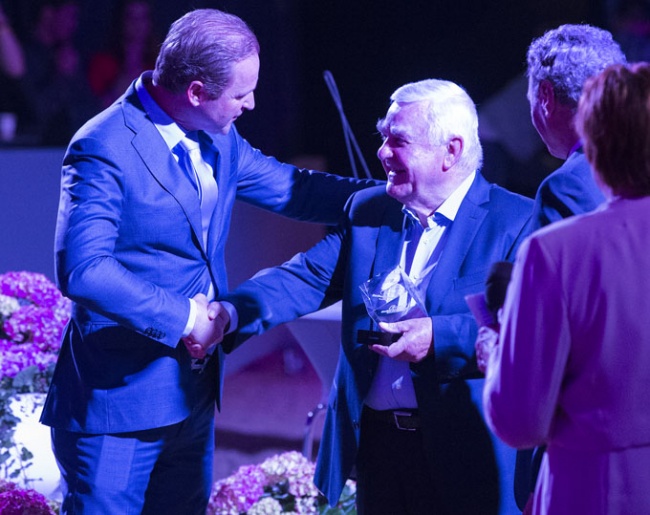 Sjef van Rijswijk was the recipient of the 2019 EDS Award handed out at last year's Excellent Dressage Sales in Hooge Mierde, The Netherlands. 
With this award the EDS team, consisting of Tim Coomans, Nico Witte, Joep Schellekens and Joop van Uytert, show their admiration for equestrian professionals that provide the sector with an important service through their work.
As this 2020 Excellent Dressage Sales has become an online edition due to the corona virus, there will be no special EDS award ceremony. Therefore, the EDS team likes to las year's recipient back into the spotlight. 
According to the EDS team Sjef van Rijswijk has left his mark in different ways on equestrian sport. Because of his incredible track record as a KWPN inspector and as the chairman of the Stallion Licensing Committee for nine years. He was the man who approved the famous stallion Jazz and many other top stallions. Van Rijswijk co-founded the EPTM test. He is still active as a foal selector for foal auction Maren Kessel and until recently at Sell Brabant.
An architect by profession, he designed the accommodation of the KWPN center in Ermelo, Academy Bartels, Stal Witte and also the very nice accommodation of RS2 stables. Sufficient reasons for the EDS team to express their appreciation for Sjef van Rijswijk.
In the past, the EDS Award was also awarded to Coby van Baalen, Siem Korver, Tineke Bartels and Nicole Werner. 
The 2020 Excellent Dressage Sales has been turned into an online auction. There is a possibility, strictly in accordance with the conditions of the government, to view the horses at a number of locations. The complete collection can be seen on the website.
The bidding opens online on Tuesday 14 April and closes on Saturday evening April 18.
Discover the collection online at www.excellentdressagesales.com
Related Links
International Grand Prix horse Excellent Black in 2020 Excellent Dressage Sales
2020 Excellent Dressage Sales Postponed due to Corona Virus
Magnificent Collection of Talented Sport Horses in 2020 Excellent Dressage Sales