Rhinelander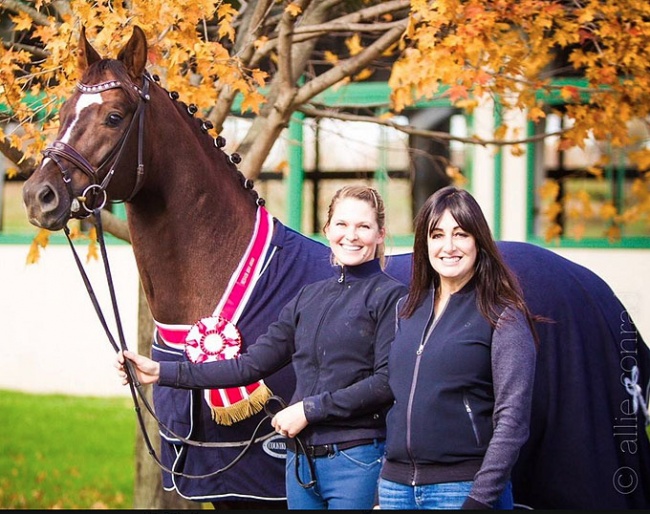 The 4-year old Sole Mio became the overall high scorer at the 2018 North American Stallion Sport Test which was took place at two stations; on the east coast in Maryland and on the west coast in California, at the beginning of November.
The NA Stallion Sport Test follows a 3-day format. The 2018 East Coast test was held at Hilltop Farm in Colora, MD, on 1 - 3 November 2018. The West Coast test was at Pollyrich Farms in Solvang, CA, on 5 - 7 November 2018. 
Fifteen stallions were originally entered for the test; twelve of them were dressage bred, three were show jumpers. In the end 13 stallions participated: 8 dressage stallions were tested at Hilltop, and two dressage stallions and three jumpers were tested at Pollyrich.
The Rhinelander bred Sole Mio (by Stanford x Donnerschwee) became the overall high scorer, finishing the test with an 8.6 total. The stallion got 9 for trot, 8 for canter and walk and 9 for rideability and general impression.  Sole Mio was ridden by Emily Juchser Miles and is owned by Leslie Waterman. He is bred by Germany by WG Wencek.
The second best scoring dressage stallion was the Hanoverian bred  Daily Show (by Danciano x Stockholm) who got 8.5 with 8 for walk and trot, 8.5 for canter, and 9 for rideability and general impression.
The best scoring jumper stallion was Jethro Tull (by I'm Special de Muze x Voltaire) who finished on 8.23 points. He got 8.5 for walk and trot and 8 for canter, rideability and general impression.
Two colts failed the testing as they did not score an overall of 7.5: Joyride (by Worthy Opponent x Ferro) got 6.5, and Furst Romantic (by For Romance x Sir Donnerhall I) got 6.65.
Photo © Allie Conrad
Related Links
Fifteen Stallions Entered for 2018 North American Stallion Sport Test
Harvest Wins Inaugural 2017 North American Stallion Sport Test
New North American Stallion Testing Established for 2017