Germany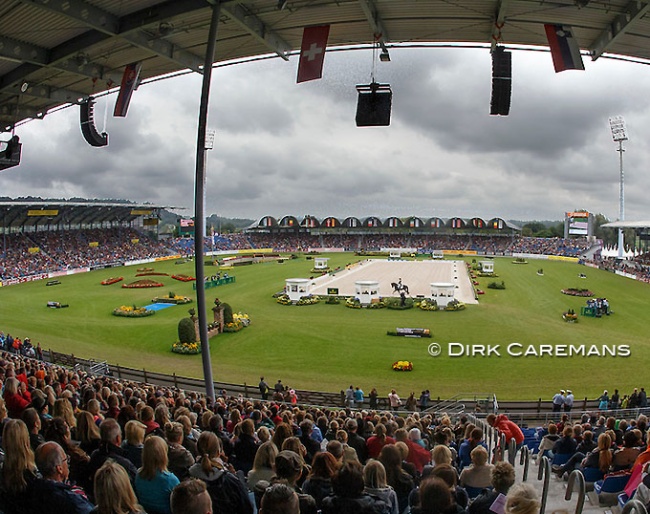 The FEI has today confirmed the shortlisted bidders for the FEI World Championships 2026. The shortlist comprises five Organising Committees who have applied to host events in various disciplines, as follows: 
Aachen (GER) – Jumping, Dressage, Para Dressage, Eventing, Driving Four-in-Hand, Vaulting;
Boekelo (NED) – Eventing;
Burghley (GBR) – Eventing;
Al Ula (KSA) – Endurance;
Samorin (SVK) – Endurance;
The FEI Board will allocate the FEI World Championships 2026 at its in-person Board Meeting on 18 November 2023 in Mexico City (MEX), following a thorough review by the FEI Evaluation Commission and taking into account recommendations by the Technical Committees. 
Following three decades of a unique host formula for senior World Championships under the FEI World Equestrian Games™ format, in 2022 the FEI returned to a more flexible approach accepting single and multiple World Championship bids with a focus on catering to the needs and specificities of each discipline. Herning (DEN) hosted hugely successful events in Jumping, Dressage, Para Dressage, and Vaulting whereas Eventing and Driving Four-in-Hand competitions took place at Pratoni Del Vivaro (ITA), venue of the 1960 Olympic equestrian events. The FEI Endurance World Championships 2022 were held at Butheeb (UAE) last February. 
"We are very pleased with the variety of bids we have received," FEI President Ingmar De Vos said. "Following the outstanding FEI World Championships 2022 organised in Denmark, Italy and the UAE, we are confident this flexible approach with single and multiple bids serves not only the sport, but also the fans and the development of equestrian around the world, allowing different nations and venues to bid to host a major FEI event."
Olympic qualifications 
The FEI World Championships 2026 in Jumping, Dressage, Para Dressage, and Eventing will be the first qualifying events for the Los Angeles 2028 Olympic and Paralympic Games.
Photo © Dirk Caremans
Related Links