Germany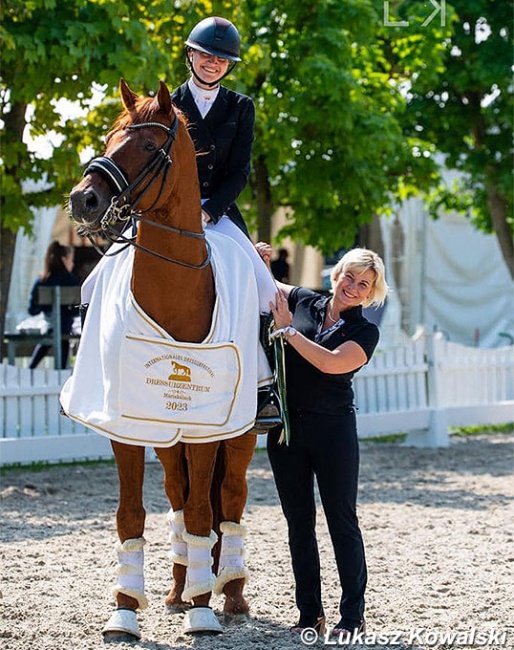 German young rider Emma Caecilia Lienert has shifted into a new gear with new horses and her efforts are paying off. On  25 - 28 May 2023 she ventured across the border to the 2023 CDI-W Mariakalnok in Hungary, where she scored a winning hattrick and collected six ribbons in total.
Emma competed  three horses in two divisions in Mariakalnok and gained confidence in her abilities for the future.
"I'm so incredibly grateful that I can ride such great horses and what happened the past weekend it still incredible to imagine," said a thrilled Lienert. 
Taking the Express to Victory
Determined to develop her dressage career as a youth rider into a professional one later on with Grand Prix as target, Lienert recently stocked up on new horses that can open doors to a promising future. 
Lienert's new trainer, Polish-Italian Grand Prix rider Anna Paprocka-Campanella, pitched the 14-year old KWPN stallion Express (by Vivaldi x Sir Sinclair)  and the German family acquired the chestnut at the 2023 Excellent Dressage Sales. He was known in The Netherlands as "Lumen Express" and previously shown by Laura Zwart.
"I had a smile on my face the entire time when I tried out Express," Emma reminisced. "He is incredibly fun to ride and I am still getting to know him better day by day. He has such an amazing character and he has literally no limits in my opinion. I would say that we improve in every single training session and I had so much luck finding this horse!"
"Lumi", as he is nick-named, has literally been the express way to victory for 20-year old Emma. At their first international show as a pair in Mariakalnok, they won the Young Riders Prix St Georges with 70.794%, the individual test with 72.676% and the Kur to Music with 76.175%.
"Everyone got vert emotional hearing the national anthem play for me the first time," Lienert said about her first international win. "And we got even more sentimental as it happened three days in a row. Mariakalnok was our first CDI together so I wasn't expecting much and was just hoping to enjoy the time there. Express and I haven't known each other for long, which is why I never could have dreamed of such a successful competition in Hungary."
This has been start of what can be so much more for this bright new pair. With Express being trained at Grand Prix level, he can easily carry onwards in to the Under 25 division. 
Testing the Waters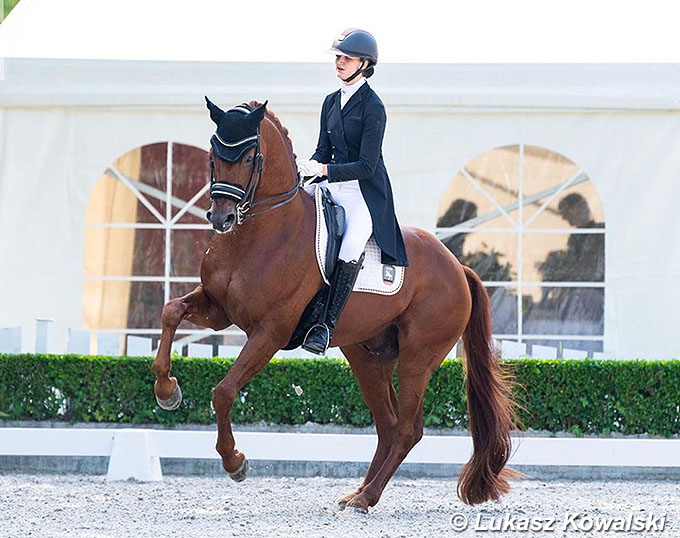 Lienert has also been testing the waters with the 15-year old Belgian warmblood Intendro van de Nachtegaele (by Contendro x Camus), who was previously owned by Jazmin Yom Tov.
The Belgian warmblood was Yom Tov's junior rider in 2017 and later developed to small tour level by Hungarian Robert Acs. Lienert picked up the ride in 2023 and first competed him at the CDI Sint-Truiden (BEL) to a fourth place at young riders level, while in Mariakalnok the pair started off on the wrong foot in the team test, but recovered quickly in the individual to finish fourth with 68.559%. 
"Intendro has been at our stable for one year now. For me, "Theo" is a great horse to gather more experience and to learn from," said Emma. "He tries his best and is very eager and motivated in training. Maybe at some point we are going to sell him, but if it was up to me, all the horses would stay with us for life because I love all of them in their own way."
Going Dutch
In 2022 Lienert was looking for new inspiration and changed trainers, looking towards The Netherlands for new input. She swapped from Pole Pawel Dabrowski to Dutch based and Polish born Anna Campanella.
The connection with Campanella came when Anna lined up the Irish 2022 World Championship team horse Dutchman (by Jazz) as a potential Grand Prix schoolmaster for Emma. It was an instant match and Lienert bought the bay in December 2022, keeping Anna by her side to guide her in the process.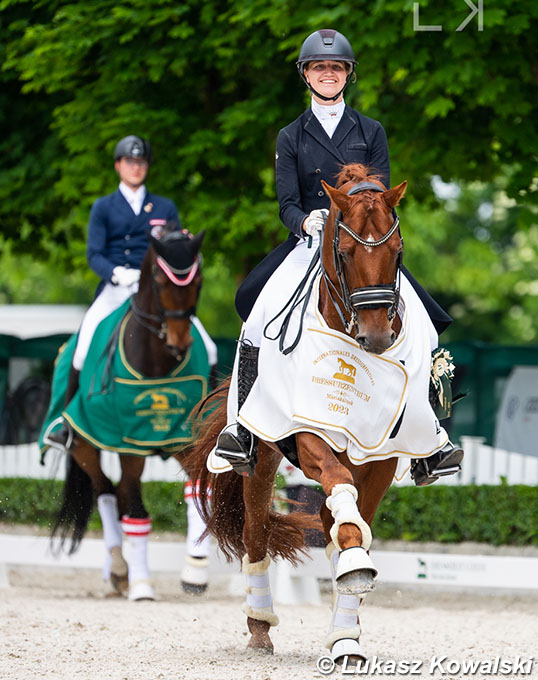 "The transition from the young riders tour to the U25 Grand Prix was ​​honestly pretty frightening at first," Emma admitted. "I always wanted to ride the U25 Tour and was "shocked" by the level of difficulty that is required in the GP when I watched tests of other riders. Dutchman, however, made this transition much easier for me. I am incredibly grateful that I can learn so much from him and he really made dreams come true."
Lienert and Dutchman quickly found their stride at the CDI Sint-Truiden, where they were second and third in the Under 25 division. In Mariakalnok they added another second place finish in the short Grand Prix (67.487%) and a fourth in the freestyle (70.530%) to their tally. 
"Dino is very experienced and a real friend you can rely on in the test," she explained. "That's very important and also helps a lot to gain experience and reduce insecurities in a higher class. We are unbelievable happy with him! He is really intelligent and we work a lot on the basics at home. The piaffe-passage work is very easy for him, which of course also helps me a lot to get the right feeling."
Lienert will be riding a few more CDI's in the lead-up to the 2023 Rhinelander Regional Championships, where she hopes to qualify for the German Young Riders Championships later this summer. 
"2023 was already a super successful year for me, so I just hope that my horses stay healthy and motivated," she added. "I'm extremely excited for what the future will bring."
Photos © Lukasz Kowalski
Related Links
Scores: 2023 CDI-W Mariakalnok
Glinka Takes the Lead in 5 Arenas Cup after First Leg at 2023 CDI-W Mariakalnok
Rhinelander Stallion Feedback Sold to Emma Lienert
Emma Lienert's Barack Obama Passed Away
Collin Sells FS Las Vegas to Emma Caecilia Lienert
Photo Report: Paul Jöbstl Makes it a Hattrick at the 2021 CDI Sint-Truiden
Mother and Daughter Campanella Get Silver and Gold at 2016 Italian Dressage Championships
Campanella Wins 2008 Italian Freestyle Dressage Championships
Anna Campanella: "Can Technology Help Lead to Consistency in Judging?"