Denmark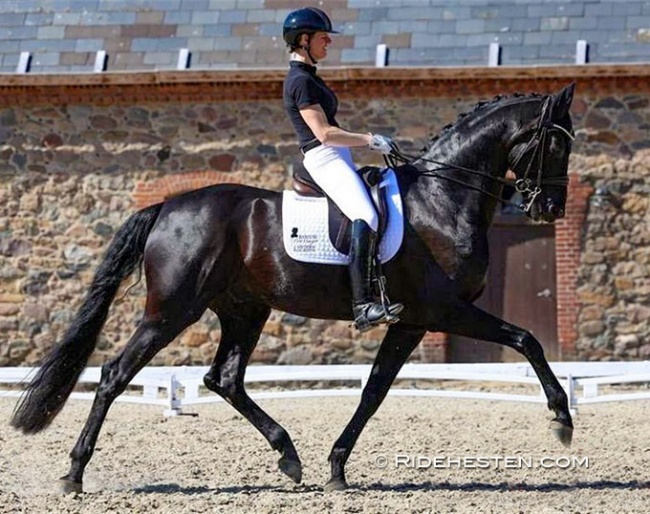 The Danish equestrian federation and Danish warmblood society have announced the long-list of horses that are eligible to move on to the second team selection trial for the 2023 World Championships for young dressage horses in Ermelo, 3 - 6 August 2023.
The Danish WCYH selection trials kicked off yesterday, 31 May 2023, with the first observation and selection at the DWB headquarters in Vilhelmsborg.
The selectors in charge of picking the Danish crop were judges Jens Holm Kristensen, Gunilla Nyman, Birthe Lyder Nielsen and Christine Winther Prip, assisted by DWB committee members Lisette Berner, Ane Marie Jensen and Kristian Bech. They assessed the horses who had to perform the finals test, while rider Jens Holm Kristensen shortly worked with the pairs on the problem points in the test. 
Ten 5-year olds, eight 6-year olds and eight 7-year olds were long listed for the second trial on 27 - 28 June 2023. Of the 26 horses that move to the second round, no less than 9 come from Helgstrand's barn. 
The best represented sire is once again Hesselhøj Donkey Boy with six offspring through to the next rider, while five Frankins have been selected. Secret and Revolution both have three offspring through.
Long listed are:
5-year olds
Franzé (by Franklin x Sezuan) - breeder. Henrik Hansen - rider: Adrian Muñoz Jurado
Quinn G. (by Quaterhit x  Fassbinder) - breeder. Helene Geervliet - rider: Betina Jæger
Valerie B (by Revolution x  Blue Hors Zack) - breeder. Karin & Peer Guldbrandsen - rider: Anne-Mette Strandby
Alkaline (by Secret x  Zalmiak Firfod) - breeder. Anette Blangsted - rider: Merita Hagren
Atterupgaards Dakota (by Ibiza x  Bon Bravour) - breeder. Atterupgaard - rider: Eric Guardia
Grevens Sirius (by Secret x  Johnson) - breeder. Stutteri Greven - rider:  Alexander Helgstrand
Diaz Skovvang (by D'avie x  De Noir) - breeder. Marie Hedegaard Pedersen - rider:  Moises Azuar
Franka (by Franklin x Fürstenbal) - breeder. Bodil & Jan Pedersen - rider: Emma Ahlberg
Lille Kærgårds Sisco (by Blue Hors Don Olymbrio x Stedinger) - breeder. Louise Lundgaard Nissen - rider: Silje Bakken
Svanegaardens Sick-Sack (by Secret x  Blue Hors Don Romantic) - breeder: Stutteri Svanegaarden - rider: Sergio Moron
6-year olds
Roxette (by Revolution x  Quite Easy) - breeder. Stutteri Sorgenfri - rider: Frederikke Gram Jacobsen
Zanderry Danheat (by Blue Hors Zack x  Londonderry) - breeder. Mette Birkholm) - rider: Frederikke Gram Jacobsen
Faretti (by Franklin x  Don Frederico) - breeder. Henrik Hansen - rider: Anne-Mette Strandby
Myou De Jeu (by Revolution x Florencio) - breeder. Emmy de Jeu) - rider: Anne-Marie Hosbond
Danésa Nord (by Hesselhøj Donkey Boy x  Belissimo M) - breeder. Vibeke Bjørn Rasmussen - rider: Anne-Marie Hosbond      
Lyngbjergs St. Paris (by Blue Hors St. Schufro x  Blue Hors Rockefeller) - breeder. Bente Børjesson - rider: Victoria Vallentin
Hesselhoej Double Up (by Hesselhøj Donkey Boy x Tailormade Lancelot) - breeder. Hesselhøj - rider: Anders Hoeck
Slangerupgaards Flottenheimer (by Franklin x  Scolari) - breeder. Slangerupgaard - rider: Eric Guardia
7-year olds
Satchmo (by Hesselhøj Donkey Boy x  Blue Hors Future Cup) - breeder. Erik Mølbak - rider: Nadja Aaboe Sloth
Tjørnelys Torino (by Tailormade Temptation x Marlon) - breeder. Johanna Emmoth - rider: Maria Von Essen
Ambjergs Delgadino (by Hesselhøj Donkey Boy x Blue Hors Don Romantic) - breeder. Malene Clausen - rider:  Emma Ahlberg
Bruunholms Flora (by Blue Hors Don Olymbrio x  Blue Hors Hertug) - breeder. Bitten & Jørgen Bruun - rider: Lone Bang Zindorff
Duné Nec (by Hesselhøj Donkey Boy x  Blue Hors Don Romantic) - breeder. Nana Eckhart - rider: Sissel Bille Jakobsen
Skovdals Dexter (by Hesselhøj Donkey Boy x  Blue Hors Romanov) - breeder. Bjarne Skovdal - rider: Susanne Barnow  
Åtoftens Dancing Memory (by ERA Dancing Hit x Benetton Dream) - breeder. Stutteri Åtoften - rider: Susanne Barnow  
Midt-West Franceska (by Franklin x  Blue Hors Don Schufro) - breeder. Stutteri Midt-West - rider: Majken Faaborg Glerup
Photo © Ridehesten
Related Link
Eurodressage Coverage of the 2023 World Championships Young Dressage Horses