F.O.C.U.S.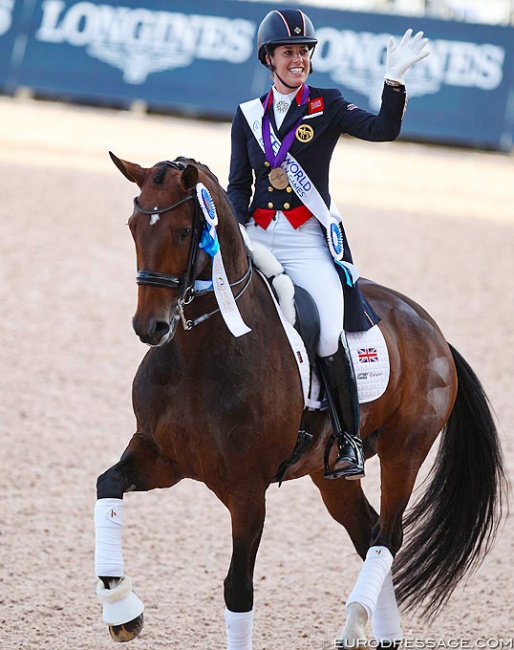 Mount St. John Freestyle was the horse that stepped into the shoes of Charlotte Dujardin's career making, double Olympic champion Valegro. When the KWPN was retired after Rio, Dujardin looked at client Emma Jane Blundell who provided her two potential successors: Mount St. John Freestyle and KOM Fairy Tale. It was Freestyle was most up for the challenge and put Dujardin back on the podium in 2018. The mare, however, disappeared from the scene in 2021 and has not returned.
Where is she now?
From Verden to Great Britain
Mount St. John Freestyle is a 14-year old Hanoverian mare by Fidermark out of Donna Gracia (by Donnerhall x Ataturk x Freiherr) . She is bred by Stephan Kurz in Germany.
Blundell bought the mare as a foal at the 2009 Hanoverian Elite Foal Auction, where she had catalog number 240 and was named Freestyle already. She moved to Emma's yard Mount St. John in Felixkirk, where she was reared.
Freestyle's competition debut was in March 2013 when Emma rode her in the 4-year old young horse class at Northallerton equestrian centre. Emma competed her the first year.
Charlotte Dujardin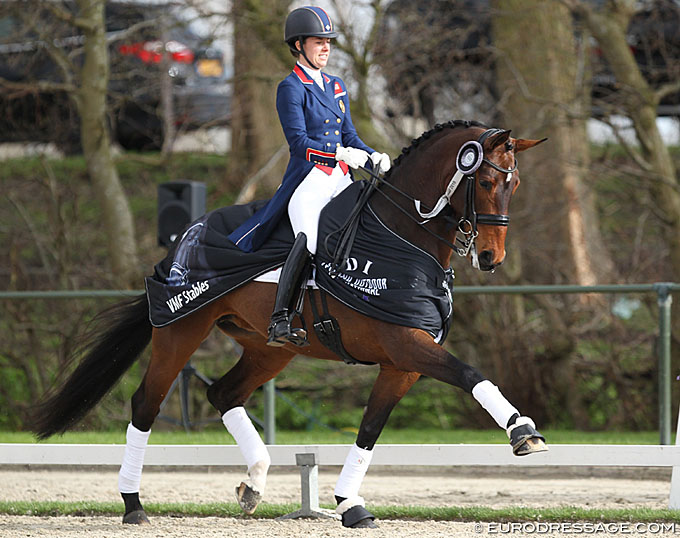 As of 2015 Charlotte Dujardin was on board. They won the 2015 British Young Horse Championships in Hartpury and the Medium Championship at the Nationals. In 2016 they won the Advanced Medium Championship. With Valegro retired at the end of 2016, Dujardin put full focus on Freestyle and dominated the 20217 British Small Tour Championship. 
WEG Bronze
By March 2018 Charlotte piloted the 9-year old Freestyle in her first Grand Prix test in Hartpury. Their international show debut was at the CDI Nieuw en St. Joosland three weeks later, where they posted 75.152% in their first CDI Grand Prix test. They won Joosland and went full throttle to win both tests at the CDI's Windsor, Bolesworth and Hartpury. After a one year absence from the British team (in 2017), Dujardin was selected again for the 2018 World Equestrian Games in Tryon, where they won team bronze after placing fifth in the Grand Prix (77.764%) and individual bronze in the Grand Prix Special with 81.4489%.
Drama in Rotterdam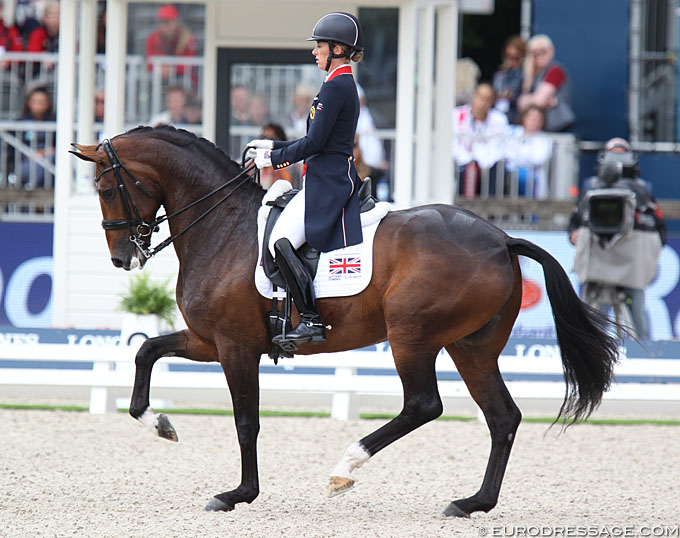 After Tryon a break from international showing followed. Nine months later they returned at Bolesworth and rode the mandatory team selection trial in Hartpury, skipping Aachen. At the 2019 European Championships the pair was eliminated from the Grand prix when a blood mark from the spur was seen on the side of the horse at the tack check after the test. A dramatic turn of events for team Britain and Dujardin's run for a European medal was over. 
World Cup During Corona
After Rotterdam, Durjardin focused on the 2019-2020 World Cup qualifiers and rode Lyon, London and Amsterdam. In Lyon and Amsterdam they were second, which was their first knock from that number one place at a CDI since the start of their career. They went to the CDI-W 's Hertogenbosch but the show was cancelled due to the outbreak of corona and Freestyle shipped back home. The World Cup Finals in Las Vegas were also cancelled.  Eight months later the pair returned at the CDI Keysoe in October 2020 and in December won the British Championships.
Gio Takes Over the Baton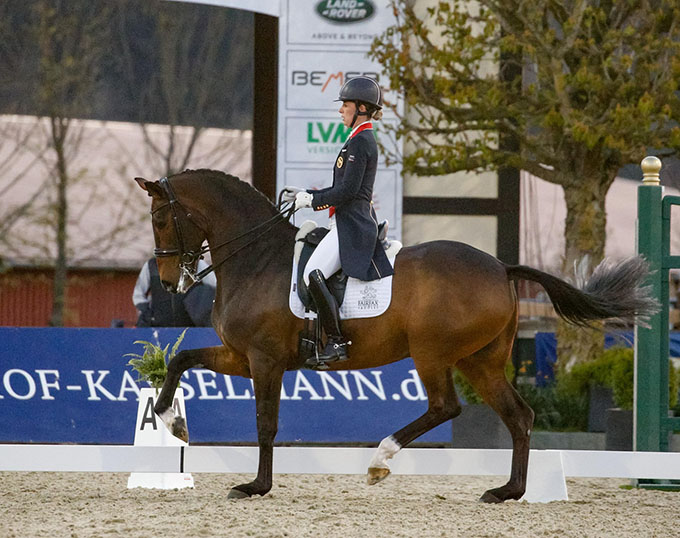 In the Olympic year 2021 Dujardin introduced Gio alongside Freestyle. At the CDI Hagen in April 2021 Freestyle was second behind Werndl and Dalera, but won the Special with 82.872%. Three weeks later, Gio beat Freestyle in the Grand Prix at the CDI Wellington Heckfield, while the mare won the Kur to Music as Gio took the Special.
The CDI Wellington Heckfield in May 2021 turned out to be Freestyle's last competition. Dujardin announced that Gio would be her pick for the 2021 Olympic Games and a day after the British team announcement, Blundell provided the information that Freestyle did not "maintain sufficient fitness to cope with the long travel and extreme climate required to perform to her best.
Where Is She Now?
In September 2021, Dujardin announced that ""Freestyle is at home in my stables and she's really good. Hopefully I will do the World Cup series with her next year."
This come back to the arena never happened and Blundell seemingly ended her collaboration with Dujardin, who has been directing her attention more to riding and training horses for client Annabella Pidgley alongside other clients. Dujardin produced Mount St John Valencia and VIP for Blundell, but VIP became Emma's own ride and Valencia went to Amy Woodhead and then got sold.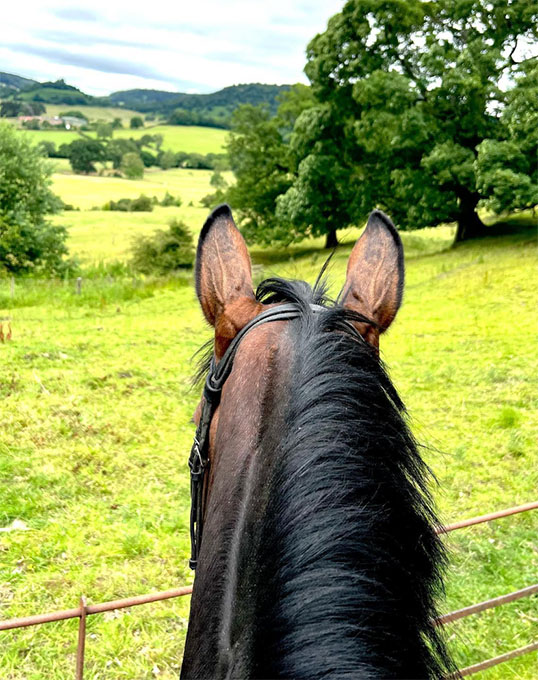 A total radio silence was maintained by Blundell on Freestyle's whereabouts and condition. All questions asked remained unanswered.
Suddenly a photo of Freestyle's ears appeared on social media on 6 June 2022, which showed that the mare was being hacked by Holly Woodhead. Gradually a few more photos followed of Freestyle in the box and later a clip of Emma riding her herself. 
Breaking the Silence
At the start of March Emma finally broke her silence and talked about Freestyle. She and dropped a little bomb by first disclosing to Horse & Hound: "My vision for the future is to watch Freestyle back out at the top of the sport, with Paris just around the corner."
Five weeks ago on social media Emma posted that "it's a real treat for me, having owned Freestyle from a foal, watching and supporting her huge success with Charlotte for many years, to now having the chance to ride such a horse myself. She really is a dream to ride and I feel so lucky to have her in our stables! She will always be my horse of a lifetime."
The Olympic Dream is Alive
To Eurodressage she explained that Freestyle came home in 2022 to join her breeding programme during rehab and is now back in training.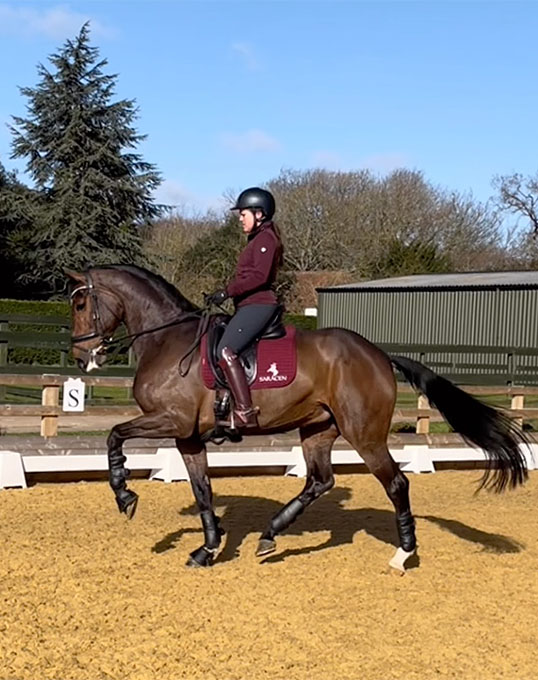 "Yes I've been riding her during her rehab and now she's getting to full fitness," Emma told Eurodressage. "It's great fun learning so much from her while we're breeding from her by embryo transfer. I've never ridden at GP but I can't think of a kinder, nicer schoolmistress to learn from!"
When asked if the Paris Olympics are a goal, Emma replied, "I'm not an Olympic athlete but I would love to see her being successful and getting her chance in an Olympics still."
In 2022 Freestyle was successfully bred to Glamourdale (for embryotransfer) and this year she has been inseminated with St. Schufro (also for ET). Emma has no horses with Charlotte anymore but has different collaborations going with riders such as Amy and Holly Woodhead, Greg Sims, Becky Moody, Jeanine Nieuwenhuis and Alexander Harrison. 
Photos © Astrid Appels - Petra Kerschbaum - Kevin Sparrow
Related Links
Charlotte Dujardin to Aim for World Cup Series with Mount St. John Freestyle
Mount St. John Freestyle Not Sufficiently Fit for Tokyo Olympics
British Dressage Team for 2021 Olympic Games Announced
Charlotte Dujardin to Aim for World Cup Series with Mount St. John Freestyle
Charlotte Dujardin Cruises to 2020 British Grand Prix Champion's Title
Dujardin Returns with Mount St. John Freestyle and Makes it a Triple at 2019 CDI Bolesworth
Mount St. John Freestyle's Come Back Planned for 2019 CDI Bolesworth
Charlotte Dujardin Steps Out with New Ride, Mount St John Kom Fairy Tale