Germany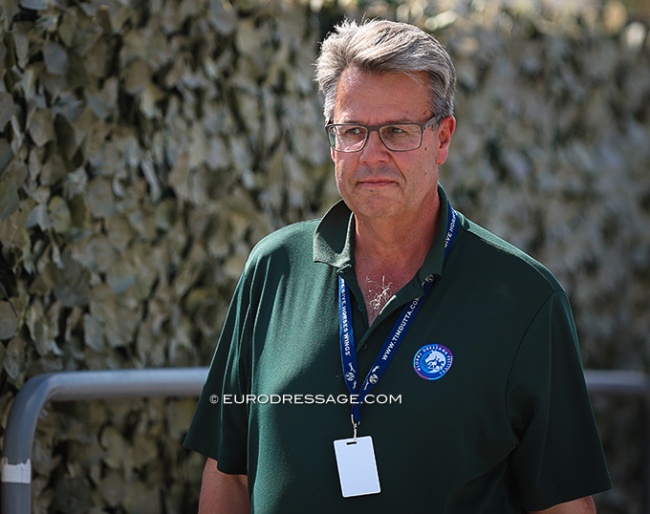 German Thomas Baur has re-signed a contract to stay on as show director of the Global Dressage Festival in Wellington, Florida. Baur has agreed to a three-year contract with Wellington International for 2024-2026.
Thomas Baur
Baur is a former FEI Dressage Committee member and former vice chair of the International (Equestrian) Event Organizers Association (IEOA). He currently focuses on show organisation in Europe and the U.S.A and is a member of the European Equestrian Federation's Dressage Working Group.
Baur has been the show director at the Global Dressage Festival since 2014, first under Bellissimo's Equestrian Sport Production (ESP) and since 2023 under Global Equestrian Group's Wellington International. His contract was up for renewal at the end of the 2023 season.
The Future of Global
There was much speculation during the season about the continuation of the Festival at its traditional venue on South Shore Boulevard for 2024. Rumours were going round that the venue might move to the Jim Brandon or even TerraNova as the show jumping venue is not ready yet to welcome a full season of dressage competition. 
In the last few years under Bellissimo's reign, hardly any structural improvements have been made to the Global venue: the stabling conditions are still far from ideal, there is little trailer parking space, and the trade fair venue is a concrete surface where guests are grilled alive by the sun. In comparison to the posh venue for the show jumpers, which looks like a mini Disneyland with covered seating options even for the 'normal' spectators, only the paying VIP guests who break the bank for a place out of the sun in the VIP tent, get to enjoy the full dressage experience at Global.
A fun little perk during the 2023 show season was cocktail hour next to the trot-up strip during horse inspection, open to all. In addition, 3 Graces Dressage sponsored a "Best Turned Out Award" with prizes donated by ShowChic.
Bellissimo's Wellington Equestrian Partners still own the land where Global is hosted and he hopes to turn it into a residential area. Wellington International has only "bought the dates" to host the show on his land.
2024 GDF
The dates for the 2024 Global Dressage Festival have already been announced. CDI's will be held on:
Jan 10-14 - CDI-W/CDI3
Jan 24-28 - CDI4*/CDI3*/CPEDI3*
Feb 7-11 -  CDI-W/CDI3* 
Feb 21-25 -  CDIO3*/CDI3*
Mar 7-10 -  CPEDI3* 
Mar 13-17 -  CDI5*/CDI3*
Photo © Astrid Appels
Related Links
Thomas Baur Joins Organizers' Team for 2014 Global Dressage Festival
Thomas Baur: "Are FEI Rules Only 'Guidelines' Now?"
Thomas Baur Resigns as EO Vice Chair, No Confidence in New FEI Dressage Committee
Bellissimo Presents "Wellington 3.0", Plans to Move Dressage, Aims to Rezone GDF Show Ground