Westfalian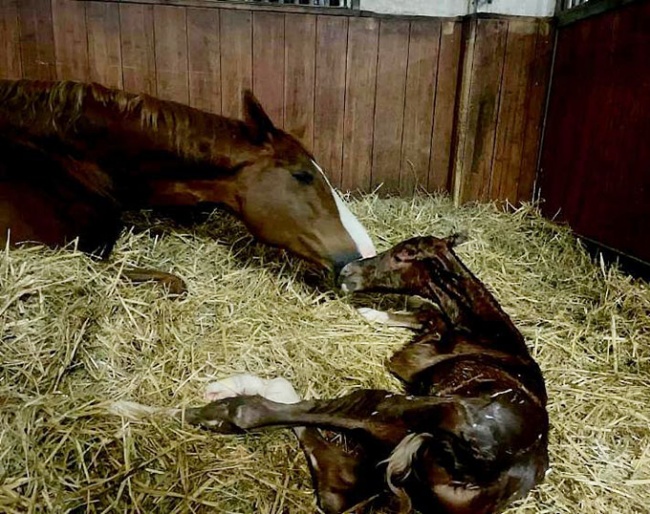 Isabell Werth's retired multiple championship medal winning horse Bella Rose is a mommy. Yesterday evening, 13 March, the mare gave birth to a healthy colt foal. 
The chestnut has been named Via Bellani. 
Bella Rose
The 19-year old Westfalian bred Bella Rose  (by Belissimo M x Cacir AA) is owned by Werth's long-time sponsor Madeleine Winter Schulze.
Werth and Bella Rose (by Belissimo M x Cacir AA) won team gold at the 2014 World Equestrian Games, team and individual gold at the 2018 World Equestrian Games, triple gold at the 2019 European Dressage Championships and team gold and individual silver at the 2021 Olympic Games. 
She was retired from sport after the Olympics. Initially a retirement ceremony was planned for the 2021 CDIO Aachen, but the celebration was postponed by a year as the mare had to be operated on for colic at the beginning of September 2021. 
She fully recovered, was honoured in Aachen in 2022 and has started a new chapter as a broodmare now.
Via Bellani
Her newborn colt is by Valdiviani (by Veneno x Fidertanz).
"In all fairness, I'm so happy," Isabell Werth said "As always, Bella Rose did a fantastic job and gave us a great foal. This is a different kind of happiness, and the whole stable is already in love with the little guy. Now my heart horse is a mom and I am grateful that the dream of having a foal has come true so wonderfully."
Photo © private
Related Links
Bella Rose's Retirement Celebrated with Gala Evening at 2022 CDIO Aachen
Bella Rose Undergoes Colic Surgery
Bella Rose to Compete One Last Time at 2021 CDIO Aachen, Then Retired from Sport