Great Britain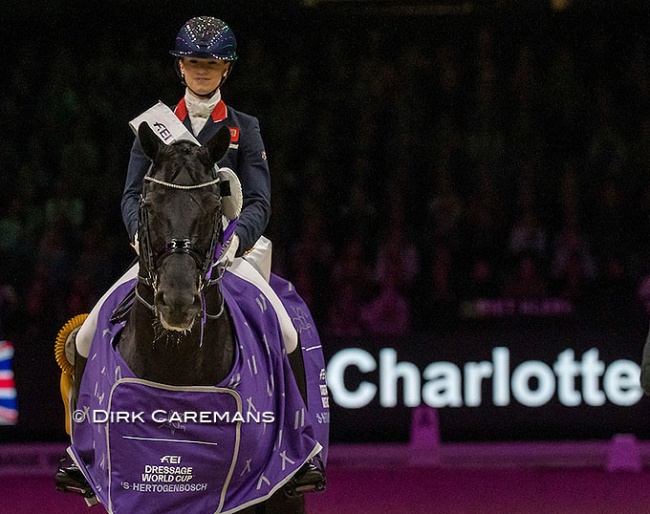 Team Van Olst has made their decision: Charlotte Fry and Glamourdale will not be competing at the 2023 World Cup Finals in Omaha, U.S.A. The long awaited duel between World champion Glamourdale and Olympic champion Dalera BB will be for later this summer. 
World Cup Circuit
Reigning world champions, British Charlotte "Lottie" Fry, competed three different horses in four Western European League world cup qualifiers this 2022-2023 season. She collected 61 points to rank 6th on the final WEL standing and obtain a ticket to Omaha. 
Aboard Van Olst Horses' 12-year old KWPN stallion Glamourdale (by Lord Leatherdale x Negro) she rode two qualifiers, London and 's Hertogenbosch, and won both of them. She rode Everdale (by Lord Leatherdale x Negro) in Mechelen and Lars van de Hoenderheide (by Negro x Layout) in Amsterdam.
Because Glamourdale was the only horse who did two qualifiers, Fry was only eligible to ride him in Omaha. 
"Never Our Focal Point"
Van Olst Horses has now exclusively told Eurodressage that Fry and Glamourdale will not be going to the 2023 World Cup Finals. 
"Glamourdale is not going to Omaha," Gert-Jan van Olst confirmed to Eurodressage. "We can't miss him that long from breeding duty. As a matter of fact, Omaha was never our focal  point."
What's Next?
Glamourdale is Van Olst's most popular breeding stallion and the flagship sire of its stud. 
His recent World Champion's title has added only more lustre and popularity to the black stallion coveted by the breeders. 
The big Glamourdale vs Dalera BB duel will now have to wait until the summer. Maybe CDIO Aachen and most likely the 2023 European Dressage Championships in Riesenbeck if all goes to plan. 
Gert-Jan does not want to give a sneak peek of their summer plans. "We haven't made the definitive planning yet," he said. 
Photo © Dirk Caremans
Related Links
Eurodressage Coverage of the 2023 World Cup Qualifiers and Finals
 At the 2022 CDI-W London Lottie Fry and Glamourdale Pick Up Where They Left Off, Winning
Fry and Glamourdale Win 2023 CDI-W 's Hertogenbosch Grand Prix, Omaha No Certainty
Fry Wins WEL World Cup Season-closer at 2023 CDI-W Den Bosch, Glamourdale's Start in Omaha Unsure
Fabulous Fry Steals the Show on Glamourdale at 2022 CDI-W London