2023 CDI Wellington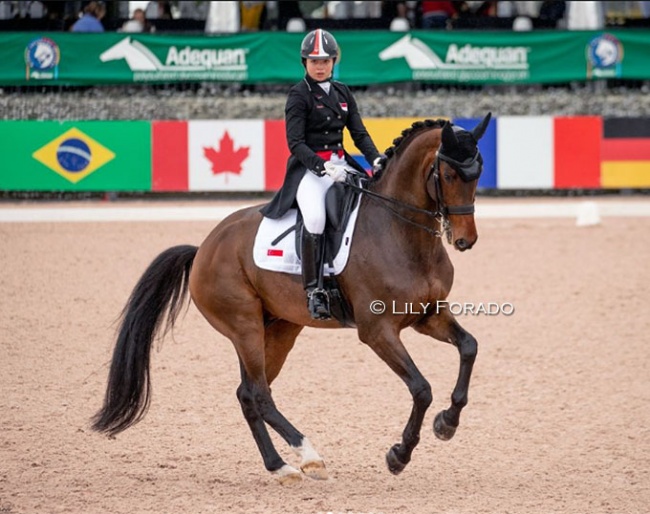 In May 2022, Blue Hors made the surprising announcement to have sold their Grand Prix Blue Hors Zatchmo, was was lined up as one of Nanna Merrald's horses and successor for the now 19-year old sire Zack.
The identity of the buyer was kept quiet but on his FEI passport the owners' names were changed to Melanie and Tony Chew, parents of Singaporean Olympian Carolina Chew. 
Nine months after purchasing the Grand Prix schoolmaster Caroline made her show debut on the gelding, not in the U.K. where she is based, but in Wellington, Florida. 
Who is Blue Hors Zatchmo?
Zatchmo is a 14-year old Oldenburg stallion by Blue Hors Zack out of Fiesta's Girl (by Donnerhall x Pik Bube I). He is bred by the late Inge Bastian in Germany. 
Zatchmo has been owned by Blue Hors since he was a yearling. He is licensed for breeding for Danish and Swedish warmblood, but had been focused more on sport than reproduction.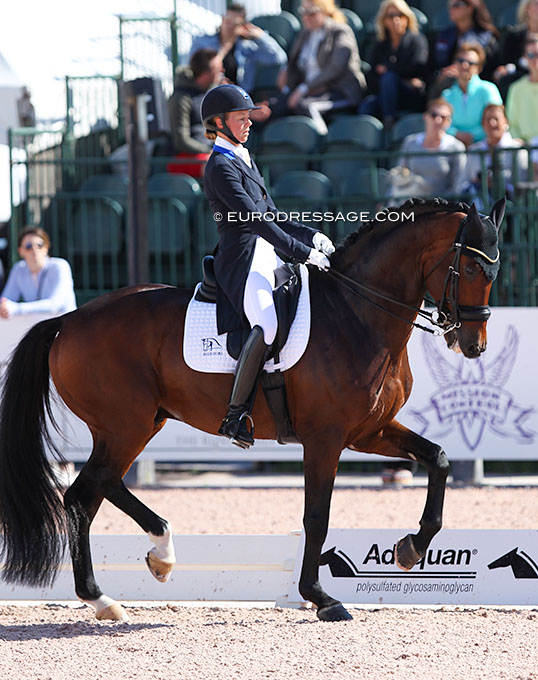 He was first trained and competed by Allan Grøn. They finished 12th at the 2013 Danish Young Horse Championships and 10th at the 2015 Danish Young Horse Championships. Zatchmo's international show debut was at small tour level at the 2017 CDI Herning.
In 2018 Agnete Kirk Thinggaard, the daughter of Blue Hors stud owner Kjell Kirk Kristiansen, took over the ride on Zatchmo. She made her CDI debut in the autumn of 2019 at Grand Prix level in Herning.  In 2020 they posted no less than 8 top 5 placings in the big tour classes in Wellington. 
In 2021 Thinggaard quit competition sport and Nanna Skodborg Merrald took over the ride. The new dup competed in two CDI's: Le Mans and Herning before Zatchmo sold to Chew
Wellington Debut
At the 2023 CDI Wellington on 27 January 2023, Chew made her show debut on Zatchmo in the 3* tour. 
They posted 68.261% for a second place finish in the Grand Prix and were on repeat in the Grand Prix Special with 68.128% and another second place.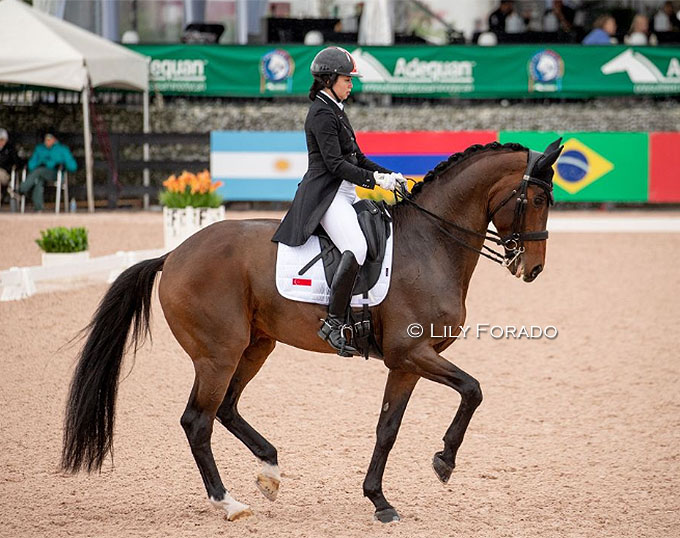 "It went really well with no big mistakes," Chew told Eurodressage. "Competing a new horse for the first time is always nerve-wracking, especially when my other horse Joey (Tribiani) and I have been together for 8 years and know each other so well!  I was so pleased with the feeling Zatchmo gave me in the ring - super focused and confidence-building."
Chew bought Zatchmo nine months ago and carefully spent her time getting to know the horse and finding the buttons. She did not compete him in the U.K. before. 
"We've really taken our time to get to know each other? I was in no rush to compete, as Joey was having a busy 2022, and I balance sport alongside a legal career at Freshfields in London," said Caroline. "He is a brilliant horse!! He's been so beautifully trained by Blue Hors, who have been really supportive. The amazing Nanna, his previous rider, keeps in touch. He tries super hard, so even though he's totally different to Joey, he's always doing his best to understand me. I hope that as we build our partnership he can showcase his power and talent more and more."
Who is Caroline Chew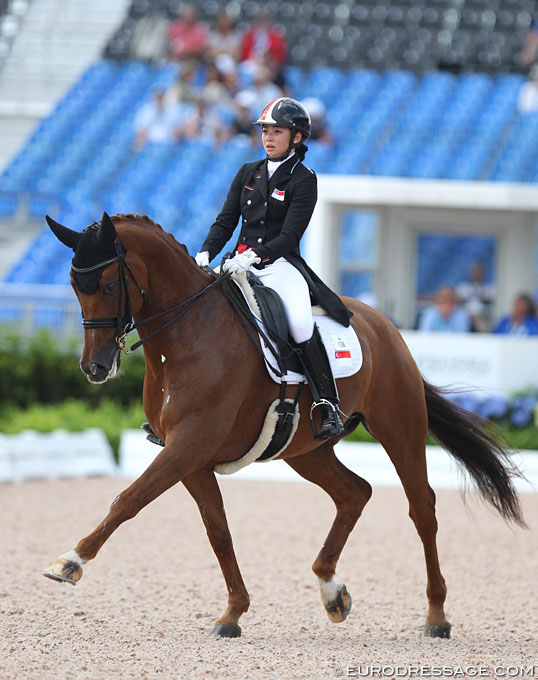 The 30-year old Singaporean Caroline Chew is based in the U.K.
Her first encounter with the Olympic movement was in 2010 when she represented her country in show jumping at the Youth Olympic Games. She then contested the Southeast Asian Games from 2013 till 2017, winning individual silver and bronze in 2015 and 2017. She rode in dressage at the 2014 Asian Games and 2018 World Equestrian Games. Caroline made history for her country when she was the first to represent Singapore at the 2021 Olympic Games in Tokyo in dressage on Tribiani (by Solos Landtinus x Landadel)
Dressage Loving Lawyer
Chew studied law at the Bristol University and lives in London where she works full-time as a lawyer at Freshfields Bruckhaus Deringer. She trains with Matthew Frost. 
This is her first time competing in Wellington as a great job opportunity came along to be temporarily based in the U.S.A.
"For now I'm working in Washington DC and riding at Wellington for the rest of the winter season," she explained. "Coming to Wellington to compete has always been a huge dream of mine, so getting the opportunity to do it now, with lots of support from my family, work and riding teams, is very exciting."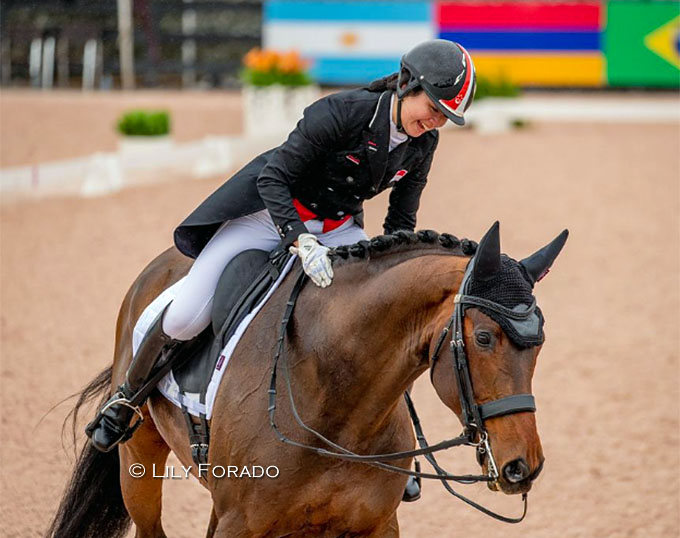 She continued, "it ended up being the right move for us as it gives Joey some big competitions this season, while allowing Zatchmo and I to learn more about each other in show environments - all without having to travel in between venues (which is harder for us in Europe post-Brexit). The prospect of warmer weather didn't hurt either."
When asked what her future plans are for the season, Chew replied, "will see how Joey and Zatchmo come along before making any further plans. It's a great privilege to be here with my riding team (Matt Frost, Adam Kemp and Rachel Stephens) and two wonderful horses, so fingers crossed."
Photos © Lily Forado - Astrid Appels
Related Links
Blue Hors Zatchmo Sold
Nanna Skodberg Merrald to Compete Blue Hors Zatchmo and Don Olymbrio