KWPN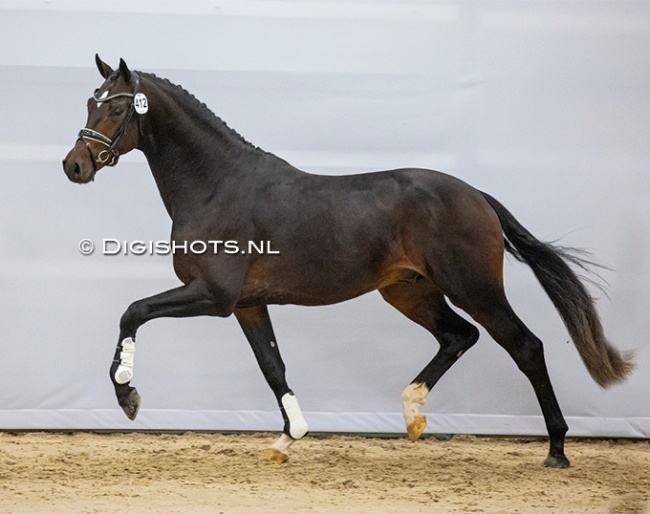 On the fourth day of pre-selection for the 2023 KWPN Stallion Licensing, thirteen colts were accepted to move on to the second phase. 
The KWPN Stallion Licensing Committee consists of Bert Rutten (chair), Johan Hamminga, and Wouter Plaizier. German Sönke Rothenberger assists as a new "apprentice judge."
The fourth pre-selection day on Friday 2 December marked the presentation of the first crop of young licensed KWPN stallion Jameson, while on Saturday those of licensing champion Le Formidable and performance test winner Kjento will follow.
"We saw a big group of Jameson sons from his first crop. The first year one always has to wait and see, but we picked his three most complete sons," said Bert Rutten about the rather low number that impressed, considering the amount (17) of sons presented. "We selected on correct conformation, size and frame, good body use and basic gaits."
A total of fourteen colts were accepted for the second phase:
Private Pleasure (by Jameson Rs2 X Dream Boy) - Breeder: Wim Plaizier - Owners: Jacques Maree & Wim Plaizier
Porsche Panamera Jcs (by Kilian X Uphill) - Breeder: C. Van Der Meer - Owner: T. Driessen
Pendragon (by Kaiser Weltino X Johnson) - Breeder: I. Van Dongen, Boijl - Owners: M. Schalekamp
Pereggi (by Kilian X All at Once) - Breeder and Owner: Nathalie Smeets
Peter Pan (by King Karim X Florencio) - Breeder: K. Reitsma - Owners: K. Reitsma, L. Zwart, Stal Naberink
Piqué (by Lord Europe X Bordeaux) - Breeder: A  Romijnders - Owner: Jop van Uytert
Pirelli (by Just Wimphof X Governor) - Breeder: H. De Rijke - Owners: M. Hendriksen-de Rijk, R. Kauffeld-jansen
Paddington Geuzenhof (by Lantanas X Krack C) - Breeder: S. Maakenschijn - Owner: Van Olst Horses
Pasadanas (by Lantanas X Tuschinski) - Breeder and Owner: a. Van Erp can 
Prime Time (by Jameson Rs2 X Apache) - Breeder: M. Konijn-egas - Owners: C.b Becaert,
Perfectionist (by Ladignac X Samarant) - Breeder: P Coolen - Owners: R Coolen,  F. Minkels
Paco Rabanne (by Jameson X Capri Sonne Jr) - Breeder: C.a. Telussa Baas - Owners: M. Rentmeester & Tim Coomans
Proud James (by Jameson X Johnson) - Breeder: Y. Van Maasacker - Owners: M. Verweij and Y Van Maasacker
Photo © Digishots
Related Links
Fourteen Colts Pass on Third Pre-Selection Day for 2023 KWPN Stallion Licensing
Seventeen Colts Pass on Second Pre-Selection Day for 2023 KWPN Stallion Licensing
Fifteen Colts Pass on First Pre-Selection Day for 2023 KWPN Stallion Licensing