Oldenburg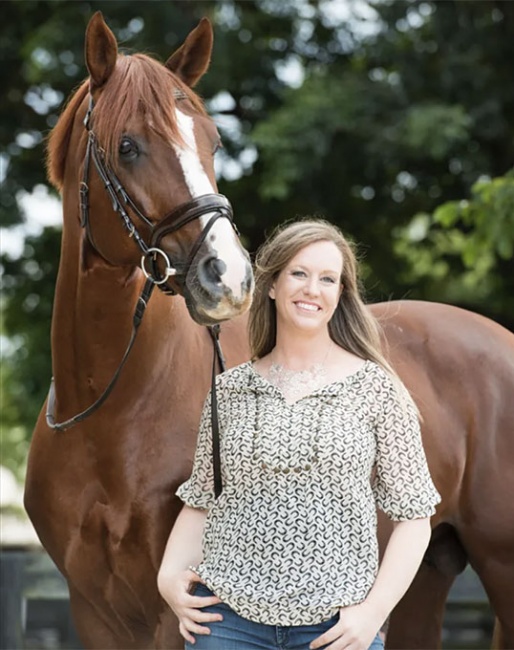 The U.S. bred Oldenburg stallion Fortunato H20 was the youngest kid on the block at the World Para Dressage Championships in Herning (DEN) this summer and has been taking big strides towards greatness for American dressage sport and breeding.
Not only did he secure a team bronze medal, but his quality and achievement have now been recognized by the German Oldenburg Verband (GOV) who granted him a lifetime approval for breeding.
Best of American Breeding
Bred by Kendra Hansis of Runningwater warmbloods in New Jersey, Fortunato H20 is by Floriscount and out of Raleska WF (by Rascalino x Warkant x Argentan) and represents the best of American breeding. 
Raleska's breeder Linda Woltz of Walnut Farm, Ohio, brought strong Hanoverian lines to America when she bred dam Raleska WF. Hansis  built on these lines by pairing her to the Grand Prix stallion Floriscount. 
With a keen interest in high performance bloodlines bred on American soil, U.S. Grand Prix rider Lehua Custer felt she didn't need to cross the Atlantic to find an international calibre dressage horse or breeding stallion. 
"I wanted to find a North American bred stallion prospect for myself and see if I could get him approved," Lehua told Eurodressage. "I like to train horses up myself and it's more financially feasible for me to find them here in the U.S.A."
A Stroke of Luck and a Fairy Godmother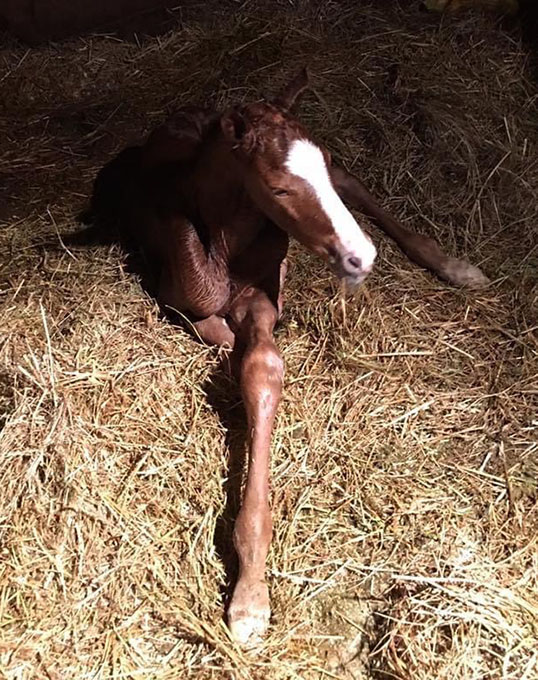 For Custer it was serendipity when she bumped into a photo of Fortunato on an evening of Facebook scrolling. 
"I shopped online and met local breeders to see their youngsters," said Lehua, "but then I came across a photo that Kendra had posted of 'Tuna' and said to my roommate that that was my horse."
Lehua immediately contacted Hansis and was able to purchase Fortunato H20 as a one-month old foal.
"A client of mine knew I wanted this foal and knew I didn't have the funds, so she offered to loan the money to me," Lehua admitted. "She's his fairy godmother now."
Riding under Palm Trees: From Hawaii to California to Florida 
Born and raised in Hawaii, Lehua has spent her entire life under palm trees and on horses. Her full name is Lehuanani Limahuli Custer and she began riding in Hawaii. Lehua moved to sunny California to pursue a Bachelor's in Psychology and grad school at Pepperdine University in Malibu. Immediately after graduation she got a lesson with U.S. Olympian and judge Hilda Gurney as graduation present. This one lesson resulted in Hilda taking her under her wing in 2001.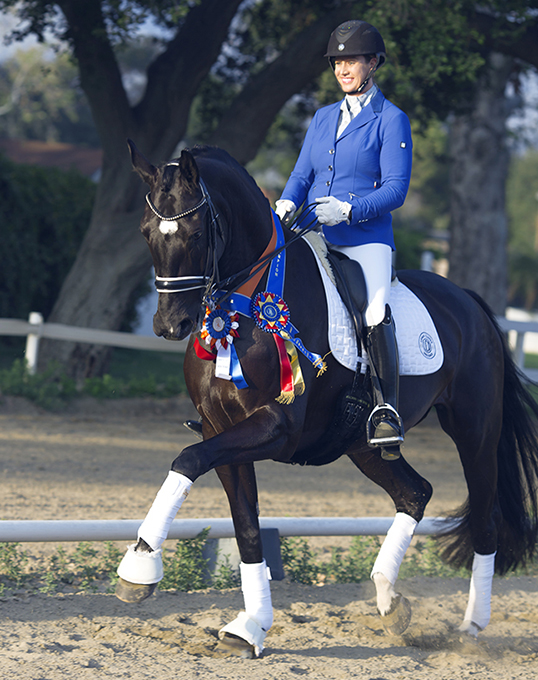 Lehua became an assistant trainer at Gurney's Keenridge for 10 years. A move to independence followed when Lehua set up her own business out of the L.A. Equestrian Center, before she relocated to Wellington, Florida, in 2019. She got submitted to the US Development Program with the U.S. bred Dutch warmblood F.J Ramzes (by Juventus x Rampal) and was awarded the 2019 Carol Lavell Advanced Dressage Prize, a training grant she received two years in a row.
In order to represent the U.S. in international sport, Lehua would need a pipeline of horses. 
"I always buy young stock and train them myself," she said. "My current FEI FJ Ramzes was bred at Cornell University and purchased by his owner as a yearling. We're now competing in CDI's, most recently winning the Grand Prix and Special at the 4* at Terranova."
A Devon Triple and Grand Champion's Title
Young star Fortunato H20 competed as a foal at the 2016 Devon Breed Show in Pennsylvania, where he finished fourth. 
"I shipped him to California to be raised at Hilda's and when I moved to Florida in 2019 I left Tuna in California until I was settled," said Lehua. "I then drove him cross country with my mom and my pitbull when he was three."
Custer saddle broke Tuna herself  and in the autumn of 2019 shipped him back to Devon, where he became the reserve champion in the Colts/ Geldings Championship as a 3-year old, scoring a 10 for his walk.
Breeder Kendra enjoyed the Devon success of "her" Fortunato had to convince Lehua to enter Tuna in the 2021 Devon Breed Show once more time.
"2021 Dressage at Devon didn't happen by any thoughtful plan," Kendra reminisced. "In fact, it almost didn't happen at all. As the late entry deadline approached, I told Lehua I'd pay for the whole show if she'd bring Tuna up from Florida for it. If Tuna won anything, she could have the prize money to help cover her trip expenses and I'd keep the ribbons."
Lehua caved in and Fortunato H20 travelled back north to Devon for a third time, but the journey paid off. The 5-year old stallion was named the 2021 Devon Breed Show Grand Champion, the biggest title a dressage horse can earn at a breed show on American soil. In addition, Lehua competed him in the Materiale classes and he won every single class entered.
Preparing for the Future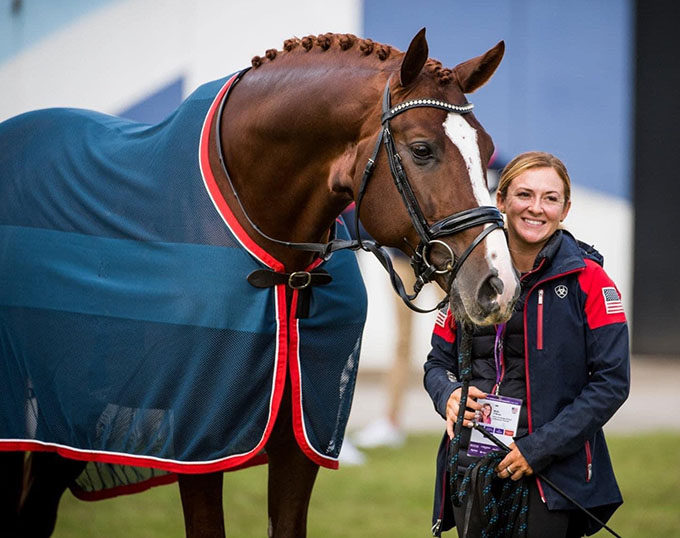 Lehua has trained Fortunato H20 slowly and carefully up the levels and lightly competed him in open dressage classes up to third level with scores almost always in the mid 70s.
In 2020 they were invited to ride in the USDF Young Horse Prospect Symposium and received positive feedback from Willy Arts.
"Willy said he's a good horse for the future for breeding and sport because of his positive attitude and quality gaits," said Lehua proudly. 
An Adventure in Denmark
In 2022 an interesting offer came along when Para Dressage World record holder Roxanne Trunnell approached Lehua if she could borrow Fortunato H20 for a CPEDI. She agreed as long as she could keep breeding when needed.
In their first outing together, Trunnell and Tuna won the FEI Para Equestrian Team Test of Choice at the Gold Coast May Dressage. The pair went on to compete at the Tryon Summer Dressage CPEDI3* in June 2022, where they won all three Grade I tests.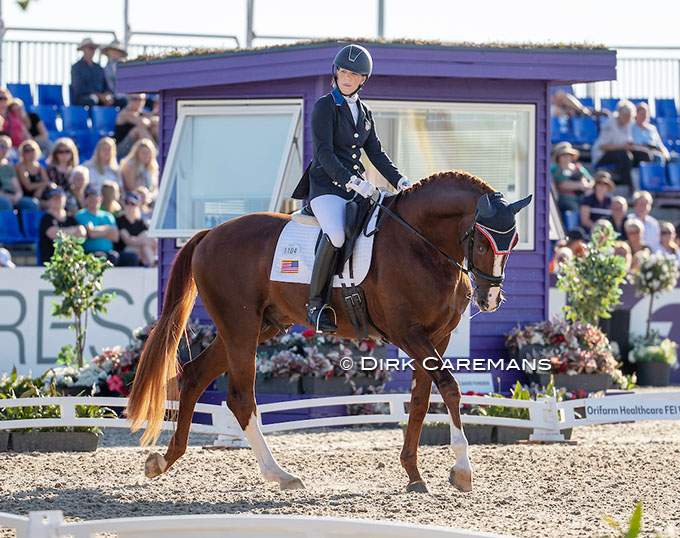 "In Tryon they qualified for the World Para Dressage Championships in Denmark and I knew he would behave well for her as he has a fantastic temperament," said Lehua. "I had no idea how they would score as he was new to para, but I knew he has a walk for a 10 and Grade I is ridden in walk."
In Herning, Fortunato H20 ended up being the youngest horse in competition and scored a team bronze medal on his U.S. Para Team debut. "They had the second highest score for team USA and help USA earn our only medal," Lehua added. 
Lifetime Approval
This para team medal accomplishment along with his performance through third level under his owner gave him his final approvals for breeding. 
In 2020 he was licensed for the German Oldenburg Verband (GOV) and Westfalian-NA society at the Hilltop Farm stallion performance testing and the WFFS negative stallion is also AHS approved. After the World Championships, Oldenburg confirmed his lifetime approval.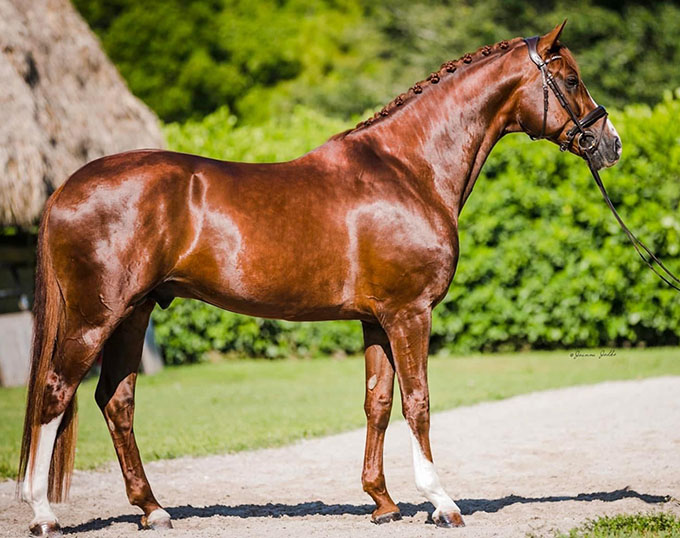 When asked what her future plans are with Tuna, Lehua replied, "I plan to train and compete him to FEI and will allow Roxie to continue showing in CPEDI's when she chooses. Of course he'll continue to be available for breeding."
Photos © Gina Falcone - Hippofoto - Shannon Brinkman - Melissa Fuller
Related Links
Fortunato H20 Named Grand Champion of the 2021 Devon Breed Show
Lehua Custer Awarded 2019 Carol Lavell Advanced Dressage Prize
Lehua Custer and F.J. Ramzes win 2021 CDN Wellington Grand Prix, U.S. Bred Horses in Front