Bits 'n Pieces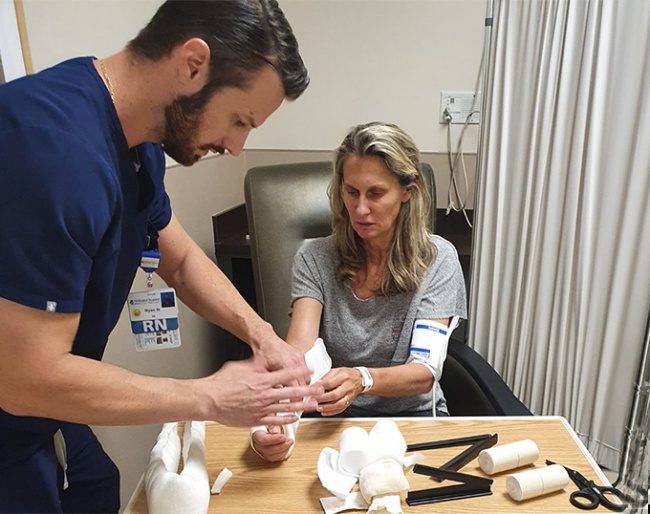 Dominican Republic's Yvonne Losos de Muniz has fractured her wrist in a riding accident. On 31 October she got bucked off a horse. "After twenty years without falling off a horse, it seems my time was up," she wrote. "A couple of days ago I got bucked off a young horse. My wrist got the worst of it with a broken radius and ulna." Losos de Muniz was operated on a day later. "I had a succesful open reduction with internal fixation surgery for my broken wrist at HSS Florida with Dr. Nicholas Sama. Seven screws and one plate later it's all fixed up and soon will be ready to ride again."
British Grand Prix rider Sara Gallop broke her humerus in a freak accident at the yard at the end of October. "Lucky, thanks the hard working team at Gloucester hospital & amazing pain relief, I am back up and on the road to recovery," she said. Gall has her arm in a sling and is back to teaching for the moment as she recovers. "Obviously I won't be riding for a while, but I am so grateful to have my super talented sister Rachel keeping my horses and liveries going along with Sian under my guidance."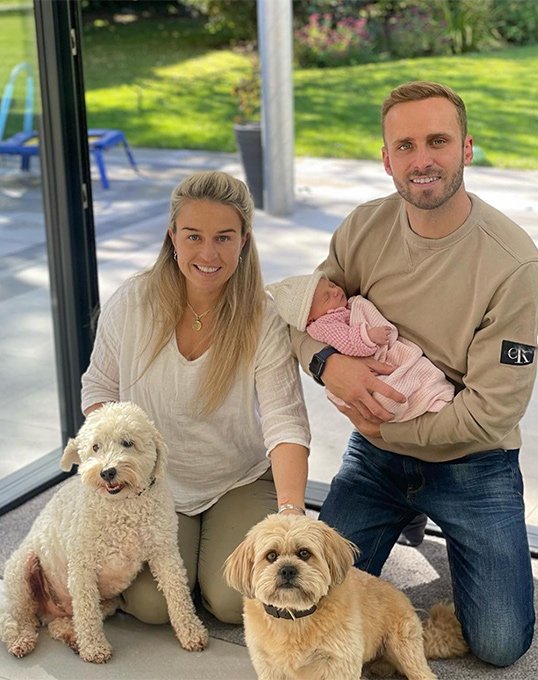 British international Grand Prix rider Amy Woodhead has given birth to her first child, a baby girl, on 30 September 2022.  "Everything we wished for and more," said proud father James Snape. "With not the easiest of births Amy was incredible from start to finish and I couldn't be more proud." The girl has been named Amelia Elizabeth-Ellen Snape.
German pony rider Alessa Maas has acquired the 9-year old Westfalian mare Fraulein Tausenschön (by First Selection x Rifaisos) as a future junior rider's horse. The bay mare was first competed by his previous owner, Yara Reichert, as a 4-year old in 2017. In 2021 the mare moved to Hof Kasselmann when Reichert secured the mare Special Diva. Under Anna-Christina Abbelen, Fraulein Tausenschön competed at small tour level in Ludwigsburg and Ankum. 
German Grand Prix squad rider Carina Scholz (née Bachmann) is pregnant with her second child. Carina and her husband Fabian Scholz are already parents to  Elena Sophie Scholz who was born on 31 January 2021.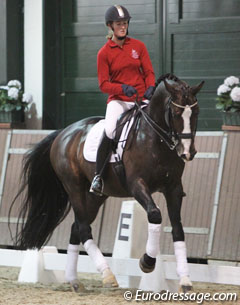 Horses.nl reported that the Dutch Grand Prix horse Veni Vidi Vici C (by Krack C x Amsterdam) has passed away at age 20. The dark bay was trained to Grand Prix level by Marije Tromp. They finished 23rd in the 6-year old consolation finals at the 2008 World Young Horse Championships in Verden. The pair competed in one international CDI in Leudelange in 2012 at small tour level.  A year later they did their first national Inter 2 test. In 2016 he sold as a schoolmaster to Stefanie Koks. The horse returned to the international arena five years later in 2017 as a children's ride for Koks' niece, Megan van der Molen. He was retired from sport in August 2020.
New Zealand's World Championship team rider Melissa Galloway has returned to New Zealand after spending 10 months in Europe working and training with Van Olst. Her horse Windermere J'Obei (by Johnson, bred by Rania Todd), is getting a longer break than anticipated in sunny Marlborough, NZL. "Melissa had knee surgery following a totally unexpected on the ground accident with a young horse on her return. "I'm doing OK now - its just a matter of waiting the time out, but I'm feeling really positive and looking forward to when I can get back on Joey," Dressage NZ reported.
British Dressage issued a statement concerning an RSPCA prosecution against dressage rider Sam Duckworth. "British Equestrian and British Dressage are aware of and have been closely monitoring a case brought about by the RSPCA against Sam Duckworth, concerning the neglect of five young horses in his care, causing unnecessary suffering," a British Dressage press release stated. "We have been in communication with the RSPCA throughout and commend their work to secure a guilty verdict last week. Court proceedings took place over 11 days of hearings at Kidderminster Magistrates Court in September and October, concluding on 9 November. Sam Duckworth is due to appear in court for sentencing on Tuesday 6 December. We can confirm that the individual in question is currently suspended and not an active member of British Dressage or any member body of British Equestrian. Both organisations have a zero-tolerance approach to equine welfare issues. Following this conviction, BD will be conducting an independent investigation as part of their own disciplinary processes, due to this serious breach of its equine welfare policies."