F.O.C.U.S.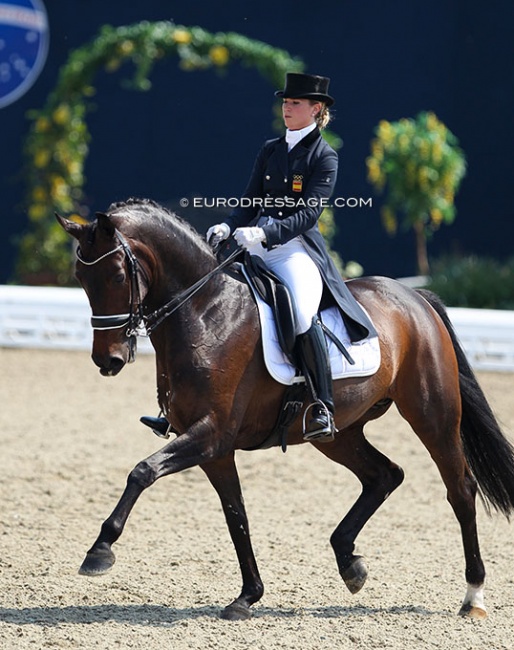 Vitana V is an internationally competed Grand Prix mare who also made her mark as a KWPN brood mare. Decorated with the elite mare status, she produced Grand Prix horse and breeding stallion Cennin. Vitana V carries four different riders into the international Grand Prix arena and then disappeared in 2016.
Where is she now?
KWPN Elite Mare
Vitana V is a 2002 born Dutch warmblood mare by Donnerhall out of Lantana V (by Hemmingway x Zuidhorn). She is bred by P. Verdellen.
She received Elite sport mare status from the KWPN society.
Two offspring have been recorded as produced by Vitana V: the 2006 born Bretana V (by Flemmingh) and the 2007 born licensed stallion Cennin (by Donnerhall). The later competed at international Grand Prix level under Madeleine Witte-Vrees before selling as a schoolmaster to Australia. 
Grand Prix Horse
Vitana V was trained to Grand Prix level by Stephanie Peters. The pair made its international show debut at the 2011 CDI Leudelange and also competed in Milan two months later. won the bronze medal at the 2012 Dutch Indoor Dressage Championships.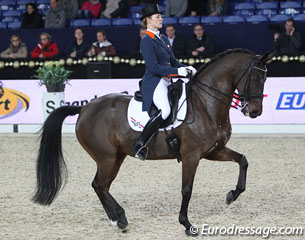 The dark bay moved into training with Madeleine Witte-Vrees at the end of 2013 as a sales horse and showed successfully at international competitions such as the 2013 CDI Mechelen and 2014 CDI-W Amsterdam.
Danish horse dealer Andreas Helgstrand acquired half ownership of the mare by the end of December 2013 - begin January 2014 and resold her very soon afterwards
Morgan Barbancon
Helgstrand was coaching the Spanish Olympian Morgan Barbançon at the time and sold the Grand Prix mare to the Swiss based rider, who at the time was located in The Netherlands and seeking a successor for her London Olympian mount Painted Black who had sustained an injury in that period. 
Morgan campaigned Heimliche Liebe (by Hohenstein) in 2013-2014 in the period that her parents bought Vitana as another iron in the fire.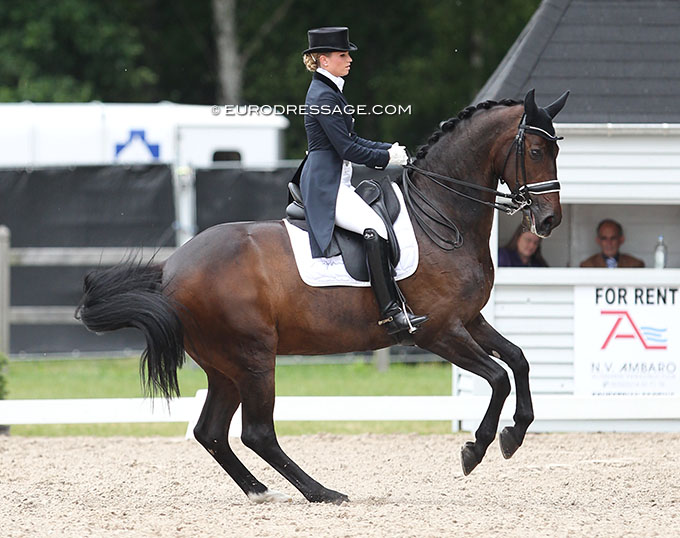 Barbançon made her CDI debut on Vitana V at the 2014 CDI Hagen and starts in Kapellen, Perl, Aachen, Hickstead, Zandhoven, Odense, Stuttgart, Roosendaal Indoor and Mechelen followed quickly. The pair scored between 68 and 72% on average and captured the bronze medal at the 2014 Spanish Dressage Championships that year as well.
In 2015, they continued with high profile starts in Doha, Barcelona, Mannheim and Hamburg. At this latter show the 22-year old Morgan finished second in the Hamburg dressage derby.  They rolled from one show to another, going to Rotterdam, Falsterbo, Saumur, Lier, Stuttgart, Roosendaal Indoor and Mechelen, while in the summer a recovered Painted Black competed in his final show, the 2015 European Championships in Aachen, after which he was retired from sport. 
Yoo-Ra Chung
The 14-year old Vitana V was resold again in February 2016 and in the deal Morgan obtained the 6-year old Dutch warmblood mare Faximiliana at Helgstrand Dressage.
The buyer of the horse was young Korean dressage rider Yoo-Ra Hung (also known as Yooyean Chung), who won team gold at the 2014 Asian Games on Royal Red. The horse was allegedly bought for an amount between 830,000 and 1 million.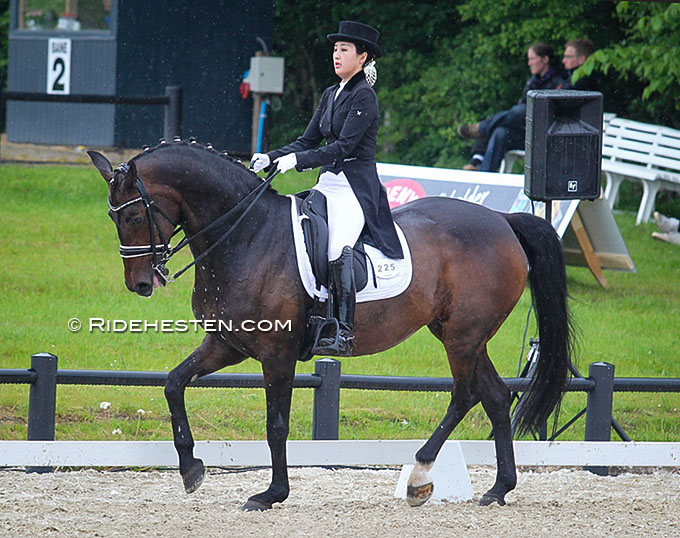 Chung made her show debut on Vitana V at the CDI Aalborg in May 2016 and competed her a month later at the CDI Hagen in June 2016. It ended up being the horse's last international competition start in her career. Chung was supposed to show at the CDI-W Odense in October 2016, but scratched last-minute because of Choi Gate, a scandal involving her mother Soon-Sil Choi, which led to the biggest nation wide street protests in Korea and the impeachment of Korean president Park Geun-Hye.,
According to various news sources (all linked here), President Park and Choi collaborated on establishing sport and culture foundations to which major corporations, such as Samsung, donated money up to an estimated 70 million USD. Part of this money was spent on buying a hotel in Germany and supporting Yoo-ra Chung's personal dressage career in Europe. According to a court decision in 2018, Samsung Group was found to have offered 3.6 billion won ($2.84 million) in bribes to Chung's mother at the request of the former president, to purchase three horses (Salcido, Vitana V and Rausing, but Choi swapped Salcido and Vitana V for Wladimir and Stasha) and pay for Chung's equestrian training. Chung went into hiding in Denmark and in January 2017 was arrested by the Danish police for illegally staying in the country.  Chung got extradited to Korea and her mother was imprisoned. This week, Danish newspaper Nordjyske alleged Helgstrand's involvement in hiding Yoo-Ra at the time not far away from their stable.
Where Is She Now?
Vitana disappeared from the international show scene after her last start with Chung at the 2016 CDI Hagen. 
The mare initially stayed in Denmark though and Marianne Helgstrand took over the ride. She competed her in one national show in Denmark on 20 - 21 January 2017.
In the autumn of 2017 Samsung moved the horse to Hayley Beresford and Julia Fehls' yard Eisener Hof in Germany, where she was kept fit, healthy, happy and in training. 
"We got her top fit and I must say the training in her is amazing," Beresford told Eurodressage. "It was not necessary for me to compete her so we didn't. She had done enough. She is 20 now and our vet's kid spends a lot of time with us and adored Vitana so we convinced Samsung to let them be her forever home."
Last year Vitana V sold to German veterinarian, Dr. Jan Clausen as a schoolmaster. The ownership in her FEI passport was changed to Clausen on 20 July 2021. 
The 20-year old Grand Prix mare is now a professor for Silke Clausen and junior rider Mikala Clausen, who compete her at A to M-level in Germany. Vitana V made her come back to the competition ring on 25 June 2022 at the local show in Jettingen and was competed this summer by the duo.
"She has a little sporty pony as a companion and this year Miki is doing so well and Vitana is top fit. We thought they may as well go have some around the pudding while they can," Hayley explained. "It's a beautiful life and one that Vitana and family Clausen really deserve."
Related Links 
Eurodressage Photo Database: Vitana V
Vitana V Sold, Faximiliana Acquired by Morgan Barbancon
Morgan Barbancon Honoured in Madrid as Best Spanish WEG Rider
Anabel Balkenhol Wins the 2015 Hamburg Dressage Derby
Jose Daniel Martin Dockx and Grandioso Win 2014 Spanish Grand Prix Championships
Vitana V Sold to Morgan Barbancon Mestre
Dana van Lierop, Dutch Team Reserve for 2014 CDIO Vidauban
Andreas Helgstrand to Train Barbancon Sisters