World Championships Dressage - A Look Back in History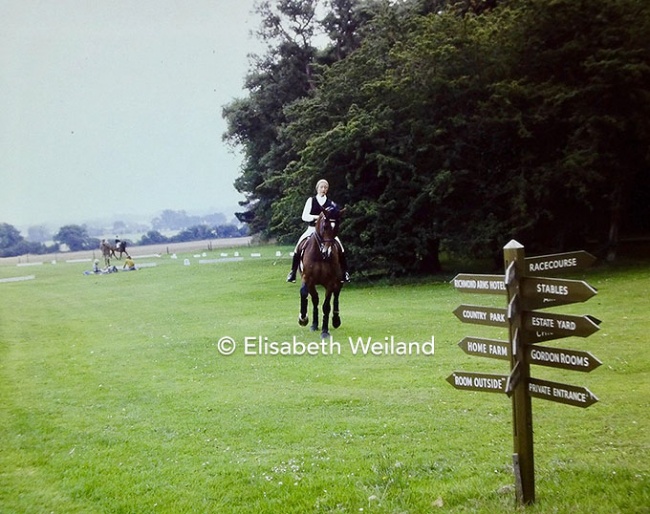 This article is a continuation of 1978 World Championships in Goodwood - Dressage in the Park
Silke Rottermann interviewed Christine Stuckelberger on 4 June 2022 about her memories of the 1978 World Championships in Goodwood. 
1978 World Championships Goodwood Through the Eyes of Christine Stuckelberger
Goodwood was beautiful because the show took place in the park of the castle of Lady and Lord March. The property was simply stunning. Our horses were stabled in the permanent stables which was very comfortable for them.
I also liked Goodwood much because we had the opportunity to ride on grass and not only in a sand arena. The park of the castle and the whole atmosphere around had a very calming effect on all the horses.
I well remember Goodwood because I did not like the food too much, so we brought our own cooking stuff and cooked spaghetti in the stables for our whole team. So we were sitting on straw bales and were eating spaghetti.
I was the clear favourite there, but not nervous. I was aware that I simply had to show what I had learnt. I had a great trainer and a great horse.
Before each start I was in the stables braiding Granat as I always did it myself and found it quite relaxing. I have always been an optimistic person and I always had good nerves. Because I felt so happy in the unique Goodwood atmosphere I was rather looking forward to my rides with Granat than feeling pressure. Of course there was a short moment of tension when I was thinking what Granat would 'say' to this and that. Would he spin off or not? He wasn't the easiest horse with his blind eye.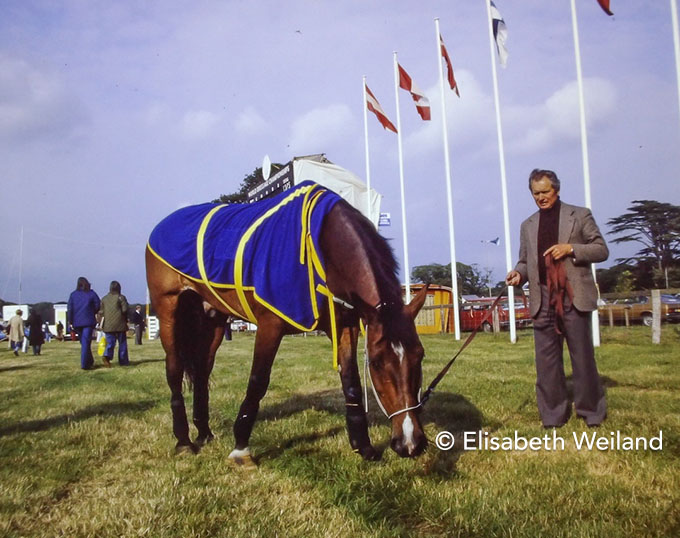 In Goodwood Mr. Wahl was already up early and led Granat around to get him acquainted to the sounds and sights. It was not meant to make him tired by having him out for hours, like some people thought. Of course we could not tell the public about that. There have always been many many spectators when I was training or warming up, no matter if I rode in the sand arena or outside on grass. Goodwood had a very enthusiastic audience, even though dressage back then did not have the status in Great Britain like today.
When I won the World title, I didn't think about achieving the "triple crown" (World, European, and Olympic champion). It was one of the journalists who indicated it to me after the individual class. Of course I was delighted having been the first to achieve that feat, but in the end I rode for my joy and was simply lucky to have had a very good trainer, a good education, and good horses.
Goodwood 1978 was an unforgettable experience. Not only because I won, but because of the wonderful atmosphere. It remains one of the best shows I have ever been to, it was really simply beautiful to be there.
Scores: 1978 World Championships
Photos © Elisabeth Weiland - No reproduction without written permission/payment
Related Links
1974 World Championships in Copenhagen: The Most Picturesque World Championships
World Championships Copenhagen 1974 Through The Eyes of Ruth Klimke
1970 World Championships in Aachen: Soviet Union Defeats Germany
World Championships Aachen 1970 Through The Eyes Of Ulla Hakanson
Finally Official - The First Dressage World Championships 1966
World Championships Berne 1966 Through The Eyes Of…
Greatest Oldies: Granat, From Ugly Duck to Beautiful Swan