U.S.A.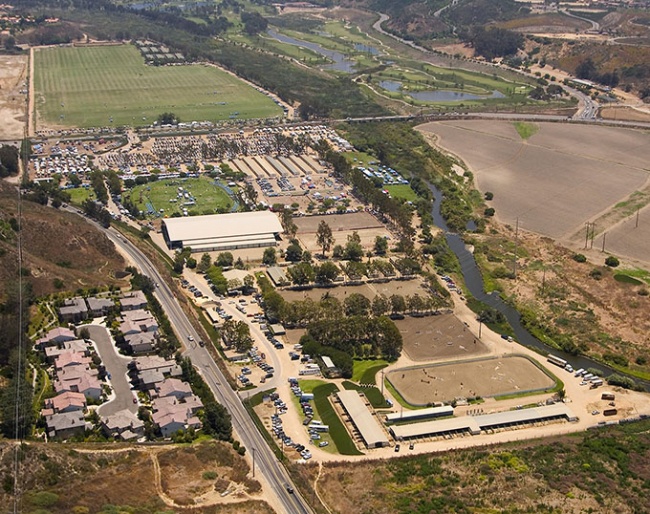 HITS LLC will be returning to the West Coast to take over the management of the famed Del Mar Show Park.  Located just 25 minutes north of San Diego, this premier facility will once again host competitions year-round for all equestrian disciplines through HITS Horse Shows.
Horse shows will resume in 2023, with a mix of hunter/jumper events, as well as dressage and multi-breed competitions in the heart of California, allowing equestrians of all levels and disciplines to pursue their passion. 
Environmental Requirements
In 2021 the Del Mar Horse Park closed due to environmental concerns from the non equestrian community. 
The San Diego Regional Water Quality Control Board argued that the fairgrounds curtail the groundwater pollution that results from boarding, training and showing horses there – a requirement that costs a large amount of money.
In addition, the 22nd District Agricultural Association that runs the fairgrounds is funded almost entirely by revenue from the events held there and with all the Covid-19 cancellations, the money ran out.
The HITS team is now prepared to begin immediately addressing the environmental requirements so that the Del Mar Horse Showpark can reopen in 2023.
"Because of the great interest and concern of local citizens, Showpark has been allowed to reopen and deliver an extraordinary product to California. It goes without saying that no expense will be spared when it comes to improving the facility so that it not only conforms but exceeds the environmental requirements," noted Struzzieri.
Hunter/Jumper and Dressage
Known for its hunter/jumper competitions, HITS will host seven USEF-recognized competitions. HITS and Tom Struzzieri have organized hunter jumper events in California since 1984, including competitions at the Del Mar Showpark.
HITS also plans to run three dressage events at the beginning of the year. These national shows will be held on Jan 20-22, Feb 3-5, and March 3-5, 2023.
At the moment the FEI has not yet listed any CDI events in Del Mar on its incomplete 2023 calendar.
Related Links
U.S. Young Rider Katherine Mathews and Solière Take Two at 2019 CDI-W Del Mar
Seidel and Zero Gravity Win Special at 2016 CDI Del Mar, Ready for 2016 World Cup Final
Bonny Bonnello Named as Assistant Coach Advisor for the Del Mar CDI
Sarah Lockman Unlocks the Key to Success at 2013 CDI Del Mar
It's All About Steffen Peters at the 2012 CDI-W Del Mar
A Day of Fun after Dressage Affaire at the 2011 CDI Del Mar
Scores: 2006 CDI Del Mar