2022 CDIO-PJYR Hagen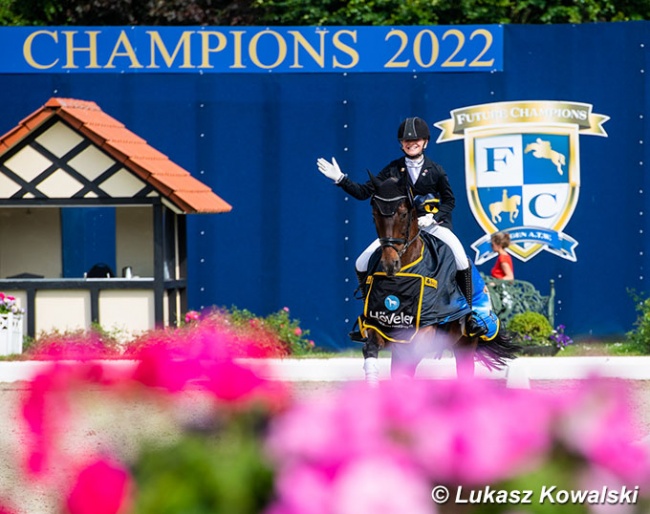 Germany's only Youth Nations Cup tournament delivered many highlights on the last day of competition on 19 June 2022 at the CDiO-PCHJYR Hagen "Future Champions" hosted annually at Hof Kasselmann. 
Organiser Ullrich Kasselmann was also pleased: "We have experienced wonderful, sunny days together, with an atmosphere that can hardly be topped. We were able to enjoy the best sport in the world and saw riders who will represent their nations at the Olympic Games in the coming years. To provide a base for the riders here to do so makes us particularly proud."
Freestyle victory for Helena Schmitz-Morkramer and DSP Lifestyle
Helena Schmitz-Morkramer and DSP Lifestyle crowned their successful week with a gold ribbon in the Young Riders CDIO Freestyle, presented by the Liselott and Klaus Rheinberger Foundation. They received almost 80 percent for their performance.
Lucie-Anouk Baumgürtel on Hugo FH was left behind this time, 76.042 percent meant third place. A pair from Denmark slid in between the two riders from Germany: Sophia Ludvigsen and Blue Hors Elliott received 77.933 percent from the international Ground Jury. 
Serial victories for German pony riders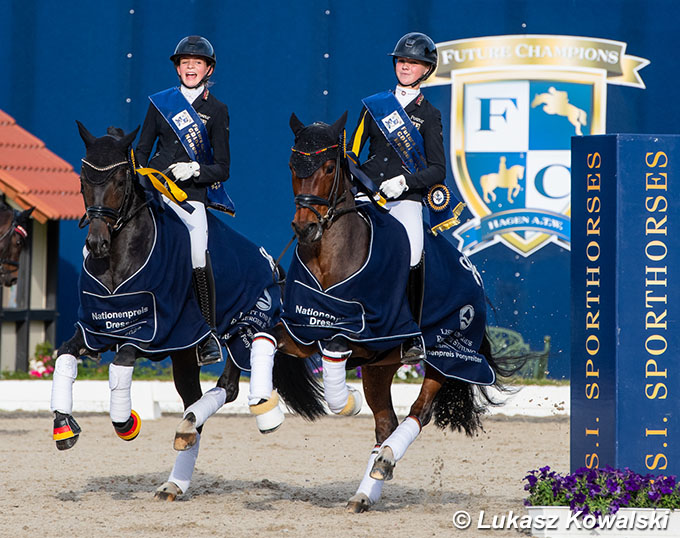 The German pony dressage riders continued their winning streak. In the freestyle of the CDIO Tour for ponies, presented by the Liselott and Klaus Rheinberger Foundation, two German combinations placed at the top.
Carolina Miesner danced away from everyone with her Palomino gelding Novellini, they received 78.383 percent for their performance. They were closely followed by Julie Sofie Schmitz-Heinen and her successful pony Carleo Go, who achieved a final score of 77.967 percent. Last on the podium was Virginia Spönle from Italy, she achieved a score of 77.442 percent with her stallion Coer Noble.
Germany Dominates on Home Turf
A successful week is finished for the German teams. Especially in the dressage, the teams of the Pony Riders, Children, Juniors and Young Riders excelled, they all managed to win their age group in the Nations Cups, but also showed fantastic individual scores.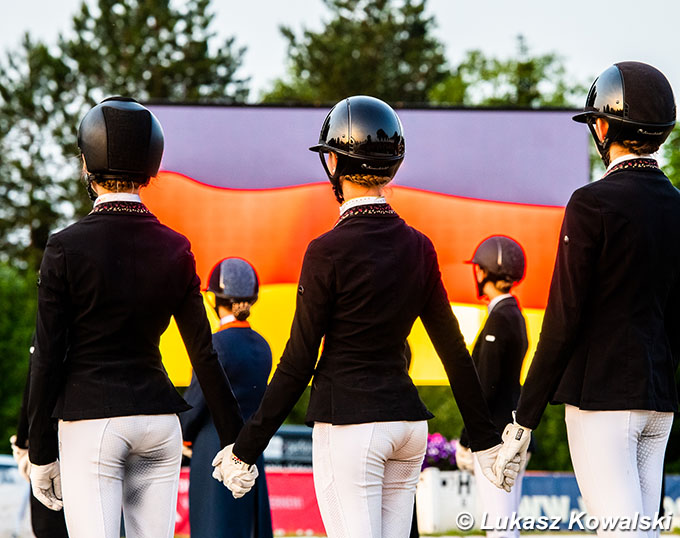 The Minister of the Interior and Sport of Lower Saxony, Boris Pistorious, personally convinced himself of the sporting significance of Future Champions on Sunday:
"The equestrian youth of the world comes together here to compete for the titles in the Nations Cups s and it is fun to watch. This is great for Hof Kasselmann as a location and of course also for the equestrian state of Lower Saxony."
-- Hof Kasselmann press release - Photo © Lukasz Kowalski
Related Links
Scores: 2022 CDIO-PJYR Hagen
German Children Team Win Nations' Cup at 2022 CDIO-PJYR Hagen
Germany Wins Junior and Young Rider Nations' Cup at 2022 CDIO-PJYR Hagen