FEI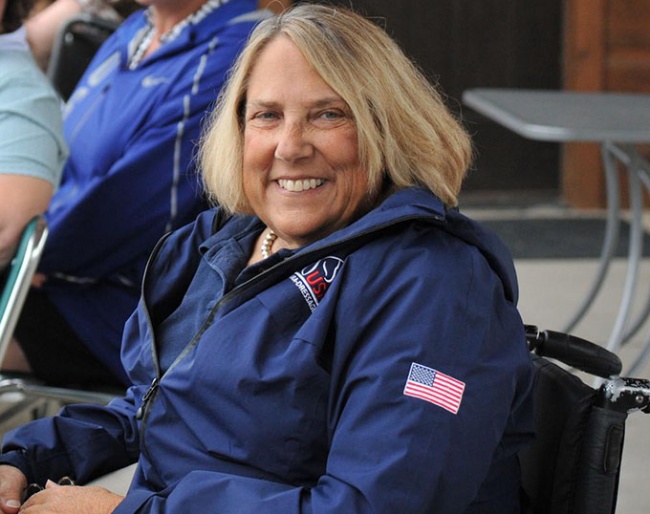 Within one week, the equestrian community has lost two wonderful and dedicated ambassadors whose contributions and relentless efforts to develop Para Equestrian have made the sport what it is today. 
Jonquil Solt
Jonquil Solt, aged 88, was an icon and driving force within the Para Dressage community, and is credited with setting up the international infrastructure necessary to develop Para Equestrian sport including the first World Championships in the late 1980s which would lead to the inclusion of Para Dressage in the Paralympic Games for the first time at Atlanta (USA) in 1996, where Jonquil Solt was President of the Ground Jury. 
Solt was also part of the cooperation agreement which eventually saw Para Dressage become an FEI discipline in 2006, and in doing so, making it the first Paralympic sport to leave the IPC and join an international governing body, alongside and on an equal footing with able bodied athletes.
A life devoted to Para Equestrian sport - whether it be as former chair of the International Paralympic Equestrian Committee (IPEC) and the FEI Para Equestrian Committee, or as Para Dressage Judge, Steward or Technical Delegate - has earned Solt numerous accolades throughout her career. In 1999 she won the European Women of Achievement Awards in the humanitarian category and in 2013 she received the Paralympic Order for her fundamental contribution to the Paralympic Movement. Solt was furthermore awarded the title of Officer of the Most Excellent Order of the British Empire (OBE) for services to riding for the disabled.
Hope Hand
Across the Atlantic and within days of her 73rd birthday, Hope Hand, a well-known and greatly respected Para Dressage athlete, and former member of the FEI Para Dressage Committee, passed away following an illness. 
Known for her ambitious and "sky is the limit" attitude, Hand had strong ambitions of her own when it came to Para Equestrian sport. As a member of Team USA, she won a bronze medal at the 1999 World Dressage Championships in Denmark and competed at the 2000 Paralympics in Sydney, Australia.
Hand was a driving force and stellar role model in promoting Para Equestrian sport in the USA from grassroots to international level. Throughout her career she served as an Athlete Director Board, Council and Committee Member for the United States Equestrian Federation (USEF). Furthermore, Hand instigated the formation of the US Para Equestrian Association (USPEA) and served as its President from formation through to her passing. USPEA, as the Para Affiliate for USEF, has been instrumental in supporting the growth of the sport and Hope Hand was the go to person for athletes starting out on their Para careers. Within the FEI, she was part of the Para Dressage Committee from 2006-2009 and again from 2015-2019. 
Beacons in Para Equestrian Community
For Amanda Bond, FEI Board Member and Chair of the FEI Para Equestrian Committee, "Jonquil and Hope were two shining beacons in the Para Equestrian community and they will be dearly missed. Their contribution to the Para Equestrian movement has been remarkable and they inspired so many individuals – me included - with their tenacity and drive. They epitomised that fighting spirit we all associate with the Paralympic movement – to never give up – but also to work together and strive for change and for a better, more inclusive society 
So much of who we are and what we stand for was relentlessly pursued and promoted by these two incredible women, and the community will be forever grateful".
-- FEI press release