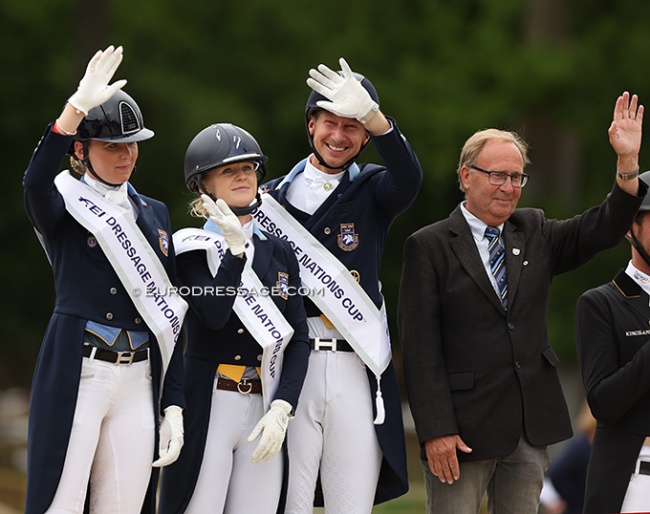 -- FEI press release, edited by Eurodressage
Team Sweden won the FEI Nations' Cup competition at the second leg of the 2022 series, taking place in Compiègne, France, on 20 - 22 May 2022. Heading into the final day of competition in Compiègne (FRA), it was apparent it would take a great shift in momentum for Sweden to relinquish its grasp on the lead.
Nations' Cup Drop Out Race
After the first day of CDIO competition in the 5* Grand Prix, several shock waves already went through the provisional ranking with the elimination of Great Britain as well as The Netherlands after Fiona Bigwood retired Hawtins Delicato (GBR) from the test and Adelinde Cornelissen's Fleau de Baian (NED) had blood in the mouth at the tack check.
This opened doors for Spain, U.S.A and Belgium to catch a podium place although Sweden seemed secure of its number one spot after the Grand Prix. 
The dominance with which the squad of Juliette Ramel (Buriel K.H.), Antonia Ramel (Curiosity) and Patrik Kittel (Touchdown), led by Chef d'Equipe Bo Jena, executed victory was impressive on Sunday 22 May. When Kittel and Touchdown received an 82.025 percent score for their Freestyle, it left Sweden's final margin of victory at 32 points. Spain (48 points) finished second, with Belgium (51 points) third.
Team U.S.A. got eliminated as well after blood was detected on Jan Ebeling's Bellena at the tack check after his Grand Prix Special test. 
Sweden Dominates in Compiègne
The win marked the third for Sweden at Compiègne in the last five years, having also triumphed in 2018 and 2021.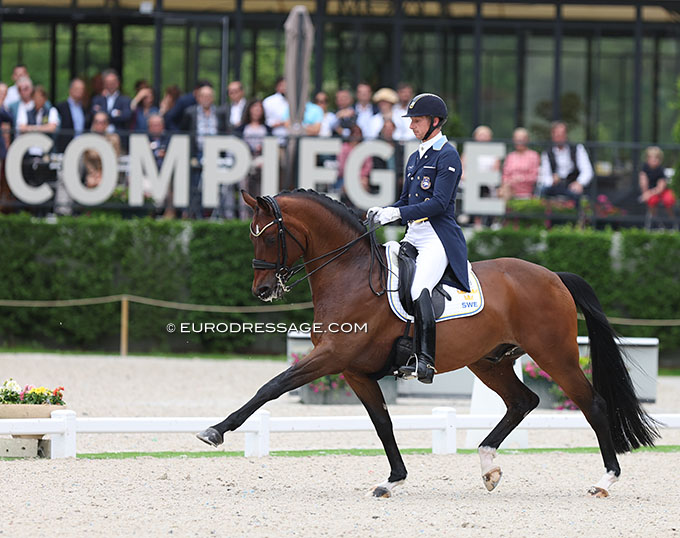 "We were a bit ahead of the others this time, and I'm very happy about that. They are doing so well in the ring and also in their training, and it looks very promising for the future," said Swedish Chef d'Equipe Bo Jena.
Each point was equal to an athlete's placing, with lower numbers reflecting top performances. All athletes competed in Saturday's Grand Prix before splitting across Sunday's Grand Prix Special and Grand Prix Freestyle tests, with the three best results tallied. No Swedish rider received a point tally in double digits, with all three making the podium in at least one test. After recording just 10 points from the Grand Prix, Sweden was even more dominant on Sunday, adding just six points to their score. While Kittel was the highest placing Nations Cup rider in the Grand Prix Freestyle, Juliet Ramel finished second in the Special (75.277%), with Antonia Ramel just behind her in third (72.043%). 
"The horses have done very fault-free tests, and if there have been small faults, we have still be able to pick it up with high points," Kittel said. "I think that's what I'm most happy with. The thing is, the horses have all just been there for us through the entire weekend."
Veteran Riders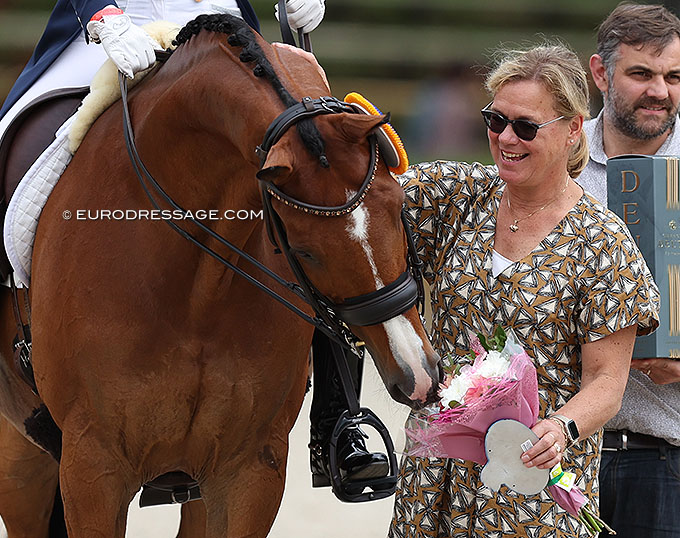 Sweden put forth a squad of veteran riders—each an Olympic veteran—but the horses brought forward were mixed in experience. Touchdown had only performed two previous Freestyle tests at the CDI5* level and had never before contested a CDIO event. Curiosity, formerly trained in jumping, is also new to the level, having represented Sweden in one previous Nations Cup event at Aachen (GER). 
"He's been with me for a long time," Antonia said. "He was in the beginning a jumping horse, which he did until he was six. I've educated him on my own, and I've had him now for seven years."
With three appearances in the Olympic Games and a bronze medal from the European Championships, Buriel K.H. stood tall as the equine veteran of the group. The gelding performed with remarkable consistency, recording just 3 points in the Grand Prix (75.391%) and two points in the Grand Prix Special.
"He's an amazing character. He always has my back," Juliette said. "I've had him since he was 7; now he's 16. So we've had a long partnership."
"It means a lot [to start the season strongly]. It's always good to have a victory in a five-star Nations Cup to start with, and then we can go on with the rest," Jena said. "And we have been lucky and also good, I would say, [in previous years], because we have won in Compiègne before. We like it very much here."
Spain and Belgium Thrilled to be on the Podium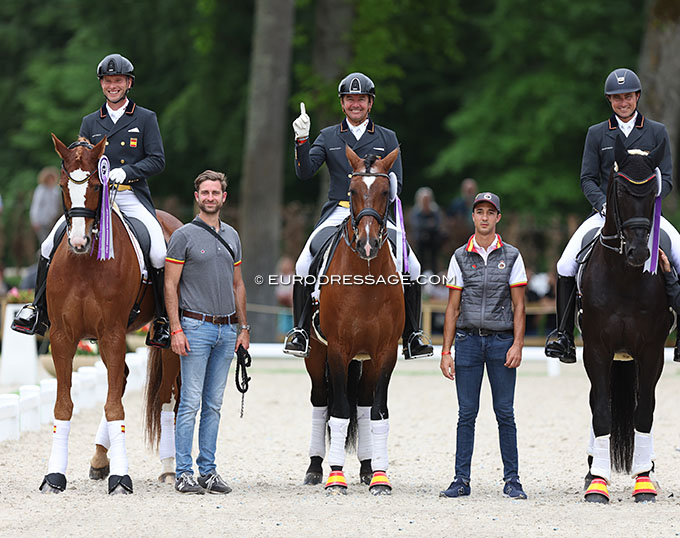 Sweden's win put them atop the standings for the 2022 FEI Dressage Nations Cup™ season with 15 points. Spain sits second with 13 points, two ahead of Belgium (11 points). The FEI Dressage Nations Cup™ returns 23-26 June in Rotterdam (BEL).
The Spanish team includes routiniers Jordi Domingo Coll on Esprit Dond D, Borja Carrascosa with Laponia, and Agusti Elias on Altaneiro. 
The Belgian trio was made up of three Tokyo Olympic team riders: Larissa Pauluis on Flambeau (by Ampere x Zeoliet), Domine Michiels with Intermezzo van het Meerdaalhof (by Gribaldi x Balzflug), and team reserve Alexa Fairchild on Dabanos d'O4 (by Abanos x Donnerschlag).
Team Portugal landed fourth place with Olympian Maria Caetano on Fenix de Tineo doing her first CDI shows since her baby break, and with Filipe Canelas and Carlos Pinto on rising Grand Prix horses Fortuna and Fugaz Da Lagoalva.
British and German Winners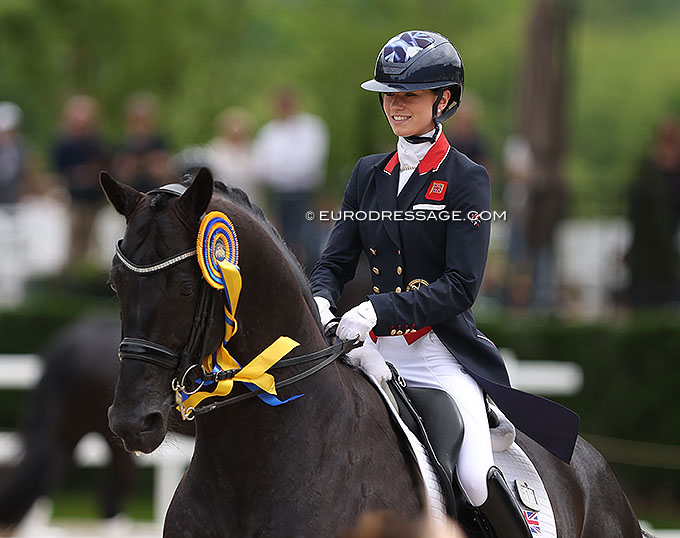 Although Great Britain was no longer included in the Team ranking, Charlotte Fry and the 11-year old KWPN stallion Glamourdale (by Lord Leatherdale x Negro) made their mark in Compiègne, winning the 5* Grand Prix with  79.435% as well as the Grand Prix Special. In the Special the stunning black stallion Glamourdale impressed with his canter work and in particular the extended canter and two tempi changes, but today the piaffes were a problem point as he resisted and stepped backwards in the first one. The amazing canter work pulled the score up to a winning 76.638%.
"I felt he was a bit more tired today, maybe a bit less connected, we had some small misunderstandings, but I'm really proud of him," Fry explained after her test. "Three years ago we won the small tour here and now the 5*! It's so promising for the future. It's a competition that I really enjoy, the site is superbly renovated, the arenas are perfect and there's always a great atmosphere. All the riders will tell you the same thing."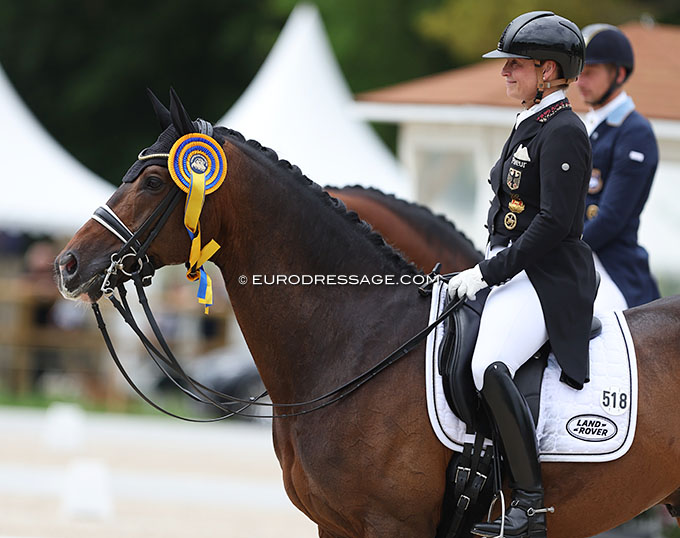 The individual victory in the 5* Grand Prix Freestyle was for Isabell Werth on Victoria Max-Theurer's 12-year old DSP stallion Quantaz (by Quaterback x Hohenstein). In front of an impressively packed grandstand, Werth posted a winning 85.875% in the Kur. The German Equestrian Federation decided not to send a team of three to Compiegne so Germany did not take part in this Nations' Cup leg. Werth's Quantaz had some contact issues yesterday, regularly sticking his tongue out, and although they were not entirely solved today, the horse performed strongly in the trot extensions, passage and tempi changes. The pirouettes were a bit flat and the piaffes did not always have enough impulsion. Werth's freestyle music spoke to the masses which erupted into a thunderous applause as she wrapped up the day and competition in Compiegne on Sunday afternoon.
"I'm very happy. Yesterday I didn't ask as much because I really wanted him to gain confidence," said Werth. "Today I had in mind to take more risks and it worked! He's great, a bit macho, but he's very brave. He has a lot of personality, but if I can get him on my side like I did today, he's fantastic!" 
Championship Stadium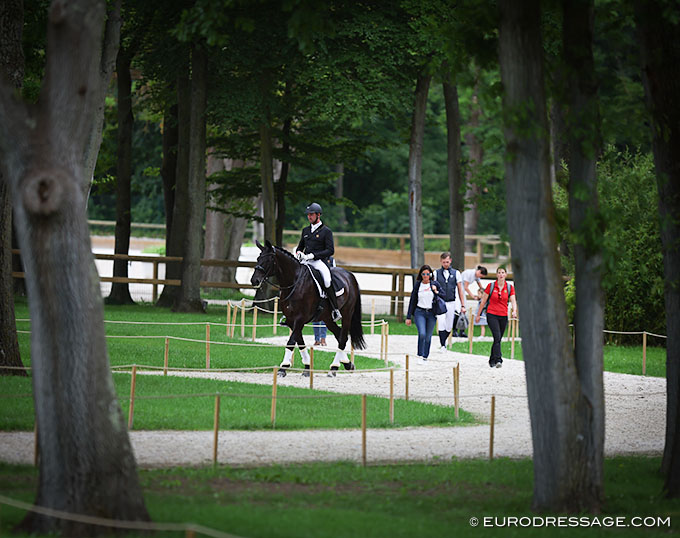 When the show organisation announced last year that it would be revamped the entire show ground and removing the grass park for more white sand arenas, the immediate thought "don't fix what is not broken" came to mind. I stand corrected though. The OC of Compiegne has turned their equestrian park into an even grander stadium with so much taste, style and consideration. The new arena is absolutely fabulous and gives an incredible "championship" feeling, something most international competitions cannot achieve. After its 11th edition this year, Compiegne can proudly say it is one of the best dressage shows in the world. 
"This 2022 event is one of all the rewards," rejoiced Monique Marini, chairwoman of the Compiegne Equestrian Association, which organises the competition. "We've been working for many years to make the Internationaux de Dressage an unmissable event on the international scene. The line-up of riders present this weekend, with legends of the discipline, such as Isabell Werth and Charlotte Dujardin,  is the fruit of a long-standing team effort, and I'd like to thank them, as well as our partners, our volunteers and our service providers. The arrival of these huge names is a chance for both the athletes competing alongside them as well as for the public, who witnessed some magnificent tests. We were able to take advantage of the superb renovations of the Grand Parc equestrian stadium, and the beauty of the site was unanimously praised by the riders, and also by spectators, who were exceptionally numerous today to witness the outcome of the Nations Cup and the display by Jean-François Pignon." 
Text and Photos by Astrid Appels - NO REPRODUCTION ALLOWED ! If you want to use our photos on social media, you need to buy them first. Email us to see your pictures
Related Links
Scores: 2022 CDIO Compiegne
Charlotte Fry and Glamourdale Rise to Become Britain's Number One at 2022 CDIO Compiegne
Solid Come Back for Hughes and Briolinca on Rainy Day One of 2022 CDIO Compiegne
Ready, Set, Go for 2022 CDIO Compiègne