2021 USDF Dressage Finals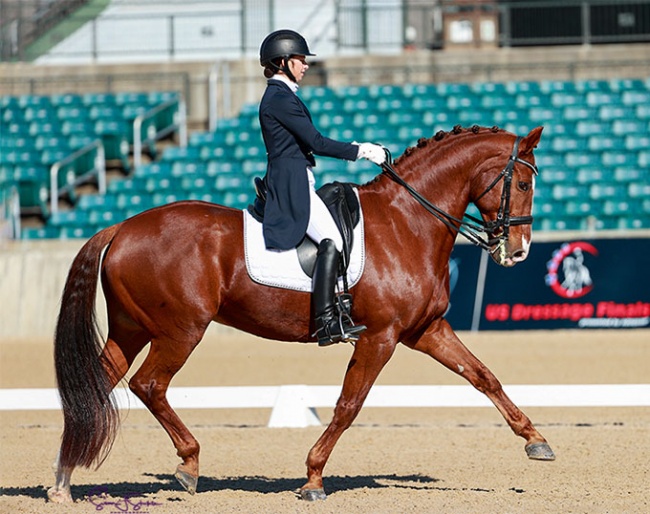 Across eight rings of championship competition at the Kentucky Horse Park, horses and riders from across the country shared the excitement and camaraderie of coming together in one incredible venue to vie for national titles on the second day of the 2021 US Dressage Finals, being held November 11-14 in Lexington, Ky.
Mariah Crumbaker and Kevin Kohmann took the Intermediaire I titles, while Alice Tarjan and Heather Mason both raked in their second Grand Prix level title of the week.
Small Tour Level
Crumbaker in Intermediate I Adult Amateur Championship
Due to a sharp increase in entry numbers and the resulting addition of two more competition rings, for the first time in the eight-year history of the US Dressage Finals riders trotted down centerline in the huge Rolex Arena, a site made legendary by the 2010 World Equestrian Games and the annual Kentucky Three-Day Event. But even with the impressive atmosphere made even more intense by blustery November winds, the elegant pair of Mariah Crumbaker of Region 4 and her 15-year-old Dutch Warmblood gelding Baroncelli (by Oscar out of Vogue by Cabochon) kept their cool to ride to the top of the leaderboard over 30 rivals in the Intermediate I Adult Amateur Championship with a top score of 69.755%.
"Of course with the excitement of that arena – the horses feel it and we feel it, plus things were blowing around in the wind – but for me it was actually exhilarating to have that little extra chill," Crumbaker explained. "Baroncelli had just one little moment of being startled but we held it together. You've got to just keep going and keep riding through it because every point counts, so I think our consistency is what may have made the difference. This is my second time at the Finals, and when you drive into the Kentucky Horse Park it's just such a grand feeling. You get to compete with so many different people from all over the country and the whole thing is just such an exhilarating experience."
When she's not in the saddle, Crumbaker works as a family physician in her small town of Beloit, Kansas, which only has about 3,500 residents. "I do everything from delivering babies to caring for seniors in their 90's," she explained. "I have a great family who supports me, otherwise I wouldn't be able to do all of this. I came here to the Finals with my two kids ages 9 months and 5 years as well as my 65-year-old mother, while my husband is at home holding down the fort. Plus my coach Melissa Allen does virtual coaching with me via Google Duo all the way from North Carolina. We may be a bit of a hodgepodge group but we're also a great team."
Kohmann and Five Star Wow the Crowd in Intermediate I Open Championship
As soon as Kevin Kohmann of Wellington, Fla. and the stunning 11-year-old Dutch Warmblood stallion Five Star (Amazing Star x U-Padoeska PB by Jazz) entered the indoor arena for the Intermediate I Open Championship, onlookers knew they were in for a treat. After the bell was rung, the pair did not disappoint as they presented a breathtaking ride from start to finish on their way to easily winning the class with an impressive score of 74.069%, a unanimous victory under all three judges in a class of nearly 30 combinations representing some of the best in the country.
"He makes it look easy. He's one of those horses where you go from the warm-up to the competition ring and nothing changes, and even though he's never seen an environment like this, I had every confidence that he was going to be amazing," Kohmann said. "Even though he's an active breeding stallion, his temperament is so incredible that his adult amateur owner rode him last month at this level and scored almost 70%. He just absorbs everything like a sponge and is the most rideable horse I've ever known."
Kohmann explained that Five Star was Reserve Champion as a six-year-old at the FEI World Breeding Championships in 2016, and was consequently purchased by current owner Olga Hartsock (Equitas LLC). Upon arrival in the USA he ended up next door to Kohmann in quarantine, and fate brought them together. The pair took advantage of their qualification at the 2020 Region 3 Championships to come to this year's Finals, which was a new experience for Kohmann for more than one reason. "I just became an American citizen in April and I couldn't be more proud to be here," he explained. "I've been to the Finals before but only as a coach for my students, so this was my first time actually riding down centerline. I think this will be Five Star's last big outing at the small tour level and now he's ready to look towards Grand Prix."
Grand Prix Level
Tarjan and Serenade Take Second Straight Finals Title in Grand Prix Adult Amateur Championship
When Alice Tarjan of Oldwick, N.J. (Region 1) left the ring in the Grand Prix Adult Amateur Championship with Donatella M, the pair had set a mark of 72.935% which shot right to the top of the leaderboard. It turns out the only person Tarjan had to beat was herself as she returned to the Alltech Arena two hours later with her nine-year-old Hanoverian mare Serenade MF (Sir Donnerhall x Duet MF by Don Principe, bred in the U.S. by Maryanna Haymon) and promptly took over the lead with 74.928%  for the win. This victory came right on the heels of the prior day's win in the Intermediate II Adult Amateur division.
"Serenade has had a fantastic year and I have to give her so much credit," said a proud Tarjan. "Every time we go in the ring she is so reliable. She's only eight years old and there's still a lot of stuff that is a bit hard for her, but she still answers all the questions of the Grand Prix and does it consistently. You ask her to piaffe and she piaffes. You ask her to do a change or a pirouette and she does a change and a pirouette. She's just easy that way. For yesterday's class we had to deal with the rough weather outside, and today I didn't even have a chance to school in the Alltech – but no matter where we are, she just marches down center line and never questions it."
Tarjan laughs that if there is a "least likely to succeed in Grand Prix dressage" award, Serenade may be the winner. "Her barn name is 'Shrimp' because she's so little. She's pretty but not tall and is built downhill," she said. "It's kind of crazy because you walk through the barn and there's all these big, massive body-builder type horses, and then there's Shrimp who looks like a children's hunter. You tack her up and she just hangs her head on the ground and is so relaxed and quiet. She's not the one you would pick out to be doing this, but she gets the job done every single time and I trust her to do anything."
Mason and RTF Lincoln Now Two-For-Two at Finals in Winning Grand Prix Open Championship Title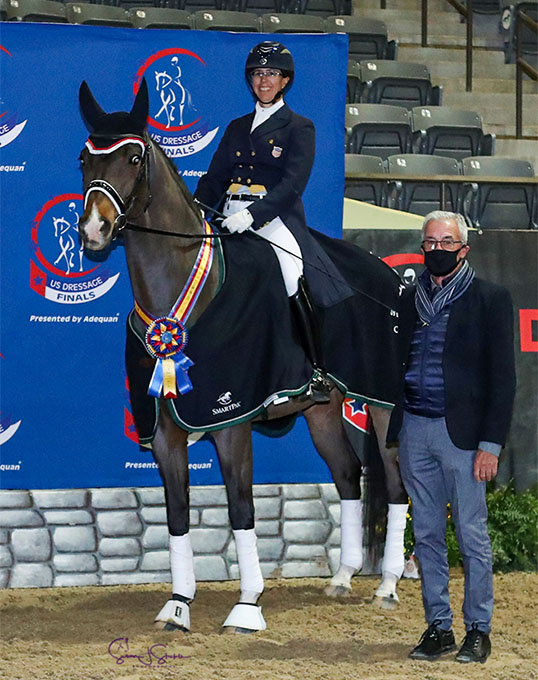 After quite a few years together, Heather Mason of Lebanon, N.J. (Region 8) finally feels like she's figured out her 16-year-old Oldenburg/Holsteiner gelding RTF Lincoln, and that perseverance paid off with the pair's second straight victory of the week, this time in the evening performance of the Grand Prix Open Championship as the only combination out of 21 entries to break the 70% barrier with a top score of 70.399%.
"Our plan of having yesterday's Intermediate II test as a confidence-building warm-up worked perfectly," Mason explained. "Lincoln was definitely comfortable in there today and still had plenty of energy. He knows the Grand Prix test a little better than the Intermediate II so he was quite happy during the test. It's his first Grand Prix win here at the Finals and I feel like he's finally proven himself at the level.
"He's tricky temperament-wise but I think I've got him figured out now," Mason added. "His management is carefully orchestrated and he gets longed every day at a certain time. He always looks like the quietest horse in the barn but the minute you get on he's dynamite."
Text by Yellow Horse Marketing for the US Dressage Finals - Photos © Sue Stickle
Related Links
Alice Tarjan and Heather Mason Take Inter II Titles at 2021 USDF Dressage Finals