Health Care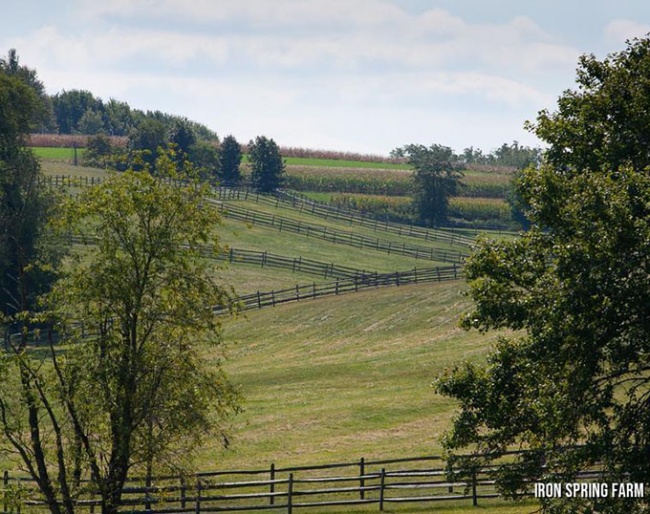 Iron Spring Farm, a leading KWPN and Friesian horse brood farm and stallion station in Maryland, USA, shares their four steps to good pasture management. 
Establishing and implementing a winter pasture maintenance program is an important part of farm stewardship. Good pasture management keeps weeds at bay and prepares the ground for future growth. The result is a lush grass crop come spring. Mike Wrigley, farm manager at Iron Spring Farm, shares the four-step process we use to prepare our land for winter.
Step One--Test the Soil
Testing the soil is the important first step in prepping your pasture for winter. The seed and fertilizer company we use collects numerous soil samples from our larger fields.
Each field will be probed in numerous areas and have its own test results. In 2021, these tests were performed in the first week of October.
The tests analyze the nutrients in the soil in each field. This includes nitrogen, phosphorus and potassium, which are important for plant growth, and in turn important for the mares and their offspring. You can work with your local extension agent or fertilizer company to review your own soil results to determine the type of fertilizer your field needs.
Step Two--The Final Mow
Timing of the final mow depends on the weather. Right now, we're experiencing above normal temperatures in Pennsylvania, so everything is continuing to grow. In general, the final mow should occur when the seed heads are still forming so seeds are dropped, which is important for next year's summer grasses.
Step Three--Chain Harrow and Overseed
After the final mow, we chain harrow the pastures so we can overseed. The fall is a great time to overseed because there's less weed pressure, plus the lower temperatures benefit cool-season grasses. While we overseed in the fall, this can also be done in the spring.
Step Four--Lime
In Pennsylvania, we spread lime on our pastures to increase soil pH. (For pastures with alkaline soils, your extension agent may recommend adding sulfur.) All liming products used in Pennsylvania are required to have analysis. We adjust the liming based on the soil tests. Your extension agent or fertilizer company representative will help you adjust accordingly.
Pasture management is an important part of raising sport horses who depend on the grass, as well as good hay and supplements, to provide the right nutrient balance. While this process requires effort, it pays off with beautiful pastures and healthy horses.
Related Links
Good House Keeping: Finding the Right Balance in the Management of Dressage Horses
Terhi Stegars: "Equine 74 Gastric is an Important Piece of the Puzzle for Your Horse's Health"
Methods Used to Limit Horses Grazing and Horse Carers' Opinions on These