2021 European Dressage Championships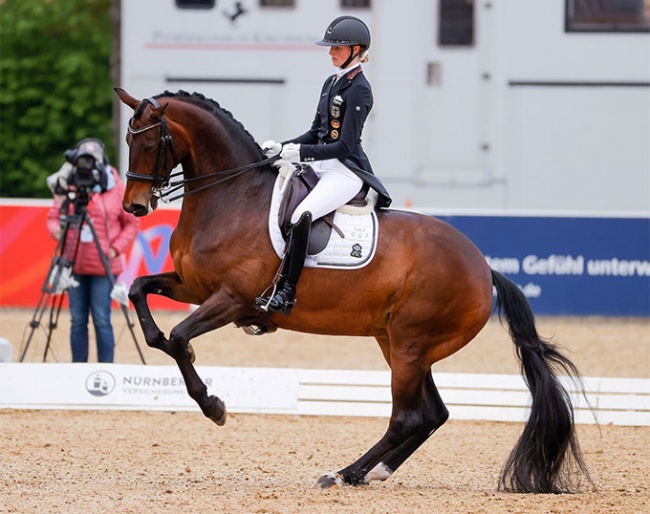 Semmieke Rothenberger is almost an 'old pro' when it comes to participating in the European Championships, but she is still a newcomer at Under 25 level.
 In the European Championship interview series #RoadtoHagen she talks about the jump into another world, her top horse Flanell and the Rothenberger family's sacred ground...
Hagen is Sacred Ground for My Family
Semmieke, Hagen a.T.W. and your family — that is a special relationship?
SR: (laughs) That is absolutely so. Hagen is a sacred ground for my family, miracles happen there for us. I rode my very first international competition in Hagen in 2011 with Domino Dancing — stepped out, took momentum and was suddenly in the Euro team. Two or three years later I broke the 80 percent mark for the first time in Hagen with my pony Goldi (Golden Girl) and set a new world record. One and a half hours later I competed in the same competition with Deinhard and broke the world record again. And in Hagen we discovered my junior horse Geisha. But Hagen was always special for my siblings as well. Sönke and Cosmo did incredible rounds there and Sanneke won three gold medals with Deveraux at the U25 European Championships in Hagen in 2016 — for her it was the third triple European Championship gold. Hagen is our favourite show, it is always very well organised and it is a great honour for me that we can ride there this year at the same time as the 'big ones'. Besides, you always steal a bit with your eyes :-)
You and Flanell have made a rocket-like entry into the U25 European Championship team. How did you experience the past months?
SR: It's really crazy how fast it went. The Euro will only be my fourth competition with Flanell, you mustn't forget that. We first started in the big stadium in Mannheim on the last weekend in April in 2021. That was the baptism of fire with Flanell and she blew us away with the first test and won the competition. That was the first time I realised that anything is possible with her. Our second competition was the German Championships in Balve, another huge event, and then came the second Euro selection in Elmlohe. Each time I have the feeling that we are getting more routine and are growing together better and better as a team. It all happened very quickly, but still: I have the feeling that it's only just the beginning. (laughs)
Flanell came to you a year and a half ago, in May 2020, by now you know each other pretty well. What makes her special?
SR: I've never had a horse that is so fussy with her people — especially with the rider, but also with all the other people who have contact with her. It took a little while until she fully accepted me, but now she gives me everything. And I have never had a horse that is so willing. She has never said in training: 'I can't do that'. I have never felt a limit with her, that is unbelievable.
You have already competed very successfully in nine European Championships. You came home with a total of 21 medals, 14 of them gold. But Hagen will be your first Euro in the U25 camp. Will it be 'only' Euro number 10 for you or something completely different?
SR: I was very lucky that both my parents had ridden Olympic Games and had been through it all before with my older siblings, Sanneke and Sönke. With this combined experience, the pony time for me was not just 'pony riding', it was already all at a high level. I had learned to ride properly, so the transition to the juniors was no longer a big step, it went through nicely, the riding was very similar. It also went on smoothly with the young riders. But the jump to the U25 riders in the Grand Prix sport is something completely different, it's a whole different world. It's almost like starting from scratch again a bit, a lot of what you learned before is overturned.
How did you deal with that?
SR: In this respect, the Corona period really suited me. I had a lot of time to find myself again while riding. I have the feeling that I needed this time. And I had great support in training from my parents, Seb (Sebastian Heinze) and Jonny (Hilberath). Being part of the U25 European Championship team already this year is very special for me.
European Championship number 10 - do the nine previous Championships help you? Or does that create too much of an expectation?
SR: I see it positively. It is great that I have been able to experience so many Euros and I know what it means to ride under pressure. I have often been told: 'Semmie, you have to ride such and such a percentage for the team to win gold'. Something like that or similar. In 2014 at Millstreet, for example, we were already expecting silver, but Deinhard gave everything and we won gold. I know the feeling of riding under pressure and I can deal with that. But I don't think anyone in Hagen has huge expectations of Flanell and me. Everyone knows we are still newcomers in the U25 sport. And yet everyone also knows that anything is possible with Flanell.
What are the last days of preparation for the European Championship like for you?
SR: My mother always says: 'The horses don't know that it's the European Championships! That's why we don't do anything differently in the lead up than we do before every other event. For Flanell and me it will only be our fourth show together. We don't have a set competition routine yet and are still in the process of finding our way. But this horse can do everything and is in top form, now it is important that we get everything right on day X. We are going to Hagen without any great expectations, we are just looking forward to it.
In your pony days you always ran through the test beforehand, even if it wasn't on the big arena...
SR: ...not only in my pony days, I still do that, even now in the U25 sport. It totally helps me to focus on the test. It's almost as if I've ridden through it before. In general, we have a set routine before a competition. My father takes the horses for a walk in the morning. That way they can stretch their legs and (laughs) I think it relaxes my father. If I'm not on until the afternoon, he goes for another walk at noon. My mother and I are then in the truck, braiding my hair and watching a few more rides. We discuss where I have to focus and what the plan is in the arena. Then we go to the stable and I run through the test. It's all a regular routine.
The famous question about the lucky charm...
SR: I don't have a lucky charm that has always been travelling to competitions with me. But I actually bring something very special to Hagen with me. My sister Sanneke gave me her tailcoat, in which she won gold three times in 2016. It fits me too. I don't know yet if I will really wear it in Hagen or if it will stay in the truck as a good luck charm. I'll decide spontaneously. But in any case it feels great to have it with me!
Every athlete has his own philosophy. What is yours regarding the U25 Euros in Hagen?
SR: 'Enjoy it! My aunt once said this at a European Pony Championship and I have adopted it since — not only, but also for the upcoming European Championships. This is especially true with a horse like Flanell. I am so grateful to her for making this Championship possible for me at all.
Tickets for Sale
Experience the dual FEI Dressage European Championships Seniors & U25 in Hagen a.T.W. from 7-12 September.
Tickets are available online at https://hagenatw2021.de or at the box office on site!
Related Links
Third Times's a Charm for Raphael Netz at the 2021 European U25 Championships?
Ann-Kathrin Lindner: Training with Visuals Towards the 2021 European U25 Championships
Ellen Richter Aims for Team Selection for 2021 European Under 25 Championships
Helen, Hagen, the European Championships, and Mausi
Frederic Wandres: "I Brush Aside Any Doubts"
2021 European Dressage Championships: A Home Event for Isabell Werth