2021 U.S. Young Horse Championships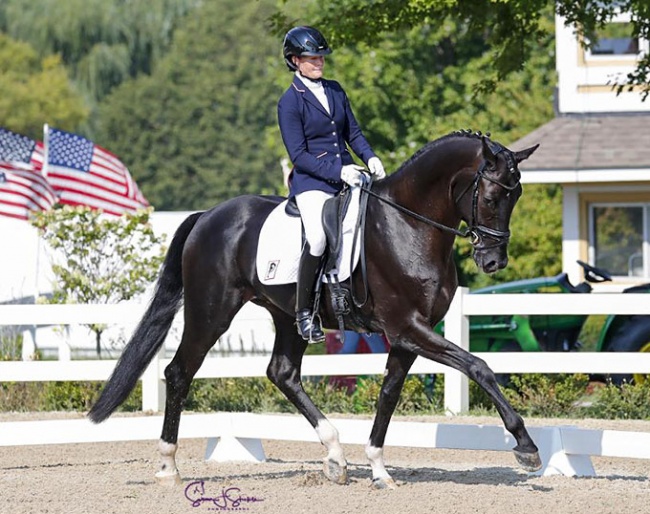 The 4-year old Fontenay, the 5-year old Glory Day, and the 6-year old Sonata MF became the winners of the 2021 U.S. Young Dressage Horse Championships at Lamplight equestrian centre in Wayne, ILL on 25 - 29 August 2021. 
4-YO: Fontenay
Fifteen combinations rode the USEF Four-Year-Old Horse Test for the second time to close out the U.S. Young Horse Four-Year-Old Dressage National Championship. The first round counted for 40% of the total score, the second round for 60%
Katryna Evans and Fontenay delivered another stellar performance to claim the title. Evans (Bailey, Colo.) and Dr. Cesar Parra's Hanoverian gelding (by Fürst Jazz x Dakota, Don Frederico) received an overall score of 8.760.
"This has been a really cool experience for me; I was really excited to come," said Evans. "It's my first time at Festival of Champions, and my first time at Lamplight, which is beautiful, and it's been a real treat."
Fontenay is only newly arrived in the U.S. and the partnership with Evans is brand new. "The test itself, I did start to run out of steam," she said. "The poor guy, we've only had him a few months, but he has just been taking everything in stride. And I know that his owners are both so excited to have him here and happy that it all came together so wonderfully. He really just has the greatest mind, and even though he lost a little steam, he still was really trying hard. I'm sure that as he gets a little stronger and used to it, the sky is the limit."
Alice Tarjan (Oldwick, N.J.) and Ierland's Eden, her Oldenburg mare (by Ierland x Lace Eden, by Krack C), won Saturday's class with a score of 8.800 to earn the reserve-champion honors with an overall score of 8.616.
"This one I got from a good friend of mine over in Denmark," said Tarjan. "I got her as a two year old and we broke her last year. She was actually quite difficult to break, I didn't think we were going to get the job done, Kasey Perry-Glass's husband Dana Glass broke her, and it took a couple of months. She has turned into a really reliable horse. It's funny, people will tell you 'oh 30 days under saddle, they look so easy!' and I don't know. I think you need at least six months to really know. I think that it's going to be a good grand prix horse; she just needs a little time. Right now, she actually is super easy, and very reliable."
Lindsay Holleger and MW Fürstencharmant, Jennifer Vanover's Oldenburg stallion (by Fürstenball x MW Weiss Schwarz, Sir Donnerhall I), were third with an overall score of 8.392 and won the Highest U.S. Bred Horse Award for the division.
"He's the sweetest boy," said Holleger. "He is so reliable, so sweet. I broke him, and he's just so easy, he's so sweet he's so game. He's a stallion, but he goes around like a perfect gentleman all of the time. I love him to death."
5-YO: Glory Day
Fourteen combinations completed the Five-Year-Old Final Test to determine the U.S. Young Horse Five-Year-Old Dressage National Championship.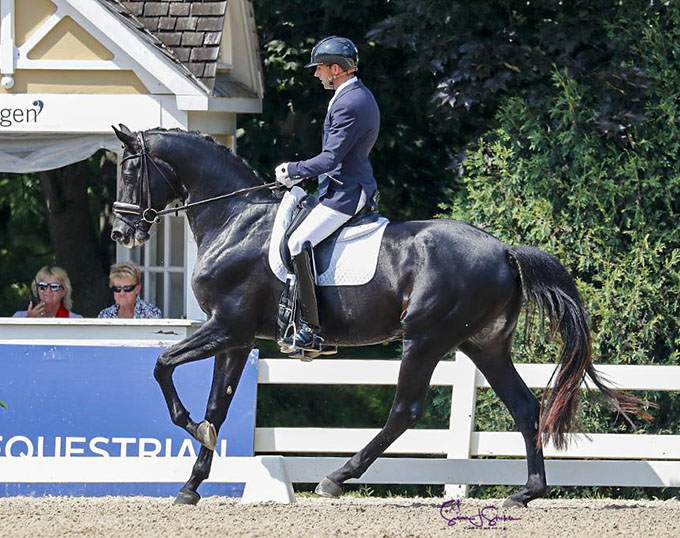 Marcus Orlob (Annandale, N.J.) and Glory Day (by Grand Galaxy Win x JJ Dolche Gabbana, by Deemster) scored an incredible three 10s to win the class with a score of 9.770. Orlob and Alice Tarjan's Danish Warmblood stallion, members of the USEF/USDF Dressage Young Horse Emerging Program, earned an overall score of 9.518.
"I was a little amazed at the scores today," said Orlob. "Obviously, it's great to get two tens, but I'm blown away. I think he deserves it. He's a really fantastic horse. I think we were delighted by the quality of the horse. 
Orlob is thrilled about the quality of his horse. "He is never tired. He is very energetic, and he loves to work, coming out every day at 100%. He was a little fresh in the warm-up, and then when they were clapping he was more tense, but after a few minutes he settled in nicely and I knew that I would have a good ride if I didn't mess up. I did mess up, so I'm mad at myself, but stuff happens. I'm glad that I have a good horse that makes up for my mistakes. He has such a natural talent for self-carriage, the lightness, the power. I think that this will be a good grand prix horse." 
Hope Beerling of Australia (Califon, N.J.) and Vianne, Kimberly Butenhoff's Hanoverian mare (by Vitalis x Raureif, by Ramiro's Blue) took reserve-champion honors with an overall score of 8.964 and won the Highest U.S. Bred Horse Award for the division.
"She is an incredible horse," said Hope. "I have been with her through this whole journey. I am in Catherine Haddad-Staller's program, and it shows that hard work and good training pay off. We took this horse from a good horse to an excellent horse, and I'm excited for her future. I was blown away with the scores. Catherine bred her, and I moved here when she was three and I broke her. I find American dressage very supportive. It's a very nice environment and I really appreciate that." 
Katryna Evans (Bailey, Colo.) collected her second medal of the show. After gold in the 4-year old class she also won bronze in the 5-year old division on Møllegårdens Fashion, Dr. Cesar and Marcela Parra's Danish Warmblood gelding (by Florenz x Møllegårdens Kantarel, by L'Espoir), were third with an overall score of 8.700.
"I also have a really great horse," Katryna rung in. "I've only been riding him for a little while. Very talented horse, great brain, and, obviously, it's a long week for these horses, and it's a lot coming all this way, but it's a great environment for them to learn."
6-YO: Sonata MF
Fourteen combinations competed in the Six-Year-Old Final Test.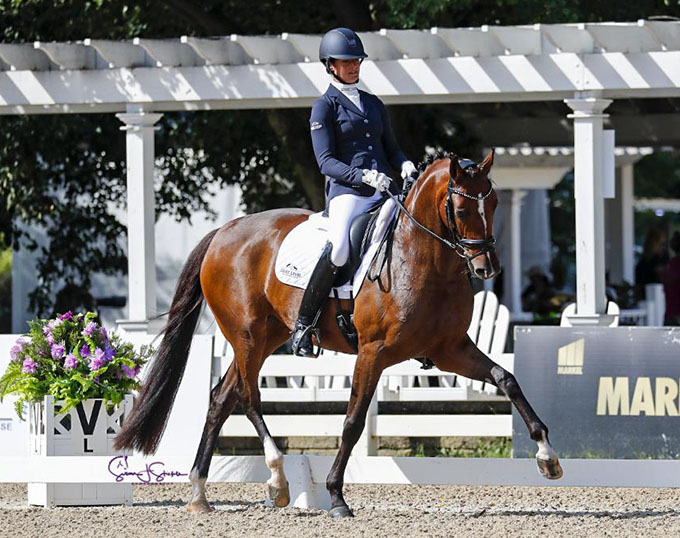 German Madeleine Bendfeldt (Davie, Fla.) and Sonata MF had a solid test to take home the national title. Bendfeldt (Davie, Fla.) and Pegasus Equestrian Davies, Inc.'s Hanoverian mare (Sir Donnerhall I x Em Duet MF, by Don Principe) earned an overall score of 8.148 as well as the Highest U.S. Bred Award.
"It feels amazing and unexpected," said Bendfeldt of the win. "I am super satisfied with the test. It was fine. Of course you always have something that you'd like to do better, but the mare was really good and I had a nice feeling, so I am super happy."
Bendfeldt added, "Sonata is quite uncomplicated. I think that her favorite thing to do is eating, that is more important than anything else. You know when she is comfortable because she will stretch before you put the saddle on. She is a funny personality. Here she felt nice and comfortable, and the week was fine! She is pretty even all of the time. There are not really ups and downs with her. It's the same without being boring."
David Blake (Cardiff by the Sea, Calif.) and Delilah, Leslie Allbright's Hanoverian mare (bby Dr Watson x Warina, Wolkenstein II), won the class with a score of 8.120 and earned reserve champion honors with an overall score of 8.024.
"I found her in Germany when she was two-and-a-half and just broke, and I sat on her for a second and she trotted and so I said, 'If she canters, I'll take her!' The seller said 'No, she hasn't cantered yet,' but I cantered her a couple of strides and I decided I would take her," said Blake. "The horse peaked this weekend. She's been slow to develop, a little immature, and now, all of a sudden, she got here and said, 'Alright, I'll take care of the rest.' She's a great horse with a lot of feeling, and very fun." 
Alice Tarjan and Summersby II, her Oldenburg mare (by Sezuan x Summer Night, Sandro Hit) were third with an overall score of 7.912.
"I bought Summersby as a foal, and she competed here as a four- and five-year-old, and to have her finish third today is awesome," Alice explained. "She'll probably stay home next year and prepare for the Developing Horse Grand Prix." 
Results - 2021 U.S. Young Horse Championships - Wayne
4-year olds
1. Katryna Evans - Fontenay - 8.940 -  8.640 --- 8.760
2. Alice Tarjan - Ierland's Eden - 8.340 -  8.800 --- 8.616
3. Lindsey Holleger - MW Fustencharmant - 8.410 - 8.380 --- 8.392
4. Caroline Roffman - It's Showtime-  8.600 - 7.720 --- 8.072
5. Marta Renilla - Dante Rubin M.R.-  8.000 -  7.960 --- 7.976
6. Marcus Orlob  -Maximus-  8.120 -  7.720 --- 7.880
7. Justine Wilson - Manhattan - 7.760 - 7.760 --- 7.760
8. Lindsey Holleger - MW Marcario-  7.980 -  7.600 --- 7.752
9. Caleb Scroggins - Materos JV - 7.560 -  7.860 --- 7.740
10. Garyn Heidemann - Saint De Luce - 7.840-  7.620 --- 7.708
11. Kymberly Pullen - Mojito - 7.620 -  7.640 --- 7.632
12. Brittany Burson - Fiorenza -  7.740 - 7.500 --- 7.596
13. Katelyn Victoria Kok -  Revanali YF - 7.400 -  7.680 --- 7.568
14. Jessica Davis - Duke of Tryon - 7.520 -  7.580 --- 7.556
15. Petra Warlimont - Don Hannes - 7.420 - 7.570 --- 7.510
5-year olds
1. Marcus Orlob - Glory Day - 9.140 -  9.770 ---  9.518
2. Hope Beerling - Vianne - 8.520 -  9.260 ---  8.964
3. Katryna Evans - Mollegardens Fashion - 8.880 -  8.580 ---  8.700
4. Alice Tarjan - Gjenganger - 8.040 -  8.980 ---  8.604
5. Marcus Orlob - Flambeau - 8.100 -  8.460 ---  8.316
6. Jennifer Hoffmann - Manis Endeavor - 8.100- 7.800 ---  7.920
7. Lindsey Holleger - MW Weissgold - 7.680- 7.940 ---  7.836
8. David Ziegler - Saladine STC - 7.460  - 7.840 ---  7.688
9. Brittany Geglein - Black Velvet-  7.520 -  7.260 ---  7.364
10. Rebecca Rigdon - La Formidable B - 7.680 -  7.140 ---  7.356
11. Craig Stanley - Looney Tunes - 7.620 -  7.050 ---  7.278
12. Anne Buchanan - Talladega B - 7.320 -  7.080 ---  7.176
13. Bridget Hay - Bedelia - 7.440 - 6.860 ---  7.092
14. Carla Schulz - Qunique N - 7.380 -  6.580 ---  6.900
Lindsey Holleger - MW Bodacious - DNS
6-year olds
1. Madeleine Bendfeldt - Sonata MF - 8.400 - 7.980 --- 8.148
2. David Blake - Delilah - 7.880 -  8.120 --- 8.024
3. Alice Tarjan - Summersby II  - 7.720 - 8.040 --- 7.912
4. Michelle Gibson-  San Raphaelia LS  - 7.570 - 8.040 --- 7.852
5. Cesar Parra - Fanta -  7.840 -  7.740 --- 7.780
6. Jan Brons - Fellowship CCW -  7.320  -  7.480 --- 7.416
7. Wanja Gerlach - Birdy - 7.180 - 7.320 --- 7.264
8. Angela Jackson - Dionysus MF - 7.240 -  7.240 --- 7.240
9. Jonni Allen - Debonaire - 6.920 -  7.240 --- 7.112
10. Tedi Paasch - Kolbaba - 6.940 -  7.120 --- 7.048
11. Vincent Flores - Ayo Windberg - 7.020 -  7.000 --- 7.008
12. Bridget Hay - Shanahan - 6.960 -  6.960 --- 6.960
13. Stephanie Busley - Fuerte Ventura IR - 6.900 -  6.980 --- 6.948
14. Nicolas Beck - Fairmont - 6.620 - 7.060 --- 6.884 
Photos © Sue Stickle
Related Links
Gjenganger, Easy di Fonte Abeti, Spirit of Joy, Stenagers Wyatt Earp, Donatella M Win 2020 U.S. Young and Developing Horse Titles
Sonnenberg's Kain, Sole Mio, SenSation HW Win Young Horse Titles at 2019 U.S. Dressage Championships
Sole Mio, SenSation HW, Lucky Strike Take First Titles at 2018 U.S. Young Horse Championships
Ravenna and Fashion Designer OLD Win Titles at 2017 U.S. Young & Developing Horse Championships
Serenade MF, Darius, Frankie Win 2017 U.S. Young & Developing Horse Championship
Habanero CWS, Desario, Horizon Win Title at 2016 U.S. Young & Developing Horse Championships
Tiko, Rosalut NHF, Folkestone Take First National Titles at 2015 U.S. Young Horse Championships
Rosalut NHF, Emilion SA, Donatus Win 2014 U.S. Young and Developing Horse Championships
Rebellienne, Fashion Designer, Vitalis Win 2013 U.S. Young Dressage Horse Championships
Bragdell and Hemmingway Win 4-Year Old Division at 2012 U.S. Young Horse Championships
Tarjan and Somer Hit Win 6-year old Division at 2012 U.S. Young Horse Championships
Schueler and Regalo Win 5-year old Division at 2012 U.S. Young Horse Championship
Tarjan and Somer Hit Win 6-year old Division at 2012 U.S. Young Horse Championships
Schueler and Regalo Win 5-year old Division at 2012 U.S. Young Horse Championship
Furst Fiorano and Donna Tella Win Big at 2011 U.S. Young Dressage Horse Championship
Bragdell and Hemmingway Win 4-Year Old Division at 2012 U.S. Young Horse Championships
Aesthete, Selten HW, Pikko del Cerro Win 2009 U.S. Young Horse Championships
Selten HW, Winsor and Cabana Boy Win 2008 U.S. Young Horse Championships
Cabana Boy and Grandioso are 2007 Markel U.S Young Horse Dressage Champions
Currency DC and Sir Sinclair Win at 2005 USEF/Markel Young Horse Dressage National Championships
Royal Prince and Revolution win 2004 American Young Horse Championships