KWPN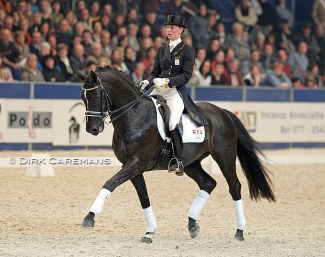 The Australian based licensed Dutch warmblood stallion OO Seven has passed away. He was 25 years old.
OO Seven was euthanized in January, but the news of the horse's passing was only released today.
Schellekens and Lenaerts
OO Seven was a 1996 born KWPN stallion by Rubinstein out of Gelbria (by Doruto x Amor). He was bred by Isabel van Gisbergen-Sponselee in The Netherlands. 
OO Seven's competition career started with Imke Schellekens-Bartels. They were the 2000 and 2001 Pavo Cup reserve champion as a 4- and 5-year old. He competed at the 2001 World Young Horse Championships in Verden. He won the AMEV cup finals at the CDI-W Maastricht in 2002 and the Zwolle Stallion Competition in 2003. Schellekens trained and competed the stallion up to Prix St Georges level.
In 2006 Schellekens competed the horse for the last time. Owner Van Gisbergen moved the horse to Joyce Lenaerts, and it took until 2009 for the pair to compete at an international show again (CDI Zwolle). Niggling injuries kept the stallion at home for periods of time. In August 2011 OO Seven made his Grand Prix debut at national level.
Sold to Australia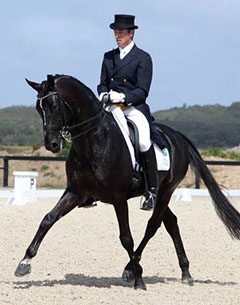 In September 2011 OO Seven sold to David and the late Amanda Shoobridge in Australia, mainly as a breeding stallion. He was bought sight unseen based on the recommendation of Dutch horse breeder Emmy de Jeu.
The black stallion had a second life down under in the competition ring and achieved his biggest show career highlights in Australia. At their first big CDI Grand Prix show, David and OO Seven were third in the Grand Prix and scored 70.425% in their first Kur. They won the Grand Prix with 67.000% and Kur to Music with 73.575% at the 2013 CDI-W Werribee.
Retirement
OO Seven was retired from sport in October 2013 at age 17.
He first spent his retirement at Amanda's Revelwood stud. In 2016 he survived a big colic attack. After the Shoobridges divorced, OO Seven followed David to his new farm in Macedon Ranges, Australia.
The 25-year old OO Seven was euthanized already back in January as he was suffering from old age. Only today Shoobridge announced that OO Seven was no longer with us.
"With enormous gratitude I owe this special horse everything," Shoobridge wrote. " The partnership we had was unquestionably the most influential and special of my career to this point. We understood each other and we pushed each other to better outcomes. We helped each other in times of need. We fronted up for work when there was a job to do. Our partnership saw us reach an FEI ranking of 85 in the world. It also realised his worth to his home country's society with the KWPN awarding him the highest honour of Preferent Keur thanks to his career at Grand Prix. Rest easy my friend, my heart, my horse. OO Seven, thank you. We will meet again."
Legacy
In 2015 the KWPN society proclaimed OO Seven "Keur" stallion.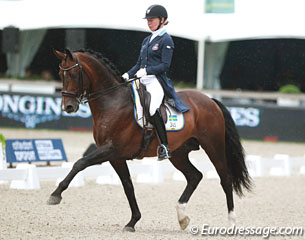 OO Seven's most successful offspring include the former Swedish team horse and licensed stallion Zuidenwind (Rose Mathisen, Akane Kuroki), Dutch youth team medal winner Winston (Stephanie Kooijman, Theodora Livanos), American small tour horse Vinterpol (Sarah Lockman), and Dutch WCYH participant Up Seven (Florentine Rootveld). 
Photos © Dirk Caremans - private - Astrid Appels
Related Links
Eurodressage Photo Database: OO Seven
OO Seven Undergoes Colic Surgery
OO Seven Retired to Stand at Stud
OO Seven Sold to Australia
Painted Black, OO Seven, Sir Sinclair, Florencio Proclaimed Keur Stallions
Imke Schellekens and OO Seven Win 2005 VHO Cup
Imke Schellekens and OO Seven Win 2004 Pikeur Trophy
Imke Schellekens and OO Seven Wins 2002 AMEV Hippo Cup at CDI-W Maastricht