Germany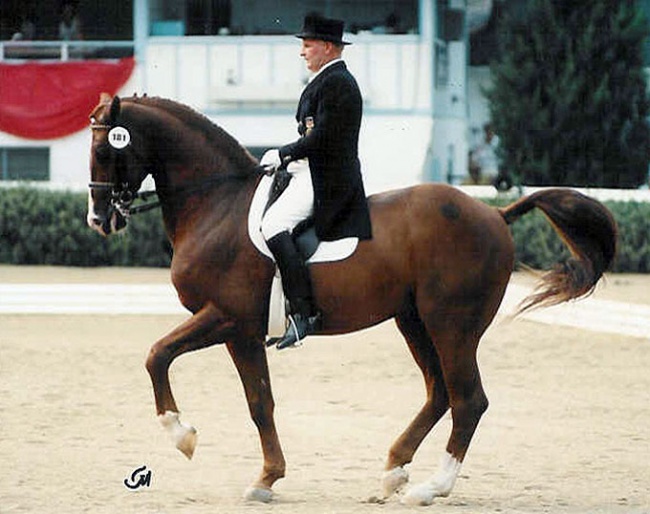 German dressage rider and trainer Eicke von Veltheim passed away on 24 May 2021 in Quitzin, Germany. He was 88 years old. 
Born on 1 December 1932 in Leipzig, Eicke Wolf Werner Josias von Veltheim 
After graduating as a certified agriculturisthe studied under Paul Stecken at the famous Riding and Driving school in Munster from 1952 to 1955. The riding school provided a thorough and versatile education in equitation covering dressage, jumping, combined training and driving.
Working at the DOKR
From 1955 till 1965 Von Veltheim worked at the German Olympic Equestrian Center (DOKR) in Warendorf. He received further training from legendary masters Albert Rother, Otto Lörke, Horst Niemack, Wilhelm Viebig, Felix Börkner, Willi Schultheis and Walter Gunther.
He has trained horses owned by the German Equestrian Federation in Warendorf for its president at the time, Dr. Gustav Rau and his wife, Hertha.
Von Veltheim was very successful in national and international dressage competitions. He was awarded the Golden Riders Badge in dressage, the Silver Medal for driving and won the silver medal at the 1958 World Driving Championships. In his career, he trained more than 42 horses up to Grand Prix horses and more than 60 up to small tour level.
Influential Trainer in the U.S.A.
In 1977 Von Veltheim moved to the United States, where he became a very famous dressage rider and influential classical dressage trainer.
"His ability to correct training problems stemmed from his devotion to classical dressage concepts," said his student David Collins of Centerline Stables in Ossining, NY. "He also specialized in teaching piaffe and collected work using and in-hand methods. His philosophy was to teach the riders to train their own horses independently."
Return to Germany
In January 2004, Von Veltheim moved back to Germany. 
Von Veltheim passed on Whit Monday 24 Mai 2021. 
He leaves behind his wife Ilse Barbara von Veltheim (née Freiin von Maltzahn), with whom he lived in the hunting lodge of the Quitzin estate with his cousin Burghard Rübcke von Veltheim and his wife Friederike. He had no children but cherished his nieces and nephews Amélie, Friedrich, Julius and Benedikt, the children of Burghard. 
His funeral took place on 1 June 2021 in Quitzin.
Photo © Terri Miller
Related Links
St. Moritz Junior Castrated
From Flying Past to Flying Change: Thoroughbreds in Dressage Competition
Pierre-Eric Jaquerod: Dressage Now Needs to be a Spectacle Instead of a Presentation of Expert Knowledge
Remembering Colonel Gustaf Nyblaeus