U.S.A.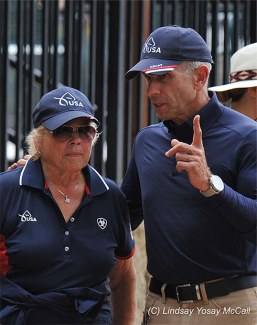 The United States Olympic and Paralympic committee (USOC and USOPC) has named dressage trainer Michel Assouline Paralympic Coach of the Year 2020.
Michel Assouline started with the U.S. Para-Equestrian Dressage program in May 2017. His innovation and persistent drive to grow the sport and expand the program has impacted the whole Para Dressage community.
Support and Innovation
Through the pandemic, Assouline has helped several athletes work through emotional pressures and reposition athletes' training schedules by utilizing technology and focusing on enhanced communication.
His efforts include online judging, direct coaching through PIXIO, group meetings and one-on-one meetings, which proved effective when athletes showed performance improvement at the 2020 U.S. Para Dressage National Championships October 23-25.
In three years, Michael has built a Para-Equestrian Dressage Coach Certificate Program that was rolled out across the country during the latter part of 2019 and early 2020 that received high participation with 32 coaches going through the program.
Success
In March 2020, the U.S. Para Dressage Team ranked No. 1 in the world having achieved scores that would have tracked Team USA to be on the podium at Tokyo 2020.
At the heart of Assouline's success is his ability to work with each athlete and build a specialized program around them to improve their development and performance, which can be seen in Roxanne Trunnell, who is currently ranked No. 1 in the world in her grade and overall across all five grades.
Honoured
Michel Assouline was honored to receive this distinction:
 "This is a huge honor for US Equestrian. This reflects on everyone's efforts, an immense team effort. A stone missing in the building blocks and this would have never happened. This award is phenomenal for the United States Equestrian Federation as USOC and USOPC equestrian coaching awards are not common. What it means first and foremost is having a strong presence on the US and Global sport stage now. I couldn't have done it without every single athlete, groom, owner, sponsor, and all our USEF support staff, in other words the whole team. Thank you!"
Related Links
Michel Assouline Brings US in Line to Break Para Dressage Traditions in Europe
Assouline, Fry, Lady Harris, Recipients of 2017 AHT UK Equestrian Awards
Michel Assouline's Grand Prix Mare Annastasia Put Down
Michel Assouline, 2000 French Dressage Champion