France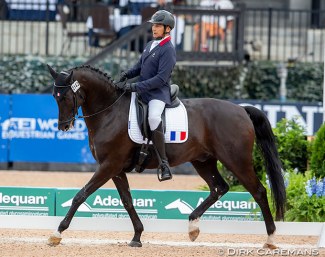 The French Equestrian Federation has announced the long list of para dressage combinations that will be eligible for team selection for the postponed 2021 Paralympics in Tokyo.
The long list, titled FFE JOP Tokyo 2021, replaces the French  A-squad (Groupe 1) for the moment. The list can still change pending on the results of new combinations. 
"The list serves as a pre-selection for the French teams for Tokyo," the federation stated. 
The long-listed para combinations are:
Adib El Sarakby -  Walk of Fame, owned by anonymous owner
Céline Gerny -  Rapsody, owned by IFCE
Auxence Kerzeho -  Fiderglanz, owned by Sophie Kerzerho.
José Letartre -   Hamilton, owned by Hervé Guyot, Thierry Lhermitte and José Letartre.
Cloé Mislin -   Don Caruso, owned by Cloé Mislin.
Alexia Pittier -  Frauenheld, owned by Alexia Pittier.
Anne-Frédérique Royon -  Quater Boy LH, owned by Anne-Frédérique Royon and Bertrand Courtin.
Vladimir Vinchon -  Tarentino Fleuri, owned by Vladimir  and Maud Vinchon.
Vladimir Vinchon -  Fidertanz for Rosi, owned by Vladimir and Maud Vinchon.
Chiara Zenati  -  Swing Royal, owned by IFCE
Photo © Hippofoto