2020 PSI Auction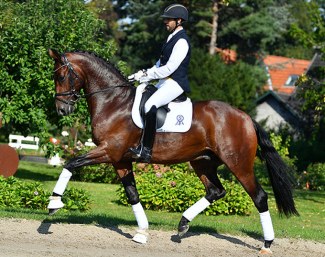 Competition results at major young horse dressage championships have recently proven that Londonderry as a dam sire is a key to success. World Champion medal winners D'Avie and Destacado or Tinne Vilhelmson's rising GP star Lord Django all have Londonderry as dam sire.
And so does PSI Auction horse Bondonderry, a 4-year-old Hanoverian gelding by the exciting young KWPN stallion Buckingham (by Bordeaux x Rousseau).
Bondonderry Has it All
The strapping Bondonderry has an exquisite pedigree.
His dam Lady M (by Londonderry) also has Brentano in her bloodline. She has already produced two P.S.I. horses before.
Bondonderry is a light-footed, but powerful raw diamond, who was foaled at Lewitz stud. He was briefly started under saddle at Osthoff before enjoying a few months on the lush paddocks of the stud to mature and develop. His further training continued at Hof Kasselmann with rider Joao, who was able to quickly built a strong connection with his mount.
"The young gelding already knows how to please in his trot work, carrying himself in a wonderful frame while swinging though the body. The canter is also of top quality on both reins, the active hind leg always keeps the horse in balance," said Francois Kasselmann. "His remarkable ability to sit back and collect in the canter will certainly facilitate the further development and training of this youngster. The quality walk completes the perfect overall package."
Want to Know More ?
Want to know more about this mare and other horses in the PSI Auction Collection? 
Francois Kasselmann is at the CDI Thermal in California this weekend and can tell you all the details about each horse in the collection. Reach out to him at: +49 171 4969865
Or feel free to get in touch with PSI directly through your contact person of preference.