Holsteiner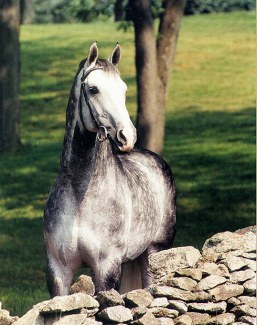 The Holsteiner licensed stallion Rivermann, who became one of the foundation stallions at the U.S. breeding station Hilltop Farm, has passed away age 30. 
Riverman was a 1990 born Holsteiner stallion by Redfort out of Alexis III (by Landego x Calypso II x Cromwell). He was bred by Adolf Ratjen.
German Beginnings
Owned by the Holsteiner studbook, he was licensed as reserve champion of the 1992 Holsteiner Stallion Licensing in Neumunster.
He did his 100-day stallion performance test in Adelheidsdorf in 1993 and scored 105 for dressage and 103 for show jumping, finishing with an index of 105.48 and placing 20th out of 53 participating stallions. 
His sport career in Germany was insignicant, which is unusual for a reserve licensing champion. He only competed in three local shows in his career, according to the German equestrian federation. His show debut was in 1992 in Struvenhuetten, where he placed third in a riding horse test under Thomas Brandt. In 1994 he did two shows in the summer under Siegfried Stemmann, one in Hemdingen and one in Bad Segeberg. 
As a breeding stallion, however, the grey definitely made his mark.
Sold to the U.S.A.
In 1995 he sold to Hilltop Farm in the U.S.A and he was approved for Oldenburg breeding in  2007.
At home he schooled the S-level dressage movements under Scott Hassler.
His US debut culminated in winning the Grand Championship of Dressage at Devon. Riverman made an impact on the rather small U.S. breeding market and made a name for himself on the North American continent as a versatile sire with offspring in show jumping, dressage, and eventing. 
Riverman was named the USEF Eventing Sire of the Year 5 times, was honored with the USEF South Pacific Award (for the Top US-based Show Jumping Sire) three times. 
He was on the WBFSH Sire Rankings List (13th on the 2009 WBFSH eventing sire ranking) through his offspring R-Star, River King, Slate River, FDF Riverina, and Fleeceworks Royal.
Legacy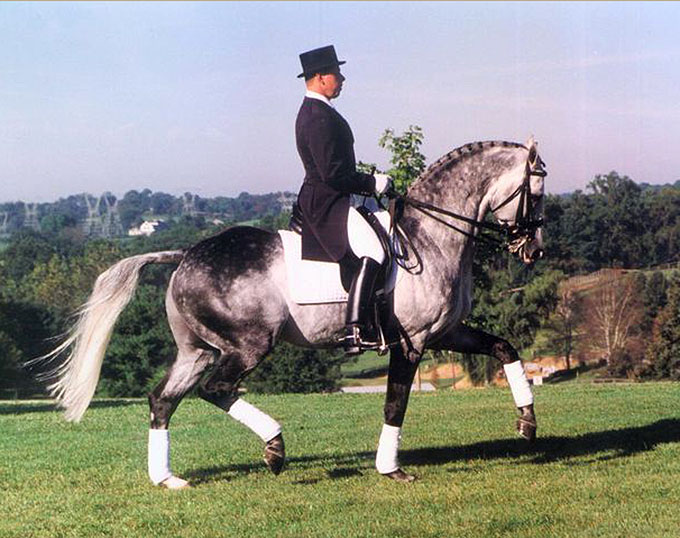 He has produced 11 licensed sons (Rhett Butler, Rio de Nero, Rip Tide, Rivano, Royal Appearance, Reno, Rachmaninov, Rivoli, Snowview Revelation, Kendalee Riverdisc, Snowview Mount Royal). His most successful offspring in Germany is Gestut Famos' Ravel (by Riverman x Fridericus) who jumped up to S-level under Daniel Heuer. 
In the U.S. he sired  Rivita, the 1999 Reserve Grand Champion of Dressage at Devon. At the 2001 Devon Breed Show Ria d'Or (Riverman x Cor Noir) won the Filly Championship and the Young Horse Championship.
For dressage Riverman can be found in the pedigree of some international Grand Prix horses as a dam sire.  Canadian Grand Prix team horse Caravella (Contango x Riverman - ridden by Megan Lane) and Adrienne Lyle's Harmony's Duvall (by Rousseau x Riverman).
Riverman also sired the American Grand Prix horse horse River Run Roscoe (by Riverman x Cosmos - ridden by Alyssia Martin), the Swedish small tour horse Cody (by Rivermann x Utrillo), and the American small tour horse Remise (by Riverman x Meistersinger - ridden by Eric Grimm).
Rivage was the 2007 US National Champions for Pairs Driving and twice represented the US at the World Pairs Championships in driving. 
Long Retirement
Riverman passed at the age of 30. 
"Some endings you just can never be ready for and saying goodbye to Riverman has been one of those moments that proved impossible to prepare ourselves for," said a Hilltop farm spokesperson. "Despite the calendar saying he was 30 years old this year, Riverman had seemed to defy the idea of aging and we greedily hoped we would have more time with the grand stallion."
"Riverman was also a bit of a rock star. He was often on the top of the list to see for visitors to the Hilltop Farm -- it didn't matter if they were breeders or what discipline they were interested in -- everyone knew of Riverman," she reminisced. "He was a consummate showoff and loved when we did Stallion Shows. His music was always "Simply the Best" - one of the few musical selections that the staff agreed on unanimously. He also seemed to know when a camera was around and always had a bright expression and perfect pose ready."
In the summer of 2020, Hilltop Farm already parted with another stud foundation stallion, Contucci, who was 27.
Photos © Richard Malmgren - Alix Coleman
Related Links
Hilltop Farm's Contucci Passed Away
Scott and Susanne Hassler Leave Hilltop Farm
Holsteiner Sire Cor Noir Passed Away
Fifteen Stallions Entered for 2018 North American Stallion Sport Test