2020 Bundeschampionate Qualifier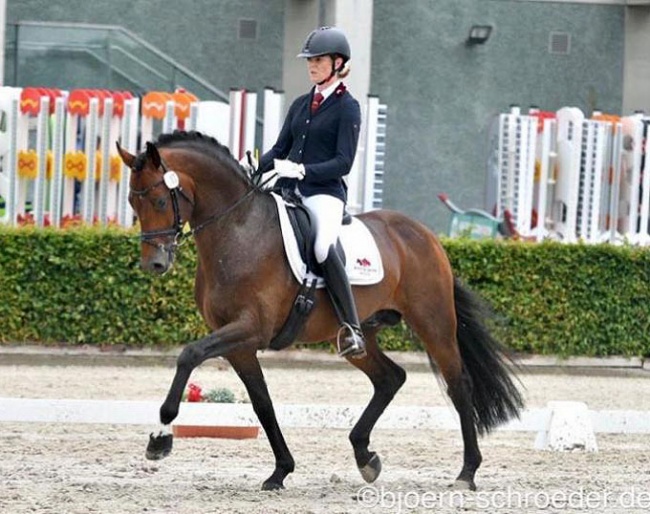 The 5-year old Dante's Stern and the 6-year old Damontez were the winners of the Bundeschampionate qualification classes held at the local show at the Brandenburg state stud in Neustadt/Dosse on 16 - 17 July 2020. 
The entry field for the qualitier was tiny with just seven combinations in total for two classes
In the 5-year old division Anna Weilert reigned supreme aboard Landgestut Brandenburg and Madeleine Winter-Schulze's DSP stallion Dante's Stern (by Dante Weltino x Fidertanz). Judges Antje Offinger, Dorthe Fischer and Annett Schwarzer rewarded the dark bay stallion with 8 for walk, and 8.5 for trot, canter, submission and general impression. He won with 8.40 in total. The runner-up was Patricia Munz on her own Oldenburg stallion Franziskuss (by Franziskus x Eskardo) with 7.2. The chestnut got 7 for walk, 7.5 for trot, 8 for canter, 6.5 for submission and 7 for general impression. 
The 6-year old class was won by Friederike Maas aboard the Brandenburger state stud stallion Damontez (by Damon Hill x Lord Loxley). The bay scored 8 for walk and trot, 8.5 for canter, 8 for submission and general impression to finish first on a winning total of 8.10 points. Anna Weilert was second with the state stud's Destar (by Descolari x Quaterback) with 7.8. The dark bay received 7.5 for walk, 8 for trot and canter, 7.5 for submission and 8 for general impression. 
Photo © Bjorn Schroeder
Results - 2020 Bundeschampionate Qualifier - Neustadt/Dosse
5-year olds
1. Dante's Stern (by Dante Weltino / Fidertanz) - Weilert,Anna - 8.40
2. Franziskuss (by Franziskus / Eskardo) - Munz,Patricia - 7.20
3. Daily Crocket (by Grey Flanell / Dancier) - Munz,Patricia - 6.60
6-year olds
1. Damontez (by Damon Hill / Lord Loxley) - Maas,Friederike - 8.10
2. Destar (by Descolari / Quaterback) - Weilert,Anna - 7.80
3. Skyfall (by San Amour I / Donnerschwee) - Wischerath,Pia  -  7.40
4. Belsario L (by Belantis I / Ferragamo) - Hentschel,Nadine - 6.80
Related Link
Eurodressage Coverage of the 2020 Bundeschampionate