2020 Bundeschampionate Qualifier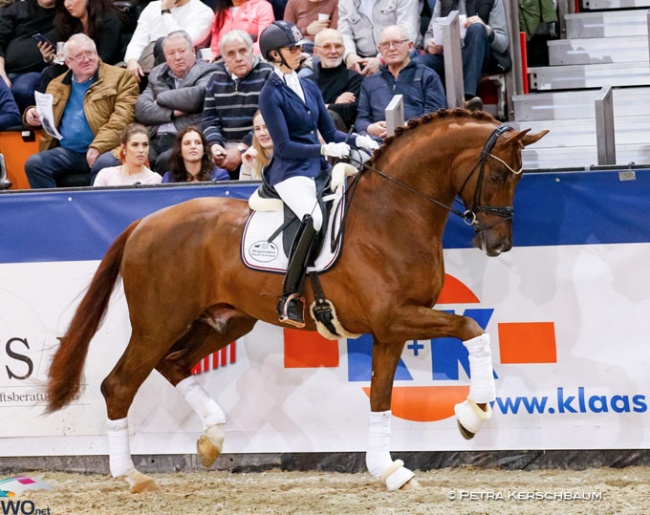 The 5-year old Vivat Rex and the 6-year old Coco Island were the winners in the Bundeschampionate qualification classes held at the dressage show in Fussgönheim on Friday 17 July 2020. 
Ten pairs competed in the L-level dressage horse test for 5-year olds, judged by Anne Rossbach, Frank Uhde, and Jörg Beerhenke. Stefanie Ahlert and the Oldenburg licensed stallion Vivat Rex (by Vivaldi x Samarant) won the class with 8.1 points. Owned by OPS Horse, the liver chestnut got 8 for walk and trot, 8.5 for canter 7.5 for submission and 8.5 for general impression. With this score, Vivat Rex (who sold for 200,000 euro at the Oldenburg auction) re-gained his licensed status after failing the performance test. Jaya Gutheil and Janine Wolf's Oldenburg mare Quality Time (by Quantensprung x Placido) were second with 8.0. The black mare got 8 for walk, 9 for trot, 7.5 for canter and submission and 8 for general impression. 
Seven pairs rode the M-level dressage horse test and Luxembourg's Fie Skarsoe won it aboard Peter Jan Schlüschen's Oldenburg gelding Coco Island (by Cennin x Florencio). They scored 8.5 for walk, 7.5 for trot, 8 for canter and submission and 8.5 for general impression to finish on a winning 8.1. Linda Jung and Dressuragentur's Hanoverian gelding Qu'est-ce due c'est (by Quaterhall x Silbermond) were the runners-up with 8.0.
Results - 2020 Bundeschampionate Qualifier - Fussgönheim
5-year olds
1. Stefanie Ahlert - Vivat Rex (by Vivaldi / Samarant) - 8.1
2 Jaya Gutheil -  Quality Time (by Quantensprung / Placido) - 8
3 Stefanie Lempart - Nobleman (by Don Nobless / Locksley II) - 7.4
3 KlarissaAlexandra Liss  - Diva Benita L (by De Niro / San Amour) - 7.4
5 Bianca Helmling - Barney (by Bordeaux (NLD) / Dancier) - 7.3
6 Katrin Burger - Wild Love Woodlander (by ) - 7.2
7 Celine Geissler - Expialidocious (by Escolar / San Amour) - 7.1
9 Denise Ewenz - Dreamboy (by Danciano / Stedinger) - 6.9
10 Katrin Metzger -  Fürst Fridolin (by Fürstenball / Londontime) - 6.6
6-year olds
1. Fie Christine Skarsoe - Coco Island (by Cennin / Florencio) - 8.1
2 Linda Jung -  Qu'est­ce que c'est (by Quaterhall / Silberschmied) -  8
3 Kim Pfeiffer - Speedway (by Schwarzgold / Anduc) - 7.7
3 Sophie Stilgenbauer - Da Capo (by Don Frederic / Sandro Hit) -  7.7
5 Stefanie Baumgartner - Sasine (by Sir Donnerhall I / Don Schufro) - 7.6
6 Denise Ewenz - El Benito (by Enzo Ferrari / Lord Loxley) - 7.5
7 Denise Ewenz - Quentin (by Quaterback / Latimer) - 7.1
Related Link
Eurodressage Coverage of the 2020 Bundeschampionate