Bits 'n Pieces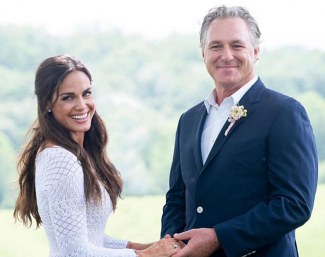 Mark Bellissimo (58), a real estate developer who owns the show grounds in Wellington, Colorado, and Tryon and who is also the owner of the American equestrian magazine The Chronicle of the Horse, married British eventing rider Lucienne Elms (37) on 6 June 2020. Due to the circumstances this momentous moment occurred in a private ceremony held in North Carolina, US, with just a handful of witnesses, together with the couple's two dogs. Elms and Bellissimo will be holding a second marriage celebration in the U.K. at a later point, as announced on Facebook. "So... little announcement, a phenomenal chapter this weekend, I married my best friend and love of my life Mark Bellissimo," said Lucienne. "We look forward to to celebrating in the UK with friends and family (and puppies again) 2021 post COVID19. to the future!"
Bellissimo split from his wife of 30 years, Katherine, in 2018 and got divorced last year. The duo, who was called "the royal couple of the Wellington equestrian scene, has four adult children. Their divorce was highly publicized in the Palm Beach Post as both hired high-profile attorneys to get the most out of the divorce. State records list Mark as the officer or agent for more than 100 corporations. Katherine filed court documents accusing her husband of using the dozens of companies he owns to sell marital assets, borrom from the assets and move money into his personal accounts without her knowledge. 
The world number one, Isabell Werth, has lost her driver's licence after speeding 147 km on the "Autobahn," where you were only allowed to drive 100 km/h. A speed camera took a picture of Werth speeding on the A44 motorway. The offence, which took place a 1.5 years ago, was so major that she had to appear in court for it. Initially Werth tried to get out from the speeding ticket by claiming she wasn't the driver, but an expert at the court did not accept that argument and said it was very likely her. On 26 May 2020 the court in Düsseldorf finally ruled in the matter. Werth loses her driver's licence for one month and has to pay a 160 euro fine, for being absent in court without a medical certificate to excuse her. 
Dutch pony rider Senna Evers has received the ride on her trainer Mercedes Verweij's 9-year old KWPN gelding Gizmo (by United x Junior STV). Evers has been competing at international children's level with Happy feet and at international pony level on Majos Cannon. The soon-to-be 15-year old has now got the ride on Gizmo as her future junior horse. In December Evers had to put riding on the back burner after fracturing her shoulder in a riding accident.
Wellington based Israeli dressage rider Micah Deligdish is pregnant with her first child. She and husband Shahmir Quraeshi are expecting a baby boy in October 2020. Quraeshi operates the car ship Horsepower Logic in Wellington and comes from a polo family. Micah represented Israel at the 2019 European Dressage Championships in Rotterdam, alongside Eyal Zlatin.
Malaysian Grand Prix rider Qabil Ambak has expanded his family. His wife gave birth to a son, Enzo Ambak, on 5 June 2020 at 5h45pm. The baby boy is healthy and weighed 3.54kg at birth.
French Grand Prix team rider Charlotte Chalvignac and her husband, dressage rider Jean Vesin, have moved from their yard, centre équestre de Fleysets, in the south of France to a new stable in the Le Mans area. In an interview with Dressprod, Chalvignac explained that the couple had been on the look-out for a new property for 1.5 years. They wanted to be more centrally located in France as well as have a yard where the family and staff could live at as well as have a place with plenty of paddocks and fields for turnout. The focus for the new stable will be more a sales and training facility than a livery yard.
The Rheinland-Pfalz-Saar breed society has appointed Gita Zühlsdorf as its new breeding director. She succeeds Heinz-Willi Kusserow.
At the DSP Online foal auction that concluded on 10 June 2020, the colt Quaterdonner (by Quaterback x Donnerhall) sold for 43,500 euro to Luxembourg. The collection only had four foals, three of them were dressage bred. The other two were Zaubermaus (by Zackerey x Samha Hit I) which sold for 6,750 euro (to Luxembourg) and Viva Forever (by Valverde x Frenchman) which stays in Germany for 7,250 euro.