Opinions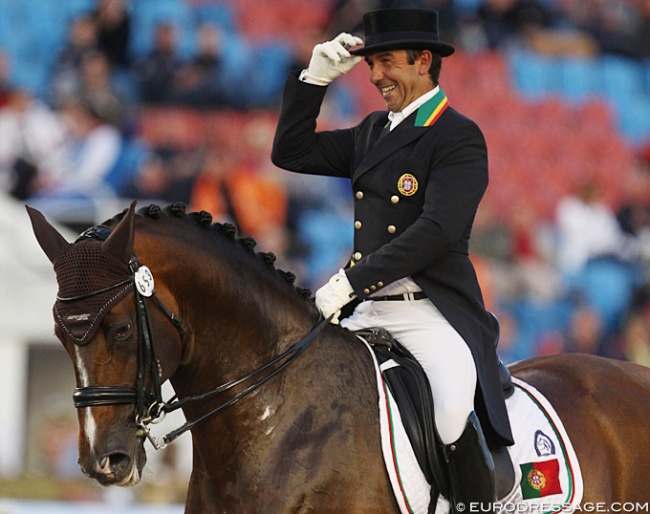 This week's guest columnist is Portuguese Grand Prix team rider Daniel Pinto. This Portuguese Grand Prix rider has represented his country at two Olympic Games (2000, 2008), three World Equestrian Games (1998, 2006 and 2010) and at five European Dressage Championships (2001, 2007, 2009, 2015 and 2017). He also rode in the 2007 World Cup final.
Daniel Pinto looks at the new FEI rule which will make helmets mandatory for dressage as of 2021. This is Pinto's plea for Grand Prix riders to have freedom of choice over top hat or helmet. 
Top Hat or Helmet - Shouldn't it be Each Rider's Choice?
Horses have been beside man throughout the history of the human race. Since their domestication around 6,000 years ago, horses stand side by side with man, becoming part of humankind's historic footpath. Globalization started on a horse back and kings have forged their kingdoms with horse power.
Our relationship exists since memory and horse has evolved from food source, to a tool, to a friend, companion and pet, someone who gives us freedom and makes man complete. It is a relationship of complicity, friendship, partnership.
Maximum Expression of Harmony and Partnership
The Olympic discipline of dressage has taken this relation to another level. Aiming to develop total harmony between horse and rider, two hearts beat as one, dressage is not just a sport: it is the epitome of elegance and the art of riding in harmony with the horse. As a competitive equestrian sport, Dressage is defined by the International Equestrian Federation (FEI) as "the highest expression of horse training," where "horse and rider are expected to perform from memory a series of predetermined movements."
Dressage riders seek for a complete understanding, faultless communication and perfect harmony of balance, in which the rider brings the horse to find the maximum expression of its movements. On the FEI website we can read: "Dressage is the ultimate expression of horse training and elegance. Often compared to ballet, the intense connection between both human and equine athletes is a thing of beauty to behold."
The Grand Prix, as the highest level of this sport, becomes the maximum expression of harmony and partnership between horse and rider. Looking at a Grand Prix Freestyle is to witness a pure expression of art, in which horse and rider dance together.
The Elegance of the Dressage Dress Code
Riders get ready for the Grand Prix test like a gala: steeped in tradition, the sport of dressage requires riders to wear formal dressage show attire that has an elegant appearance. Strict adherence to dressage dress code rules applies, including a single-color tailcoat, where tasteful and discrete accents are allowed, such as a collar of a different hue or modest piping or crystal decorations, long dark boots and an elegant formal top hat.
For several years now, the FEI has been engaging in a global campaign to promote the use of protective headgear. In November 2019, FEI approved mandatory headgear for ridden sports: following the new rules, "Dressage riders must wear protective headgear at all times, in the show ring and out, at FEI events as of January 1, 2021." The revised rule strips individual disciplines from their current governing power to choose their own head protection rules for competition purposes. It makes it mandatory for all riders to wear approved protective gear on their heads any time they are mounted on FEI show grounds, including in the dressage arena. Yet, the new rule still allows individual disciplines to decide whether riders may remove their headgear during awards ceremonies and the playing of the national hymn.
In a Eurodressage article on the new headgear rule it was written that, "the decision came amidst criticism from certain federations representing countries with a strong dressage culture. In particular, the fact that driving and especially vaulting were not concerned by the rule was "strange," according to Dutch delegate Maarten van der Heijden, High Performance Director and Secretary General of the Dutch Equestrian Federation (KNHS)."
Originally proposed as a rule effective as of January 1, 2020, the Netherlands requested a one-year delay "to really create a good preparation for this rule," according to van der Heijden.
Are We Sending Out a Message that Dressage is Dangerous?
This has been a topic I've personally reflected a lot about. When I first read this FEI announcement, I immediately understood the reasons why this new rule was being proposed. However, at the same time, I felt that we take a risk that we might be sending out the wrong message that dressage, as a sport, can be dangerous.
I am myself 100% in favour of safety first. It is my responsibility as a father, as a trainer, and as an employer to make sure my students, amongst them my own son, are always safe! It is my opinion that safety comes from the understanding and trust between horse and rider. More than using safety gear, I believe that safety is achieved by building a relationship with your partner based on trust and full understanding. At Grand Prix level, the symbiosos between both athletes arrives at the highest level.
Having this in mind, I agree that all dressage tests should have a mandatory use of helmet up to the Grand Prix level. While you are preparing your young horse, or you are still conquering your path for perfect harmony, so you should be protected and use proper safety gear. Yet, I don't think the new rule should apply to Grand Prix tests as mandatory. The possibility of personal choice should be given to these riders who show the highest level of communication between horse and rider in the Grand Prix test.
Personal Choice for Helmet or Top Hat at Grand Prix Level
I ride myself my young horses with a helmet. Yet, I will always honour my Grand Prix horses with a gala suit, and that gala suit includes, without a doubt, me wearing a top hat. Freedom of expression should be given to riders, who make a clear statement of trust and absolute command of their horses when they show perfectly synchronized Grand Prix movements at the sound of the musical beat. At this level, the communication between horse and rider should be faultless and the sport comes to its highest peak, where it transitions from sport  into art.
Wearing a helmet in a Grand Prix freestyle is, for me personally, like attending an opera gala in shorts and tennis shoes! Call me old-fashion, but one of the things I value the most is the history, tradition and honour I feel when I enter the dressage arena wearing my long-tail suit and top hat.
The FEI's main argument is that the Medical Committee prioritized rule changes promoting helmet use as part of athlete safety. Yet, I cannot remember any accident taken place during Grand Prix dressage test. It makes even less sense that this new rule, based on safety, allows individual disciplines to decide for themselves whether riders may remove their headgear during awards ceremonies and national anthem. This is at least ironic!
In a dressage test the horse is at its maximum concentration, a performance where silence is absolute, and rider and horse are being judged as one. But at the moment where several horses are together, when audience celebrates with applause and laps of honour, it brings excitement to a peak and yet at this precise moment the rules allow the rider the individual decision to remove the helmet?!
Here is my proposal, coming from a Dressage rider who started his career 30 years ago and who has a strong feeling of tradition.  When it comes to the Grand Prix, allow each rider the choice of a top hat or helmet! In the end, it is an individual option and a freedom to express our symbiosis with the horse.
- by Daniel Pinto
Related Links
FEI Adopts Protective Headgear Requirement for All Riders as of 2021
Hold on to Your Safety Hat, Helmet Rule in Place 1 January 2013
USEF Helmet Rule Update: Executive Committee to Consider Changes Defining Application to Breed Competitions
Isabell Werth Shows Off Golden Helmet in Frankfurt and Makes a Statement
All Canadian Dressage Riders to Wear a Helmet in Competition as of 2012
Steffen Peters Retires Top Hat; Will Wear Helmet in FEI Competitions
KEP Italia's Style Consultant Silvia Rizzo Supports 2017 International Helmet Awareness Day
FEI Launches Global Safety Helmet Campaign